All Seasons continues to marry couples during the Covid-19 pandemic.
New bookings are still being accepted.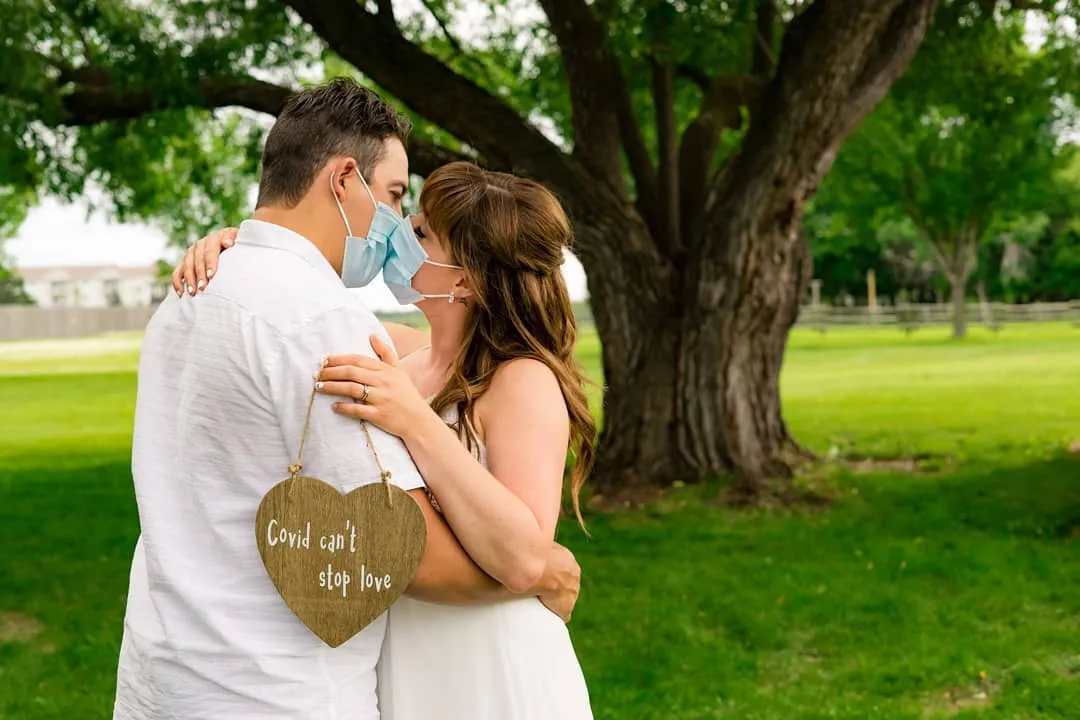 Staying Safe
To keep everyone safe, we will follow provincial Covid-19 regulations at the time of your wedding. We recommend speaking with your officiant about safety protocols such as face masks and maintaining a safe distance. We encourage you to keep safety at the top of your mind and to select a ceremony location that will allow people to spread out. Please do not proceed if any key players are showing symptoms. We will be pleased to reschedule your ceremony if needed.
Finding out what sort of gatherings are allowed
Please visit the following pages to get the latest information about Covid-19 regulations and restrictions in your province.
Vaccine Passports
In many parts of the country, venues are now required to check for proof of vaccination for wedding guests, participants, and vendors. We will be pleased to supply a vaccinated officiant who is able to meet the requirements of your wedding location.
No Video Weddings
In Canada, it is a requirement that the couple, 2 witnesses, and the marriage officiant be in the same physical location. There are no exceptions to this due to Covid-19. You cannot be legally married over video chat.
Streaming Your Ceremony
Please feel free to invite all your family and friends to your wedding via Zoom or another video platform. The more, the merrier!
Instead of postponing due to Covid regulations, why not hold a small in-person ceremony and stream it so that the whole family can take part? It's like being there in person and family members can even contribute readings and speeches from anywhere in the world.
We have officiants across the country to help plan your ceremony and a beautiful venue in the Ottawa area if you need one.
Rescheduling
Throughout Covid, we are offering maximum rescheduling flexibility. If you need to reschedule, there are no additional fees and no time limits, and you can reschedule more than once if required. You can also move the location to anywhere we have local officiants.
Note: Our regular cancellation policy remains in place at this time. However, we are pleased to put your deposit toward your new date, whenever that might be. We are also offering the option of transferring your deposit to a friend or family member getting married in an area that we service.
ON licences extended
Ontario licences are still valid for the timeframes below, unless you require a replacement licence.
If you need a replacement licence, you have until the extended expiry date to apply for a replacement from a municipality that issues marriage licences.
| Date Issued | Valid Until |
| --- | --- |
| December 1, 2019 to July 24, 2020 | July 24, 2022 |
| July 25, 2020 to September 30, 2020 | 3 months from date issued (not extended) |
| October 1, 2020 to December 31, 2020 | February 10, 2023 |
| January 1, 2021 to the end of the third province-wide emergency, which was declared on April 7, 2021 | 24 months from the end of the third province-wide emergency |
Getting Married in Quebec?
We Respect All People's Right to Marriage
All Seasons Weddings has more than two decades of experience helping couples from all traditions and backgrounds. We proudly respect all people's right to marriage, regardless of sexual orientation or gender.
Book an Online Consultation
All Seasons Weddings is happy to announce its new partnership with Peak Planning Events! Existing All Seasons Weddings couples can now book a skype consultation with a professional wedding planner to discuss any & all aspects relating to their wedding. All for a special rate!
Learn More
;