Victoria Peck, BA Com
Educated at St. Clair College and the University of Windsor, Victoria took the plunge and retired from a rewarding career as a Project Director with Hiram Walker & Sons. Now she finds reward in being an Officiant and working with couples. Victoria was raised in Windsor and has resided in the town of Tecumseh over 30 years where she and her husband raised their two children. She loves camping, and stays fit kayaking, hiking and biking. Quilting and crocheting satisfy her creative side and she volunteers through Project Linus making quilts for local hospitals and toques for newborns. Victoria is also assisting refugee families to settle in Windsor. Victoria is best described as a dependable, joyful and engaging person. She believes your special day should be just that - special.
Request Victoria Peck
Areas served
Amherstburg, Belle River, Comber, Cottam, Emeryville, Essex, Harrow, Kingsville, Lakeshore, LaSalle, Leamington, Maidstone, McGregor, Ruthven, Stoney Point, Tecumseh, Wheatley, Windsor, Woodslee
Reviews
Kathleen & Jamie
Victoria (Peck) was by far the best choice to officiate our wedding. She is professional, kind, and above all genuine. Victoria was so accommodating, and helped organize our ceremony so that it was reflective of our personality and style. Her positive energy and beautiful personality helped to make our wedding so special. We would absolutely recommend her to officiate your wedding [2018]
Anonymous
We would like to thank Victoria Peck for making our special day one to remember. We loved her services and found her to be kind, caring and very helpful. She did an amazing job and we will be sure to recommend her to our friends and family!!! Thanks again Victoria, you are a beautiful person!
Joshua & Nicholas
Victoria Peck was nothing short of amazing. She was a family friend who I had never met, but my dad kept telling me I had to meet her. So we did... And about 30 seconds after meeting her for coffee we knew there could be no one else for our wedding. She is so polite, kind, genuine, she's really anything anyone could want from an Officiant. During the ceremony we could actually see love and tenderness in her eyes. And the way she composes herself is just absolutely amazing. She is perfect. Even a few weeks after the wedding we are having guests ask us who she was and how we found her because they have friends/family getting married and that she would be perfect.
Gena and Doug
We'd like to very much, thank you, for officiating our Wedding! I couldn't have chosen better! You are so very sincere, genuine and just a beautiful woman! You were so very helpful, accommodating and you did a wonderful service for us! We would definitely, highly, recommend you to family and friends! Thank you so much for our beautiful wedding! Gena and Doug
Marcus & Keshia
Victoria Peck was awesome! Very comforting and helpful when we had no clue what to do. She allowed us to take parts out and add stuff in as we requested. Very professional, caring, positive and supportive. We will definitely recommend her to everyone! Thank you! Marcus & Keshia July 2019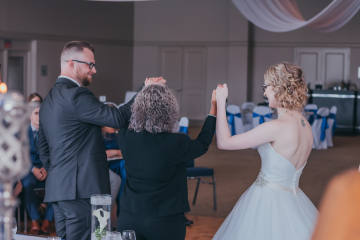 Ken & Wanda
Victoria Peck poured her heart and soul into our wedding and stood with us truly believing in us becoming a couple. She is one of the most sincere, genuine, loving, selfless women you will ever meet. Many guests commented on how truly vested she seemed in our ceremony and pledge to each other. This was a new experience for Victoria as she was performing a ceremony in front of all her family watching (no pressure Vicky). She demonstrated strength, sincerity, and captivated the group of 150 with her gentle, loving, passionate words and intonation. Ken & Wanda May 2019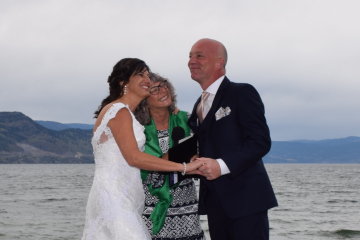 Don & Barbara
Victoria Peck is an exceptional lady and Barbara and I were honored that she was the one who joined us in holy matrimony. She is very professional, kind and easygoing which was exactly what we wanted for our casual backyard wedding. Victoria mingled with our guests before and after our wedding which gave the ceremony a lovely personal touch. We would highly recommend her to anyone who wanted a personable, professional officiant. Don & Barbara August 2019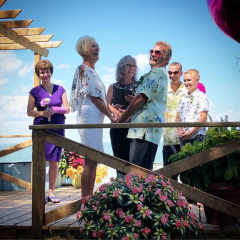 Eric & Jaclyn
Victoria Peck went above and beyond our expectations as our officiant. She was very professional, prompt and made sure we didn't have to worry about a thing on our special day. She was very personable as well. We wouldn't have had anyone else marry us on our special day! Highly recommend!!! Eric & Jaclyn September 2019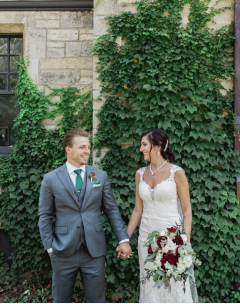 Jhudia & Tammy
Victoria Peck was a great Officiant! She was professional yet warm. We were so happy that she did our ceremony. Victoria was easy to work with and very quick to respond to any of our questions. Thank you for making our day perfect! Jhudia & Tammy September 2019