Michelle Meghie, BA
One of Michelle's greatest strength is engaging and connecting with people from all walks of life, circumstances, cultures and religion. She has an amazing smile that is warm, inviting and sets the tone for the beginning of a positive working relationship. Michelle has a Bachelor of Arts in Sociology and has worked and volunteered in the social services field for many years meeting the needs of those who are most vulnerable. Thus she is understanding, patient and respects your individuality.Michelle has a spirited personality. She is a seasoned and resourceful event planner who comes equipped with extensive knowledge, ideas, and experiences that will ensure your special day is a unique, pleasurable and memorable day for you, and your guests.
Request Michelle Meghie
Areas served
Mississauga, Toronto, Oakville, Milton, and Georgetown
Reviews
Daniel & Wayne
Michelle Meghie exceeded my expectations. She was relaxed and in return made us relax and made our day perfect! Well done Michelle. All Seasons took my call and made this happen at the very last minute!!! Debbie was great. I enjoyed the convenience of hosting and having it done at home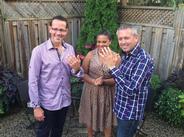 Jai & Kat
I trust life is treating you well. We are back from our honeymoon in Vegas and we wanted to be sure to take some time out and extend our heartfelt gratitude and appreciation. We were very pleased with the manner in which you conducted our ceremony. We really can't imagine it being done by anyone else. You will always be a part of our story and the memories we created that day and beyond. Not only were you professional but incredibly personable and I personally cannot thank you enough for the kindness and sensitivity you displayed in my moment of need. We haven't had to chance to see many pictures as yet but the ones we have seen show you beaming and we loved that. It truly appeared liked you were enjoying the occasion and that pleased us greatly. We would not hesitate to recommend you to anyone. We will be sure to communicate our feelings to All Seasons and we would love to provide you with a testimonial if you need one. Take the very best care of yourself. Jai & Kat
Annmarie & Amos
Thanks All Seasons! We just wanted to let you know that it was wonderful to have Michelle Meghie officiating our wedding ceremony. Michelle really helped us shape the ceremony, from patiently reviewing all our detailed suggestions to putting forward ideas that we ended up including. Michelle brought a sense of lighthearted fun -- quite fitting for our backyard wedding and BBQ -- that we thoroughly enjoyed! Yours truly...Annmarie & Amos
Julia & Jesse
We loved Michelle Meghie! :) xo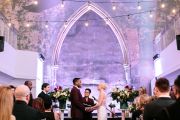 Marco & Jessica
Michelle Meghie is an amazing, understanding, fun and friendly person. My wife and I both loved her. She was able to understand us as a couple and fit perfectly in the ceremony. Everyone I spoke to at All Seasons was helpful and courteous.
Irwin & Lisa
I must tell you that the ceremony was my favourite part of the entire day and that is due to you. I had so many compliments on the ceremony and I was sure to give you all the credit. My brother and his wife absolutely loved you and if they do a renewal of their vows next year I their 25th anniversary, I am sure they will be asking you to officiate. You were more than I ever imagined, thank you so much for that. Thank you for everything,
Nancy and Jack
On May 28th, I married my very best friend. We were so delighted to have Michelle as our officiant!! Michelle was so easy to work with. Jack and I had a specific vision for our wedding ceremony and Michelle worked with us to create a light hearted, simple and inclusive script. She was so great to accommodate our last minute "raffle" to pick the two witnesses making the event one to remember for our guests. Our friends and family were delighted and enjoyed it so much. Thank you, Michelle for being part of it!! We couldn't have imagined a better person to Marry us! Nancy and Jack