Lynn Abbott-Lennox, BA., B.Ed
Lynn delights in creating a personally memorable and meaningful ceremony for each couple. She adds extra attention to the overall details, from the processional through every moment and word in the entire ceremony. She will make suggestions, if couples wish, for adding special touches to personalize the event. Her background has equipped her with skills in writing, public speaking and organization. Lynn looks forward to performing a ceremony for couples of all traditions and orientations who wish to make this commitment of love to each other. Lynn is an experienced Appointed Designated Minister with Clergy Support Memorial Church.
Request Lynn Abbott-Lennox
Areas served
October 15 to May 31 Orillia, Gravenhurst, Port Severn, Warminster, Marchmont, Coldwater, Moonstone, Fesserton, Horseshoe Valley, Jarrett, Rugby, Edgar, Forest Home, Hawkestone, Oro, Medonte, Midhurst, Barrie, Cumberland Beach, Washago, Severn Bridge, Port Stanton, Dalrymple, Rama, Udney, Sebright, Brechin, Lagoon City, Bayshore Village, Gamebridge, Waubashene June 1 to October 14 Whitestone, Lake Wahwashkesh, Dunchurch, Ahmic Harbour, Magnetawan, McKellar, Waubamik, Parry Sound, Nobel, Parry Island
Reviews
Nicky and Mario
Lynn Lennox was an amazing officiant! Lynn is very friendly and professional. She worked with us to create the perfect ceremony that reflected our wishes and personal tastes. She was invaluable at our rehearsal, helping to keep order amidst all the chaos while at the same time ensuring that even the smallest details were taken into account. Our wedding day was the most beautiful day, in large part because of Lynn's contribution. We could not have done it without her!
D'Arcy & Zhigang
Lynn Lennox did an outstanding job of officiating our wedding. She met every one of our expectations. Lynn was very thorough and enthusiastic from the initial meeting, the end to end planning process, the rehearsal and most of all she performed the service to perfection. We could not be happier with our amazing ceremony that she performed. We would gladly refer Lynn to others looking for a wedding officiant to perform their wedding ceremony.
Marika and Corey
Lynn Lennox was fabulous! She connected with us on such a professional yet comfortable and friendly level, ensuring our ceremony was just perfect. During our meeting a few weeks prior, she gave helpful advice on things we did not even know we needed to consider! Thank you Lynn for all your support and kindness! Marika and Corey Sept 15th, 2018
Mitchell and Toni
When we asked Lynn Lennox to perform the ceremony at our wedding, we were asking her as a favour to us. We did not expect that she would see it as such an honour. Lynn went above and beyond what we had asked her to do. From the moment we chose her on this website, to meeting with us to be sure she had a complete understanding of what we were looking for in our ceremony to the actual big day. Lynn took something that has been done millions of times before and made it personal and heartfelt for Mitchell and I. We could not have asked for anything more. She showed genuine heart and passion for my husband and I and for the job she does so very well. Guests are still coming up to us to tell us how beautiful and unlike any other the ceremony was for our special day. We could not have asked for anything more. What a wonderful experience from start to finish with Lynn. Sept 2018
Mark & Salced
Lynn Abbott-Lennox was beyond amazing! She went above and beyond and was extremely welcoming when we first met. Lynn made us feel like we have known her forever. She thought of the little things that we didn't think of, and was extremely thorough and she was able to incorporate my Filipino wedding traditions as part of our wedding. We are so extremely grateful and he highly recommend Lynn to anyone who is looking for an officiant. Thanks again Lynn! Mark & Salced August 2019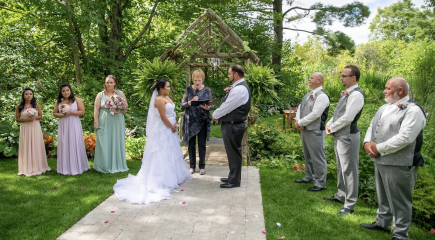 Nicholas & Cynthia
Lynn Abbott-Lennox did a great job with everything. 5 stars for sure! Perfect!Completely satisfied. A great experience! Nicholas & Cynthia October 2019