Luc Despatis
Luc is one of our most experienced wedding officiants. He is a true 'people person', flexible and open-minded, with a love for life and all that is true. Whether what you have planned is a classical wedding, or a relaxed and laid back one; whether you wish to have your ceremony in French, English or Spanish, it will be a true pleasure for Luc to perform your wedding. Please note. He now spends much of his free time doing charitable work in developing countries so please contact us to check his availability. Luc is licenced in both Ontario and Quebec.
Request Luc Despatis
Areas served
Quebec: Aylmer, Cantley, Chelsea, Gatineau, Hull, Luskville, Mont Cascades. Ontario: Gloucester, Nepean, Ottawa Center, Vanier.
Reviews
Josee & Patrick
Luc Despatis was fantastic - friendly and organized right from the start! We wanted something a little different for our blended family and Luc was open to all our ideas and provided wonderful suggestions. Whenever Patrick and I talk about the ceremony we always talk about how calming Luc was - he was so professional but laughed with us when it was needed!! We are so happy we chose him because we couldn't imagine having someone else marry us. He was perfectly suited! Thank you Luc, thank you for making sure our incredibly wonderful day got off to such a great start. Merci!! Josee & Patrick
Alice & Nik
Nik & I wanted to thank Luc Despatis again for such a great ceremony. We both liked that it was sort of casual, relaxed, and fun which he made happen. Luc is very good at what he does and I will highly recommend him to any of my friends. Alice & Nik
Jessica & Maxime
Luc Despatis was a personable and respectful officiant. From the first time we met him we knew he would be able to conduct the wedding ceremony of our dreams; and that he did. Thank you so much Luc! Jessica & Maxime
Andrew & Tharie
Luc Despatis more than met our expectations - he surpassed them! Luc was great at answering questions when we were looking at putting together our program and creating our own personable ceremony for the big day. He was prompt at getting back to us and a good communicator in letting us know when he would be out of town in case we needed to reach him. We couldn't have put a program together and ran a ceremony as smoothly without him. Luc Issa really helpful and super friendly! Thank you, Luc for officiating our wedding and helping us putting together the ceremony! Andrew & Tharie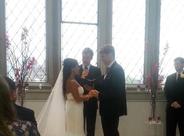 David & Carole
Luc Despatis was amazing. He made us feel so comfortable, he smiled with us. I felt like he was one of our family members. He helped the groom calmed down before the bride arrived. Our ceremony was beautiful. We would like to thank All Seasons Weddings and especially Luc Despatis. We would recommend him with no hesitation. David & Carole
Stephanie & Noel
Gros merci du fond du coeur Luc Despatis. Ton calme, ta considération et ta répartie furent tres appréciés! Parfait. Merci, tu as fais partie de nous! Stephanie & Noel
Diane & Pierre
Luc Despatis est tres amicale, a l'heure et a l'ecoute de nos besoins. Merci beaucoup, notre journee a ete bien reussi grace a l'excellent service que vous nous avez donner. Diane & Pierre
Charles & Mylene
Luc Despatis est un célébrant exceptionnel. Il a su nous mettre très à l'aise et nous avons pu compter sur lui lors de la préparation de la cérémonie ainsi que le jour même. Nous le recommendons à n'importe qui a besoin d'un célébrant bilingue, amical et qui sait animer une foule avec aise et plaisir. Merci encore Luc! Charles & Mylene
Jacqueline & Edwin
Luc Despatis was great! We wanted a bilingual ceremony that honored our mother tongue, Spanish. We were lucky enough to work with Luc on a ceremony that reflected our values and beliefs while incorporating family members as well. Couldn't have asked for more! Jacqueline & Edwin
Cole & Amanda
Thank you Luc (Despatis). I just wanted to take a second and just say thank you. I've found the process so far for the ceremony to be very very simple given how helpful you have been. I'm sure you get this a lot, but you're just really making me feel relieved with the preparation, so thank you! If anything else comes up I will let you know, but if not I will see you on Saturday! Cole & Amanda
Ian & Isabelle
Luc Despatis was so helpful, friendly and professional. He was all around amazing! Guests thought he was part of the family. That is how connected he was. We can't thank Luc enough for his service. He was personable and organized, he made us laugh and kept us calm during the ceremony. We couldn't have asked for someone better to marry us. Merci, for the bottom of our hearts! Ian & Isabelle
Lorraine & Ross
Luc Despatis met our expectations and certainly went way beyond anything we could have hoped for. He was extremely helpful and very friendly in every possible way. Our first contact with him was when he was away on holidays and he responded right away and was truly wonderful and helped us a lot with planning our ceremony when he was in Nepal! He is such a classy, well versed, natural man - We can not have asked for a better experience and everyone loved him! Absolutely without a second thought! We could not be more pleased with our experience and more grateful. Again, thank you so very much - we are over the moon and very impressed. Lorraine & Ross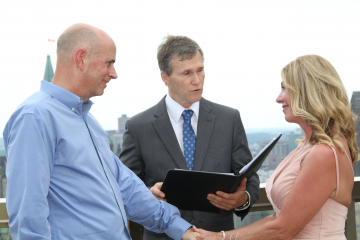 Jenessa & Sean
Luc Despatis was wonderful! He was organized, kind, funny and professional and we were so happy to have him marry us! December, 2018.
Nicolas & Mika
We really appreciated Luc's experience, professionalism and kindness during our wedding day. His small gestures were made all the more important because of the high emotion of the day. I really appreciated, as the bride, that he came to see me before the ceremony to let me know he was there and to see how I was feeling. My husband really appreciated that he lent him his tie clip for the ceremony! These small attentive details made all the difference to us and we feel really blessed to have met Luc and to have him be a part of such a special moment in our lives. October, 2018.
Thierry & Amelie
Luc Despatis is an amazing officiant. We chose him, as he had previously performed the ceremony for my brother and his now wife. Luc put us at ease and was willing to work with us to add in personal touches, even some he was not familiar with! He is also discreet, guiding you during the ceremony, if you forget to do something, and somehow is able to sneak out of every photo shot! He was wonderful and we could not have asked for someone better to marry us! Thierry & Amelie September 2019
Joris & Diana
Luc Despatis was incredible! We are not from the area so finding an officiant was a difficult task - he made us feel so comfortable and heard. We did all our meetings over Face-time, and we appreciated his flexibility. We were able to customize our entire ceremony, adding out native languages, prayers, readings etc. Everyone loved Luc, he made them laugh, cry all at the right times. Thanks again for everything Luc! Joris & Diana October 2019