Kerry Yeo
Kerry is an Ordained Chaplain with Clergy Support Memorial Church with special responsibilities for Church Growth Programs via Outreach in the Edmonton area. She is an award winning wedding officiant. As a long-time student of world religions, Kerry has a strong belief in the importance of celebrating life events and welcomes the opportunity to help create a personal wedding ceremony; one that allows elements of the couple's pure joy, personal beliefs and commitments to shine through on their memorable day. Kerry has a real passion for community service. She expresses this passion in the form of instructing and volunteering with people from diverse backgrounds with understanding and a warm, gentle sincerity. She loves horseback riding, women's rugby and reading, just to name a few hobbies.
Request Kerry Yeo
Areas served
Ardrossan, Camrose, Fort Saskatchewan, Edmonton, Leduc, Spruce Grove, Stony Plain, St. Albert, Thorsby, Devon, Calmar, Nisku, Beaumont, Millet, Mulhurst, Nordegg, Rocky Mountain House, Pigeon Lake, Sylvan Lake
Reviews
Mary and Clyde
We would like to say a big thank you Kerry for performing our ceremony. You put us at ease during the ceremony and we think you are a wonderful officiant. We would like to Thank you from the bottom of our hearts. God Bless.
Melissa & Darryl
Kerry Yeo was perfect. She was flexible, professional yet personable at the same time. She really lightened the service. Thank you to Kerry Yeo for the wonderful ceremony and for laughing with us and understanding my nervousness. She came up after with a hug and a congratulations which meant a lot. I will 100% be recommending Kerry Yeo.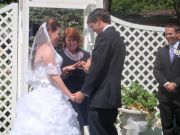 Rebeka & Davin
Kerry Yeo is an amazing lady not only to speak to and meet but someone who we had some good laughs with. Thank you for sending Kerry our way. She did an amazing job and was so helpful with anything we needed and was very promt with replying back via Internet or telephone. Thank you Kerry!!!
Holly & Jeffrey
Kerry Yeo was an absolute pleasure!! We couldn't have been happier with her and her calm demeanor on our wedding day. The script we used was so perfect and we had so many compliments on our ceremony. We would definitely recommend Kerry to anyone who asked!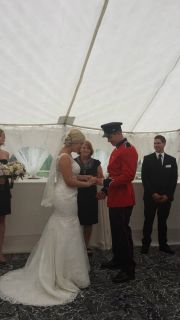 Taryn & Jarvis
We had an excellent experience with Kerry Yeo. She was extremely professional, kind and witty. She accepted our changes without hestiation. We would definitely recommend Kerry to other people.We would like to thank Kerry once again for marrying us :)
Kathleen & Tony
Kerry Yeo was very friendly, patient and kind. She took the time to explain and help us understand. I appreciate the service.
Kelly and Andrew
Kerry, We just wanted to write to you to thank you for making out wedding so wonderful. The ceremony was beautiful and you did an absolutely incredible job. Everyone was raving about how amazing you were at the reception. I was hoping to get a chance to thank you personally afterwards, but got caught up in the whirlwind of activity. Thank you so, so much again,
Veronica & Tyler
Kerry Yeo was extremely nice and helpful.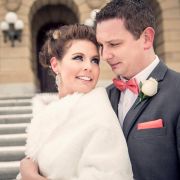 Catherine & Dustin
Kerry Yeo was wonderful. She brought warmth and joy to our ceremony. Absolutely lovely.
Shanon & Spencer
Kerry Yeo did a fantastic job, we honestly couldn't ask for a better officiant. I will defiantly recommend her!!
Amanda and Jesse
Rev. Kerry Yeo was beyond amazing! I cannot rant and rave about this women enough! She did our wedding at the Hotel Macdonald on March 26, 2016. She was so kind and put us both at ease. She came to see me before the ceremony and gave me a special pep talk that settled my nerves. Anybody looking for an officiant please choose Kerry. She is so passionate and her kindness exceeds every expectation. Thank you Kerry from both Jesse and I. You were everything and more. Amanda and Jesse
Rene & Mitch
Rev Kerry Yeo is kind and gentle and willing to explain whatever we needed to know. Rev Kerry is patient and understanding and provides support wherever she can. She is genuine in her pastoral care for others and her excitement for a person's big day!
Bre and Hunter
We were looking for an officiant that would lead a fun, light hearted, spiritual ceremony. Rev Kerry (Yeo) was absolutely amazing from the start. She was so personable and took a genuine interest in getting to know us as a couple. She made the rehearsal and the ceremony so enjoyable, we couldn't have asked for a better officiant.
Jeff & Randi
She did an awesome job, Exactly what we wanted before the Dominican! August 18th, 2018
Kirsten & Christopher
Kerry was wonderful! She had a lovely way of words and made our ceremony very special. August 25th, 2018
Nicholas & Whitney
For our wedding, we decided to go with Kerry Yeo, from All Seasons Weddings. She was fantastic! She met with us a couple of times prior to the wedding day to go over what we wanted, was accommodating, made excellent suggestions, worked with us throughout the planning process, was on time day of and for all meetings, answered all our questions, was friendly, funny, etc. If you are having trouble picking an officiant for Edmonton and Area do not hesitate on Kerry Yeo. You will not be disappointed. She was professional from start to finish. We are beyond impressed and pleased. She was amazing!!! Nicholas & Whitney May 2019
Susan & Victor
Kerry Yeo was amazing! She did such a great job of including everyone especially our children in our ceremony. We would recommend her all day long. September, 2018.
Kailey & Michael
Kerry Yeo was fantastic, very helpful through the wedding process and ran a very nice ceremony. Kerry gave us different ideas for our wedding that we never would have thought to do, as well to stop for a kiss on our way back which turned our to be one of my favourite photos of us from that night. I would highly recommend her to any of my friends getting married. December, 2018.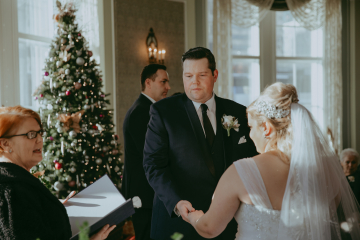 Kelvin & Kerri Tessa
My husband and I was very happy with Officiant Kerri Yeo. She is very friendly and did a great wedding ceremony for us. I would highly recommend her. Very professional, funny at the same time and most comfortable to be around. for future weddings this is the woman you would want to choose without a doubt you will be happy to have made the right choice as we are. Thank you! Kelvin & Kerri Tessa June 2019
Krista & David
Kerry Yeo was amazing to work with! So friendly and very helpful! Thank you for everything our day was perfect. Krista & David June 2019
Linden & Stephanie
Loved her! She has the perfect personality for this! Huge thanks to Kerry Yeo!!! Linden & Stephanie. July 2019
Ryan and Tasha
Kerry Yeo was everything and more than we could have wanted on our special day! She is kind and patient and has a great sense of humour! She was receptive and accepting of any ideas and changes we wanted to make to the script. We would definitely recommend her!! Ryan and Tasha. July 2016
John & Brigitte
Kerry Yeo was amazing - we liked her from the first meeting - I am glad we picked her - so personable. Kerry was perfect for us - very relaxed - easy to talk to . Even though ours was a renewal of vows, it felt just as sincere as the first time around 20 years ago. I would recommend Kerry to everyone in need of an officiant. Thank you Kerry! John & Brigitte July 2019
Wade & Grace
Kerry Yeo was better than we could have imagined! She did the service exactly as we wanted and it was beautiful! She was excellent! Thank you Kerry! Wade & Grace August 2019
Michael & Philippa
Kerry Yeo was amazing, she made our day so special and romantic. She even threw in the Irish blessing for us, which our family loved. From the first meeting until the day of the wedding Kerry made sure we had the ceremony we wanted. She is so friendly and an amazing person. Thank you Kerry! Michael & Philippa August 2019