John Anderson
John is a resident of Thunder Bay and a Appointed Minister. John is use to dealing with a wide variety of people. He has a real skill at making people feel comfortable. He is open to alternative ideas, whether it is an alternative format or alternative locations such as your backyard a restaurant, or a park. John is very flexible and open to all new and wonderful ideas. He is also very comfortable and supportive of those who want something more traditional and conservative.
Request John Anderson
Areas served
Thunder Bay, Township of Oliver-Papooinge, Murillo, Township of Conmee, Kakabeka Falls, Stanley, Rosslyn Village
Reviews
Amanda & Carlo
John Anderson was amazing, he was very friendly and explain everything in an efficient manner. I highly recommend John for a wedding officiant!
Nicholas & Rebecca
John Anderson was great, and he flowed nicely with our sense of humour throughout the ceremony. Thank you John. Nicholas & Rebecca July 2019
Paul & Silvia
Our Officiant, John Anderson, was great to work with. He answered all of our questions in a timely manner and the ceremony was exactly what we had requested. John made everyone feel at ease that day and was very professional, as well as personable. We were very happy with John and would highly recommend his services. Thank you! Paul & Silvia August 2019
David & Amy
John Anderson was awesome. We explained ahead of time that it was not a "traditional wedding" and we are doing a viking style sword and key exchange. John even offered to bring his sword if we need. It was simple and quick, which was perfect as we did not want dragged out waiting time and long boring vows. David & Amy August 2019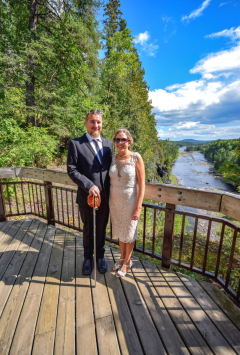 Cory & Shannon
John Anderson was wonderful! He is very professional, warm and kind. It was a perfect day , thank you for everything John. Cory & Shannon September 2019