Jim McDowall
Jim is a Windsor native. An Officiant since 2011 Jim has demonstrated an ability to be flexible and adaptable. He is; warm, caring, and dependable. He will be sensitive and receptive to your ideas and is prepared to offer direction as needed. Jim is a relaxed guy and he has the ability to put people at ease. Jim can bring a sense of humour to any situation. He looks forward to serving you and celebrating your special day with you. In addition to Windsor he will serve all of Essex County including; La Salle, Essex, Lakeshore, Tecumseh, St Clair Beach, Emeryville, Belle River, Amherstburg, Leamington, Kingsville, Harrow, Maidstone, Saint Joachim, Stoney Point, Comber, Woodslee, Pelee Island.
Request Jim McDowall
Areas served
Windsor, Tecumseh, Saint Clair Beach, Belle River, Lake shore, Essex, LaSalle, McGregor, Amherstburg, Harrow, Kingsville, Leamington, Essex County.
Reviews
Emily and Bryant
Jim McDowall did a great job! We had asked for some special requests for the ceremony and he did it perfect. He made sure it was presented how we wanted it.
James and Lacey
Jim McDowall was the perfect choice to officiate our wedding ceremony! He was professional, helpful and easy to work with. Before our wedding, Jim took the time to meet with us and customize the ceremony just the way we wanted. We couldn't be happier with how everything turned out and will definitely recommend Jim to anyone who is getting married. James and Lacey
Judy and Doug
Thank you again Jim for our beautiful ceremony. Friends and family continue to compliment us on just how personable, relaxed and intimate our ceremony was. It was absolutely perfect! We will certainly recommend you for any future weddings we hear about.
Thelma and Stephen
Would like to give a special thank you to Jim McDowall for a wonderful wedding he performed on the beach in June.
Diane and Bret
It truly meant a lot to Bret and I that you officiated our wedding. You and I have known each other for many years and that evening you came by to discuss the ceremony and I introduced you to Bret; you two spent the next hour discussing the old neighborhood and getting to know one another. As a result the ceremony was perfect. We will always remember the kind words and how comfortable you made us feel on a day when we were already excited and anxious. Thank you Jim!! Diane and Bret
Brigette and Matt
We really can't say enough good things about Jim. To start with, he was very flexible. We have difficult schedules and Jim was willing to make accommodations for our initial meeting. He was very easy going with a good sense of humor, and was sensitive to our requests. The day of the wedding, Jim made sure to meet with us prior to the ceremony to go over our vows and how the ceremony would proceed, all the while making sure to keep the mood light and free of stress. As for the ceremony, well he met and exceeded our expectations. He was able to cultivate the right mix of solemnity for the occasion with a sense of humor that fit our personalities. Neither my spouse nor I are fond of public speaking, so he helped us through our vows without any awkwardness. The end result was exactly what we were hoping for and more. We had multiple wedding guests comment on how much they liked how Jim handled the ceremony, with several of them stating that they wished they had known of him when they were planning their wedding. We personally couldn't be happier with our choice of Jim for our officiant. Brigette and Matt
Chantelle and George
We met with Jim some weeks before the wedding and requested the most quick and painless ceremony possible as we were both rather nervous about the whole marriage ordeal. He delivered with flying colours, always ensuring a comfortable and pleasant atmosphere and keeping smiles on everyone's faces. Because of this the ceremony flew past and we were happily married in no time! We were very happy with our choice of officiant and highly recommend Jim to anyone taking the plunge! thanks again :) Chantelle and George
Sébastien & Melissa
Thank you so much for the wonderful ceremony. We really appreciate the time you took to understand our unique requests and make our special day that much better. Your ability to work with and adapt to our situation clearly showed your experience. Having our families come from separate continents, some for the first time, was already amazing and your special touch at the very end truly honored us. You took the time to learn, practice and pronounce one sentence in my native language, a small detail perhaps, but an important one we will never forget. Thank you again! Sébastien & Melissa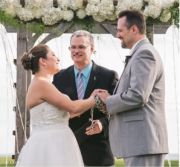 Kerri and Armand
Jim is the consummate professional. From our initial meeting to meeting before our big day – we were so happy to have Jim as our officiant. He incorporated several of our family members into the ceremony and kept with what we wanted – and was excellent to work with. It was beautiful and what we wanted from day one. Highly Recommended.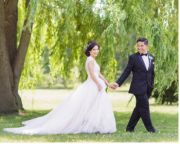 Amy and Andy
Jim made our wedding day truly fun and so easy. From our pre-wedding meetings he found out exactly what we wanted and made it happen. We wanted a fun ceremony with a lot of laughs and it turned out perfect. Everyone still tells us it was the best ceremony ever! Thanks a million Jim!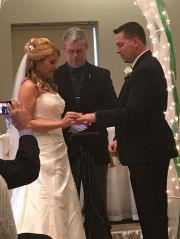 Faith and Aron
From our first meeting, we were both rookies in this whole wedding planning, and when we met you everything clicked and we both felt more than comfortable talking with you. We both felt how genuine you were and how you wanted to make this part of the wedding stress-free and personal. We felt like we were meeting with an old friend each time we met with you, you joked around with us and made our experience with you more than we could have asked for. Our ceremony was a dream come true, you spoke with a heartfelt of knowledge and understanding of who Aron and I are as a couple. You led us through our vows and I do's like we have done them a million times before, we had great comfort knowing you were right there with us, we greatly appreciate your gentle and warm heart making everything lighthearted and fun. You kept it short and sweet and exactly portrayed who we were becoming together. Our families had the utmost respect for you and how you jumped in whenever you were needed, they all loved when you didn't hesitate walking my sister back down the aisle, we are all so thankful for everything you did for us and you are a constant reminder of our most magical and unforgettable day!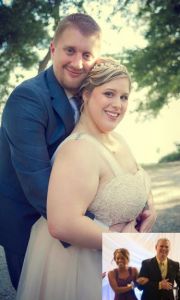 Sarah & Mario
As soon as we met Jim, we knew we made the right choice picking our officiant. When we told him this would involve kilts, bagpipes, a hand-fasting, and a sword, he became just as excited as we were. From start to finish, Jim made sure we were happy with everything, and made our rehearsal very easy to get through. If something did go wrong, no one must have noticed, not even us, as Jim didn't skip a beat and made our day memorable and enjoyable, and we couldn't be more grateful. We are so glad we chose him. Sarah & Mario. April 2019.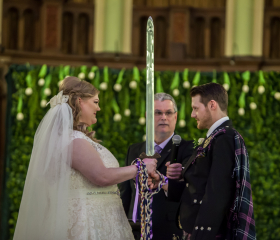 Shealy & Craig
Jim McDowall was our officiant for our wedding this past September, and we couldn't have asked for someone who fit our vision more. When we first met with Jim, his kindness and sense of humour made us feel comfortable, and our ceremony planning seemed so much less stressful with him on our team. Thank you Jim for being part of our day and making our ceremony was everything we imagined. Shealy & Craig September 2018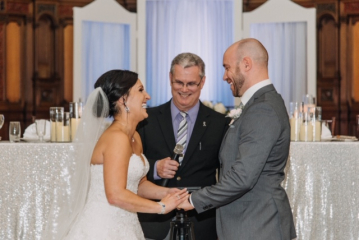 Kyle & Stacey
Jim (McDowall) was so calm and welcoming during our ceremony. He took the time to meet with us before hand and asked us about some things we hadn't thought about ourselves. It was a pleasure to have him at our wedding. He did a great job and is a wonderful person to work with! Kyle & Stacey. July 2019