David DeForest, B.A. (Western).
David is a compassionate, generous and friendly guy! He is an experienced wedding officiant and no matter what you desire, David can help you to create the perfect wedding ceremony to celebrate your love. He is an accomplished public speaker and facilitator, is highly organized, and has an understanding and appreciation of many traditional and cultural beliefs and wedding ceremonies. David has a degree in Philosophy from Western and extensive experience in international and cross-cultural work and is a active Mason. When not working in the garden of his home in Erin or hiking with his dog Chester, David is active in his community. He is an appointed Minister with Clergy Support Memorial Church. Be assured of a day to remember and cherish, when you choose David to bring your dreams to life.
Request David DeForest
Areas served
Acton, Arthur, Brampton, Caledon, Erin, Elora, Fergus, Georgetown, Grand Valley, Guelph, Halton Hills, Milton, Mono, Orangeville, Rockwood, Shelburne
Reviews
Eloise & Robert
David was just amazing he was so helpful and patient with us our day was surely a memorable one. David really made a difference and spend several hours with us on the eve of the wedding, going over every little detail to make sure our demands were met and our day would run smoothly. We would like to sincerely thank All Seasons and especially David DeForest thanks a million, for you are surly a 100% the man!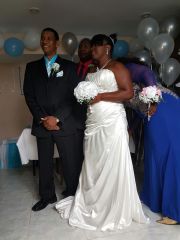 Kathleen and Todd
We were so happy with our ceremony! David (DeForest) was so helpful leading up to our big day. He explained all the paperwork thoroughly and gave us advice and suggestions that we never would have considered. He was also very accommodating to our nontraditional, surprise wedding in a brewery. The ceremony was tailored to what we wanted our wedding to be. It was perfect. Kathleen and Todd
Karli and Harry
David (DeForest) was amazing! During our planning meeting he listened to all of our ideas for the ceremony and gave us some very useful tips to help our day run smoothly. He was very well organized and made our ceremony perfect with his calm, even voice and lovely smile. We had friends and family telling us that if they get married, they would want David to perform their ceremony, and we would absolutely recommend him!
Ashley & Michael
David DeForest was excellent. He was very professional and thorough. He made sure that our ceremony was exactly what we wanted!
Taylor & Tyler
David DeForest was incredibly friendly. This is the first time my husband and I have been married and he had suggestions for things that we never would have thought. David was incredibly friendly and I would absolutely recommend him to others. He was incredibly helpful as well. We had to move our ceremony inside 20 minutes before the ceremony started and he made sure everything still ran smoothly. He also stuck around after the ceremony to take photos with us outside. David was wonderful and All Seasons Weddings was quick with responding and easy to book through. David was also very quick to respond to any inquiries I had.
Jessica & Peter
David DeForest went above and beyond to make our day perfect. He was super helpful in the planning process of the ceremony and discussed every detail to ensure it went smoothly. David is a kind, caring and professional person. Thank you for being part of our special day! September, 2018
Christopher & Megan
David DeForest was perfect! He got there early and walked us through what would happen (both before and after the ceremony) and made sure we were comfortable with it. During the ceremony itself he was soft spoken yet funny, exactly what we were looking for. November, 2018
Tony & Kelly
We are so very pleased with David DeForest, he was outstanding. We couldn't of ask for anything more. Very personable and understanding. He was an absolute joy. The ceremony was amazing, David was amazing. I would highly recommend him as an officiant. Tony & Kelly October 2019