Christine Villeneuve
Christine is an award winning wedding officiant. If we had a ' A ' she would head the list plus she is perfectly bilingual . Christine is licenced in Ontario and Quebec. She has many years experience in public speaking. Christine's warm and inviting personality makes everyone feel comfortable immediately and she is dedicated to working with couples to create their very special day.
Request Christine Villeneuve
Areas served
Ottawa, Orleans, Kanata, Nepean, Metcalfe, Osgoode, North Gower, Stittsville, Cumberland, Rockland, Plantagenet, Navan, Hull, Aylmer, Gatineau, Chelsea, Ange Gardien, Val des Monts, Buckingham, Wakefield, Manotick
Reviews
Julie & Marc
Christine Villeneuve was fabulous! Professional, sincere, organized, patient and easy to reach. Wonderful support staff from beginning to end. Very helpful and understanding. A worry free ceremony, easy to organize, full of suggestions, no regrets. Thank you to each of you working with All Seasons Weddings, it was a very positive, stress free experience.
Angela & Jamie
Christine Villeneuve was amazing! During the preparation phase, she was always very thorough with the information she provided us and was always very prompt with her email replies. Her professionalism on the wedding day was exceptional. Her attire was perfected and she had all the information well organized in her black book ? Luckily for us she was very flexible with the ceremony time since we were running 30 minutes late. I had full intentions of starting after a 10 minute wait to respect her time commitment, but she assured the best man that we could wait for my brother to arrive to walk me down the aisle. Thank you!
Mary and Eric
Christine, plutôt que de répondre rapidement hier, j'ai préféré attendre d'avoir un moment pour exprimer un remerciement approprié. Le ton chaleureux de ta voix, l'expression et la cadence que tu as donné à nos vœux, la clarté de ton expression et la précision égale de ton anglais et de ton français ont été bien appréciés par nos invités, nos parents, Karina Daniel et Natasha, et surtout Mary et moi. Un grand merci aussi pour ton aide livrée avec tact et diplomatie lors de nos préparatifs - le résultat en à bien été amélioré. Tu as donné le souffle de vie à nos vœux; maintenant c'est à Mary et moi de leur donner vie. Ce que nous nous empressons de faire! Merci Christine!
Caroline & Benoît
Christine Villeneuve a toujours été disponible pour répondre à nos questions. Elle est calme et très gentille. La journée du mariage, nous nous sommes sentis rassurer de l'avoir à nos côtés.
Natasha & Steve
Christine Villeneuve was great. Our bilingual ceremony was tailor to exactly what we wanted and went very smoothly. Her words were meaningful and moving. I would recommend Christine to others for sure.
Jennifer & Nathan
Christine Villeneuve was very helpful. She made the offert to get to know us before the ceremony. She took care of all the details so we didn't have to worry in the least. She was great!
Darcy & Tricia
Christine Villeneuve was a pleasure to work with. She was a great deal of help to let us know of the steps we needed to do. In addition, she was great on the day of.
Anne-Marie & William
I received many compliments on Christine Villeneuve's delivery and she was so pleasant to work with, a true professional. She worked with us to perfect our ceremony and tailor it to our personalities.
Mélanie & Luc
Ce fût un moment extraordinaire. Un gros merci a Christine Villeneuve et toute l'équipe!
Nathalie & Yannick
Christine Villeneuve was an amazing officiant. We had decided on her because we wanted someone fully bilingual and with whom we would feel at ease. She surpassed our expectations! She is so experienced she helped us create a ceremony that reflected our beliefs and personalities, and gave us lots of insightful tips. She was very available and flexible in the preparation processalso. The day of, she had such a calming energy and she carried out the ceremony exactly how we had wanted to - switching seamlessly between French and English during the whole ceremony. Thank you Christine! Our ceremony was perfect, and you made it fun and easy to prepare!
Valerie & Jonathan
Christine Villeneuve has a brilliant personality. We met with her about 1 month before the wedding and she immediately made us feel at ease. Everything went smoothly. The ceremony was bilingual (French and English). After the ceremony, I got so many nice compliments from my guests. People couldn't stop saying how amazing she was. The ceremony was just beautiful.
Marie-Andrée & Raymond
When we met, Christine Villeneuve was very friendly and offered great advice to make our ceremony everything we wanted it to be. Right away, we knew everything was under control and we had nothing to worry about regarding the ceremony. Christine answered all of our emails promptly and gave us all the information we needed. She was very well organized and knew what she was doing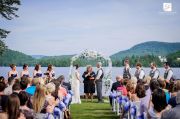 Kim & Marc
Christine Villeneuve was so great!! Would highly reconmmend her. Christine and the office were very accommodating when we messed up our ceremony start times.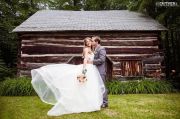 Colette & Matt
Christine Villeneuve did a wonderful job. We met with her before the wedding and she answered any questions we had. She also offered some suggestions for our ceremony. Very pleasant and professional. Thanks Christine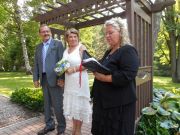 Caryne & Luc
Christine Villeneuve was awesome! Professional and kind, she also really knew her stuff and helped us to better understand the paperwork!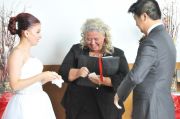 Pascale & Joseph
Christine Villeneuve was very helpful at providing us samples of previous bilingual ceremony text, and was very flexible with our requirements. We felt comfortable working with her to make our wedding day extra special. Christine made us feel at ease. She gave us a lot more useful information then we ever expected, which was highly appreciated. She knew very well the location of our wedding, explained in details the flow of our wedding ceremony, giving us the options we have based on our location. She even draw a little venue plan to explain the details to us. The information was awesome! She was a real Pro!!! Christine was amazing, the service was easily accessible and thorough. Christine was cordial, friendly and thoughtful of every detail. She was a joy to work with. I would recommend her to anyone!
Sophie & Christopher
Christine Villeneuve was excellent and was a pleasure to work with. We received several positive comments and compliments from our guests as well regarding the ceremony and officiant. She is perfectly bilingual and this was a must for our wedding. She also provided a mini pep talk to the groom seconds before the ceremony (which was must needed and welcomed) :). Extremely helpful. All Seasons staff provided great and speedy service and provided us with all the necessary information we needed. We have already spoke to several people about All Seasons and about Christine. Flawless process. With All Seasons you have one less matter to worry about on your big day!! Thank you so much for your help, much appreciated.
Leah and Scott
Leah and I, or should I say my wife and I, want to thank you for playing such a large part in making our wedding as wonderful as it was yesterday. We had many of our guests tell us what a wonderful job you did and we very much agree. You set exactly the right tone and really made the ceremony ours. Thank you for making our very special day even more special.
Brittany & Jimmy
We reached out to All Seasons after a recommendation from several people. The booking process was really simple, and they have many experienced licensed officiants to choose from. Christine Villeneuve was absolutely lovely to work with. She met with us to explain how the paperwork worked and helped us personalize our ceremony. On the day of the wedding, she arrived on time and was prepared. She is fluently bilingual, friendly, and has such a calming presence that is so helpful for those who tend to get nervous speaking in front of crowds. Our ceremony was exactly what we had hoped for and that was in thanks to Christine's excellent work! August 25th, 2018
Jean Paul & Carole
Christine Villeneuve was great, made us all feel comfortable, explained everything to us. I wanted a short and casual wedding since it was my 2nd wedding and she gave me exactly what I wanted, even made us laugh. I would highly recommend her. Thank you so much. Jean Paul & Carole June 2019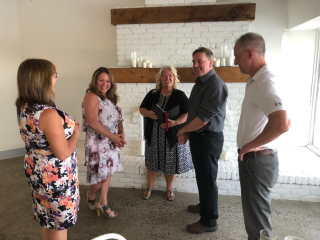 Sébastien & Carole-Anne
Nous avons été très satisfaits de travailler avec Christine Villeneuve comme célébrant de notre mariage. Elle a su répondre à toutes nos questions et nous aider à créer notre cérémonie de mariage parfaite pour nous. Merci Christine! Sébastien & Carole-Anne July 2019
Shane & Martine
Christine Villeneuve was super friendly and patient. She was easy going and super easy to talk to. We would recommend her to everyone! Thank you Christine the day was perfect. Shane & Martine July 2019
Jeremy & Felicia
Christine Villeneuve was absolutely wonderful! We would highly refer her to any of our friends and family. She made us feel so at ease throughout the entire process of getting married and she was such a sweet heart. Thanks Christine for being apart of our special day. Jeremy & Felicia September 2019
Johan & Louise
Christine Villeneuve was a pleasure to deal with and helped us choose the right ceremony for us. She made us feel at ease on the day of the wedding and was prepared by having an extra copy of the reading we had chosen. Thanks Christine! Johan & Louise October 2019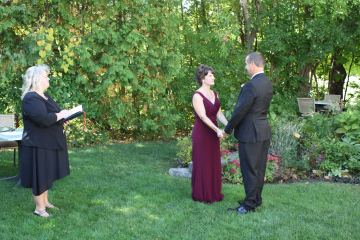 Luc & Karine
Merci Christine Villeneuve ! Grâce à vous, cette journée exceptionnelle restera à jamais gravée dans nos cœurs. Luc & Karine Octobre 2019