Brigitte Samson
Brigitte was recently crowned the 'Officiant of the Year 2017 and 2018' in Canada – Wedding Planning Institute of Canada. Brigitte is a fluently bilingual certified wedding planner and proud owner of Peak Planning Events. She has over 10 years of Wedding and Special Event Planning expertise and has been nominated for Best Wedding Planner in Ottawa 4 years in a row! This Ottawa native brings with her a wealth of industry knowledge and her zest for life to everyone she meets. She can help you with every wedding detail, with the care and attention as if it were her own special day. Licenced both in Ontario and Quebec, Brigitte respects and honours all religious, spiritual and cultural backgrounds. She is comfortable conducting French, English, bilingual or same-sex wedding ceremonies.
Request Brigitte Samson
Areas served
Barrhaven, Cumberland, Embrun, Gatineau, Hull, Kanata, Kenmore, Limoges, Masson-Angers, Metcalfe, Navan, Nepean, Orleans, Ottawa , Ottawa Bilingual, Ottawa Central, Ottawa East, Ottawa South, Ottawa West, Rockland, Russell, Stittsville, Thurso, Vars
Reviews
Kathi & Mike
Mike and I are so happy we chose Brigitte (Samson) to be our Officiant. She is so easy going and very professional. She took care of every detail which meant the world to me as a anxious Bride. My worst fear came true when I arrived at my Wedding it started pouring rain. Brigitte had it all taken care of. She had 2 huge umbrellas waiting for us! It was so thoughtful of her, I couldn't believe it. All of my guests thought the service was beautiful and that she was excellent. My Sister was so impressed she hired her for her Wedding next year. I am so grateful to Brigitte for making our Wedding so special and I am going to recommend her to everyone. Kathi & Mike 07/25/2015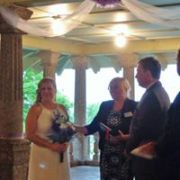 Denis and Hélène
We were so pleased with Brigitte Samson and her services both as officiant and wedding planner for our wedding day. Brigitte is very down to earth and is a pleasure to work with. Her professionalism and attention to detail made our ceremony and our backyard venue beautiful. Memories that we will remember and treasure always! We would highly recommend Brigitte Samson as an officiant and wedding planner. Denis and Hélène 09/05/2015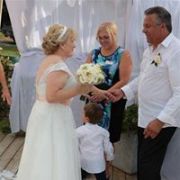 Trish & Chris
Brigitte Samson is extremely professional and very personable. We immediately felt comfortable with her at our first meeting. Our ceremony was a fantastic success and everyone thought it was beautiful. We would be happy to recommend Brigitte to any friend or family member. Trish & Chris 10/15/2015
Mirjana and Sean
Brigitte was awesome for our wedding! She was very friendly, professional and helpful throughout the process. I would highly recommend her! Thanks Mirjana and Sean 02/14/2016
Colleen and JJ
If you are looking for a wedding Officiant and wedding planner to take your stress away, please do yourself a favour and connect with Brigitte Samson. Not only is she thorough, prepared, professional and kind; she is also very easy to speak to and thinks of things long before we ever did (if ever!). Brigitte is bilingual and was very proficient dealing with all of our guests in both French and English. Our day was absolutely perfect and we owe so much of that to Brigitte! Thank you so much for everything! Colleen and JJ 06/25/2016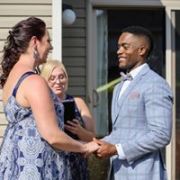 Anthony and Erin
Brigitte Samson is a kind and fun person. She quickly understood our needs and made it easy for us. Very professional and spoke very well as our officiant. I would refer her to anyone I know, friends or family without hesitation. Thank you so much. Big hug from both of us. Anthony and Erin 08/13/2016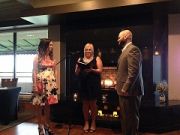 Ken and Eileen
Brigitte Samson, thank you for performing our wedding ceremony! Everything went well and ran smoothly. We would not hesitate to recommend you to any of our friends an Ken and Eileen 08/20/2016
Natasha & Valerio
Brigitte Samson was fantastic! From the first moment we met her we felt very comfortable and confident in having her be an integral part of our wedding day! She was genuinely excited for us and her heart was truly in her delivery of our ceremony. She guided us through the process of the ceremony and its many choices from beginning to end and we heard nothing but wonderful comments about her from our guests. She even provided us with great tips to help us for the big day! We couldn't have found a better choice if we tried! Natasha & Valerio 08/16/2016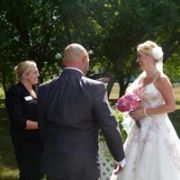 Jeff & Sylvie
Jeff and I would like to thank Brigitte Samson for making our day so special! We appreciated that she took the time to get to know us prior to the ceremony and all the suggestions she made when we were finalizing the details of the ceremony. Brigitte really made everyone comfortable during the rehearsal and provided great suggestions that contributed in making the actual ceremony go very smoothly and it resulted that we both were very relaxed, and we got to truly cherish every moment. Our families also appreciated that she conducted the ceremony in both French and English. We would not hesitate to recommend Brigitte Samson if ever we have friends that are tying the knot!! Jeff & Sylvie 08/27/2016
Valerie & Stefan
Thank you so much Brigitte Samson for being our officiant, you are amazing! Brigitte is very friendly and flexible as we wrote our own vows and changed some words in the ceremony. We met with her and she was extremely helpful in helping us decide what we wanted for our wedding ceremony! She's bilingual which was a huge asset for us :) I highly recommend in meeting with Brigitte Samson if you're getting married no one else will compare!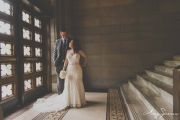 Emily & Jonathan
Our officiant Brigitte Samson did a bilingual ceremony. It was so special and personalized! I had so many comments from people about how lovely the ceremony was ... people thought she was actually a friend of the family. Brigitte made things easy and smooth. All the details were thought of! Emily & Jonathan 01/28/2017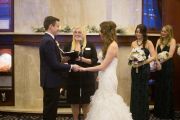 Alexandra & Benoit
Brigitte Samson took on the task of wedding officiant and wedding planner for our wedding this past February. Brigitte was friendly, flexible and very supportive during the entire process. Every meeting with Brigitte was productive and enjoyable. We were especially pleased with her assistance on making our dream day come true within our budget. She is very knowledgeable when it comes to vendors and services and we were satisfied with all her recommendations! Brigitte's day-of coordination was spectacular and allowed us to focus on each other instead of the details such payments, schedule, music, etc. Brigitte is bilingual, which was essential to us. She was able to work with us to have the perfect ceremony script that involved our family and friends. We highly recommend both her services as wedding officiant and planner! Alexandra & Benoit 02/18/2017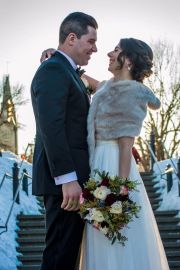 Barb & Denis
We would recommend Brigitte Samson as your wedding officiant without reservation. We are residents of Ontario, who requested her services in January, for an outdoor ceremony in Quebec in May. Brigitte was incredibly knowledgeable and experienced; she gave us insightful counsel throughout our process, which turned out to be quite challenging. A week before our ceremony, our original destination was closed due to snow. Brigitte helped us pivot. Incredibly, on the day of our ceremony, our second location was closed due to flooding. Brigitte adapted and advised us through all these unforeseen changes; a rudder and guiding light as we navigated our way to a wonderful wedding with warm family memories. Truer words were never spoken! Denis & Barb 05/06/2017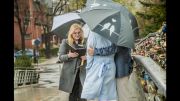 Helina & Simon
We were both so pleased with how our wedding day turned out! A Huge thank you to Brigitte Samson for all that she did and all of your hard work to make it happen - our families were also both really appreciative! We are glad to recommend Brigitte Samson to anyone who's looking for a wedding officiant and planner. It really meant a lot that she was effortlessly able to be on top of many details as planner while doubling as officiant! Many thanks! Helina & Simon 12-18-2015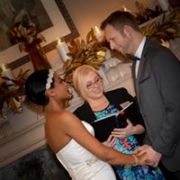 Huong & Cat
Brigitte Samson was our wedding officiant and day-of wedding coordinator. We were very happy with her services. She was amazing to work with! Every meeting with her was productive. She calmed us and offered solutions when we felt stressed. As an officiant, she worked with us and offered great suggestions for the ceremony. The wedding script she made for us was perfect! The ceremony was beautiful. Prior to the wedding, she offered lots of good tips to help us stay on track and save money. On the big day, she stayed in touch with us to make sure things we were good. She also worked with all the vendors and took care of many things behind the scene so that we got to enjoy the day and didn't need to worry about the details. We highly recommend her services. Thank you for making our big day possible! Huong & Cat May 20, 2017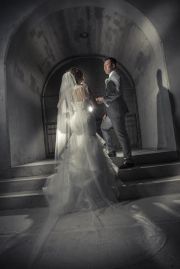 Natalie & Shalako
Brigitte Samson was easy to work with, and adapted the ceremony to meet our needs. We are so glad to have found her! Brigitte's professionalism and understanding truly put us at ease. Merci Brigitte! Natalie& Shalako July 8, 2017
Roxanne & Nicolas
A huge thank you to Brigitte Samson. We had an incredibly special day! Brigitte did an awesome job and I would definitely recommend you to everyone. So glad we had the opportunity to work with Brigitte. Thanks, Nicolas & Roxanne July 15, 2017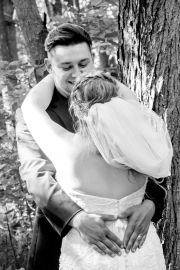 Katherine & Ric
What a pleasure to have Brigitte Samson as our officiant on our special day! She helped us with vows and selection of readings and informed us of the order of the ceremony, relieving much work and angst for us. More than one guest told me they were so impressed with the both the words Brigitte used in the ceremony as well as her calm, pleasant voice. I was so happy she was our officiant and recommend her highly to anyone getting married. Katherine & Ric July 2018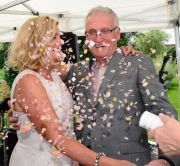 Shauna & Sean
From the first minute we met with Brigitte Samson, we knew that she would be the perfect officiant to perform our wedding! She was kind, funny, personable and was able to gauge our personalities right away. Through all our meetings she was knowledgeable, patient and understanding of our stress. She took the time to explain each aspect of the ceremony to us, and gave us the option of reading the ceremony before hand, so we knew what to expect. When we decided to write our own vows she gave us some examples and helpful hints to follow. On the day of the wedding she arrived on time, and looked stunning! She read our crowd very quickly, and even when there were young active toddlers running around during the ceremony she was able to focus on the union she was performing, and kept it fun and entertaining for everyone. We could not be happier with our choice, and highly, HIGHLY recommend Brigitte to perform your wedding. Thanks again so much for being a part of the best day of our life!! Shauna & Sean July 2018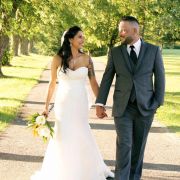 Melissa & Emmanuel
Brigitte Samson est formidable. Elle est douce et prend le temps de bien nous expliquer tout le déroulement et répond à tous les questions avec des explications précises. Le service et l'experience ont eté fantastique!
Greta & Cliff
Brigitte played a huge role in making our day special and as beautiful as it was! Prior to the wedding, Brigitte created us a beautifully written bilingual ceremony to accommodate both our English and French families and she allowed us to tweak and twist the ceremony as we wished to truly make it our own. Brigitte is very open minded and receptive to demands and recommendations. She was great at keeping us calm and collected the day off and oh so very patient! Brigitte was awesome throughout the planning and execution of our wedding ceremony. Our families loved the ceremony and Brigitte's tone and effortless ability to switch back and forth from English to French! Brigitte, it was a pleasure having you officiate our wedding! It was everything we wanted it to be! Thank you for doing such an awesome job, for your professionalism and for your transparent passion in what you do! Mr. & Mrs. Akiza. 09/29/2017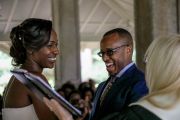 Vanessa & Raymond
My husband and I would like to thank Brigitte for being part of our special day as our wedding officiant. I fully recommend her, with only positive input on her services. As neither of us have been married before we were a little nervous about who to choose to marry us and we wanted our day to be perfect. Brigitte definitely took that bit of nervousness away upon our initial meeting. Brigitte set up a meeting with us to our convenience. She was so open and friendly and we felt as though she was a long time friend and no stranger! The exact feeling you want on your wedding day. She explained every detail and sent us scripts, respecting our interest in regards to ceremony, and was available all along the way. She arrived ahead of time for the ceremony and was dressed professionally. She spoke clear, and loud enough that everyone could here. Everyone indicated that our ceremony was the most beautiful they've seen thus far. And Brigitte, you played a big part in realizing that for us.Thanks so much from us both and our family and friends! We highly recommend you! Vanessa and Raymond Vanderpoel. Sept 2017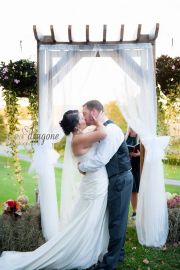 Gabrielle & Jonathan
We are so so happy to have had Brigitte as our officiant on our beautiful wedding day. Our ceremony was short and sweet just like we wanted . She was very professional, organized, and easy to work with. She made us feel so comfortable with her from the moment we met her. Brigitte made the process so simple and easy for us. We could not recommend her more! Thank you so much! Gabrielle and Jonathan Oct 2017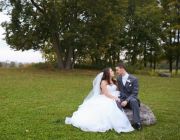 Patrick and Kaitlyn
Brigitte Samson officiated our outdoor wedding in September and we couldn't be happier with our choice! Given the importance of the ceremony for our wedding day, we wanted an officiant that not only understood the importance of the actual day, but also the preparation leading up to it. Her experience officiating weddings was clear from the start, as she provided clear direction and recommendations to help us in the planning of our ceremony. Brigitte was a consent professional and always available to answer any questions or concerns. She was flexible throughout the process and adapted herself to our special requests and needs. Following our wedding, we have received many positive comments regarding the great bilingual ceremony she conducted. We are truly thrilled with the service provided by Brigitte and would recommend her services to any couple looking for a dynamic, professional and flexible officiant. Once again, many thanks to Brigitte for being part of our very special day, Patrick and Kaitlyn Sept 2017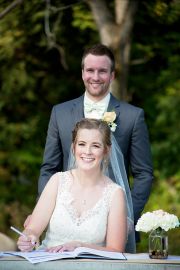 Andréane & Alexandre
Mon mari et moi avons demandé à Brigitte d'être notre célébrante plutôt à la dernière minute. Elle a accepté avec joie et notre mariage s'est passé à merveille. Elle a répondu à toutes nos questions et a su préparer une cérémonie courte et simple, exactement comme nous lui avions demandé. Nous la recommandons fortement, elle est très à l'écoute et notre famille a adoré la cérémonie. Merci Brigitte ! My husband and I asked Brigitte to be our officiant at the last minute. She happily accepted and our civil wedding was amazing. She answered all our questions and prepared a concise and simple ceremony, exactly like we wanted. We highly recommend her service, she is very attentive and our family loved the ceremony. Thank you Brigitte! Andréane & Alexandre November 2017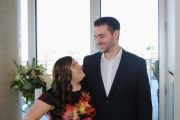 Margaret & Christopher
Thank you very much for performing at our wedding, Festiny complete! It was wonderful and just the way we discussed it with you before hand. Short and sweet and just the important things. Thank you so much again, it couldn't have been better.
Myriam & Michel
We are extremely pleased with how everything turned out and both feel our wedding day was perfect and couldn't have gone any better. :) You were amazing, Thank you!
Amielle & Mathieu
Brigitte is incredibly professional as an officiant, quick to respond to any questions and extremely attentive to what you want. She sent me what she was going to say and even printed our vows for us and carried them for us on the day of. She is bilingual and performed our wedding ceremony exactly how we wanted (in French/English and was light/short) . She made my life so much easier on the day of and was so organized that I knew I had nothing to worry about. HIGHLY recommend-PS she was also voted Best Officiant in Ottawa for this past year!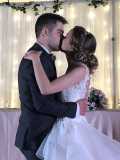 Danielle & Mark
From the 1st time I met Brigitte, she was informative and easy to communicate with. My husband and I are both extremely happy with the work Brigitte put into our meetings and developing a personalized ceremony. We would recommend her to anyone looking to get married! Brigitte is a warm, caring and professional officiant. We loved how she made us feel and truly understood what we were looking for in a simple civil ceremony. When the big day finally came, Brigitte showed poise and seamlessly delivered a beautiful ceremony that went beyond my expectations. Filled with knowledge and ideas, Brigitte is an excellent choice for anyone looking to get married.
Andrée-Michèle & Guillaume
Nous avons adoré les services de Brigitte en tant que célébrante! Nous avons apprécié qu'elle a prit le temps de nous rencontrer, de répondre à toutes nos questions et de nous offrir un service personnalisé. C'est super car notre cérémonie de mariage a été personnalisé à notre image, selon nos valeurs et nos besoins, et Brigitte s'est assurée que chaque petit détail soit à notre goût et parfait. Ceci a énormément facilité toute la planification de notre mariage, et on n'a pas eu à se casser la tête! De plus, nos invités ont vraiment apprécié la cérémonie. Merci beaucoup à Brigitte, notre journée de mariage était très spéciale grâce à elle! Nous la recommandons à tous.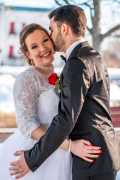 Brittney & David
We just wanted to say THANK YOU!! The ceremony was beautiful and everyone loved you!! We got so many compliments! Thank you thank you a million times!
Stephanie & Mathieu
Brigitte Samson was an absolutely amazing officiant and paid a great role in our ceremony. Brigitte really captured our love and vision for our big day. Even weeks later, we are still receiving compliments about how beautiful and amazing our ceremony was. We are so grateful to have had Brigitte as our officiant. From the start, she was knowledgeable, informative, friendly and professional. We would highly recommend Brigitte to anyone. Thank you Brigitte for everything!"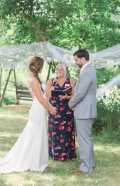 Véronique & Jimmy
Notre journée fût parfaite! Nous avons beaucoup apprécié tes services et n'hésiterons pas à suggérer ton nom si nous avons des amis qui se marient prochainement. Tu nous as offert un service sur mesure, avec beaucoup de flexibilité et sans soucis. De plus, tu as fait preuve de beaucoup de delicatesse avec les demandes de parents. Tu nous as également offert de bons conseils, merci!
Sarah & Adam
Brigitte officiated our wedding, and we couldn't have been happier with her services! Right from the minute we met her, we felt so well taken care of. Her bubbly personality shone through at our ceremony, and she was such a professional and a joy to work with! Our guests thought she was fantastic, and we would highly recommend her to anyone! Sept 2018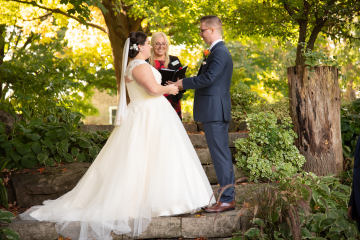 Natasha & Jamie
Thank you so much Brigitte! We had an amazing day and everything turned out perfect ! You are wonderful at what you do and we are so happy with how our ceremony went. We had many compliments about how sweet and simple it was :)
Danielle & Mark
Brigitte is a warm, caring and professional officiant. We loved how she made us feel and truly understood what we were looking for in a simple civil ceremony. When the big day finally came, Brigitte showed poise and seamlessly delivered a beautiful ceremony that went beyond my expectations. Filled with knowledge and ideas, Brigitte is an excellent choice for anyone looking to get married.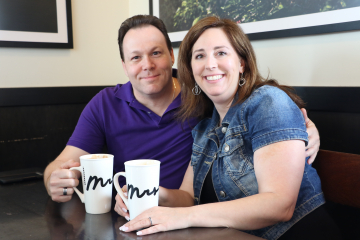 Aaron & Toby
We wanted to thank you again Brigitte for the wonderful service you performed for us last week. You stepped in at very short notice, understood us and delivered a very heartfelt ceremony and made the day everything we wanted!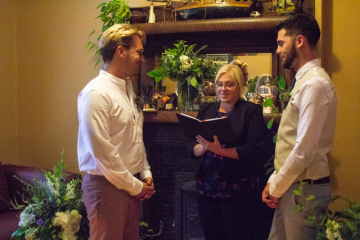 Tristan & Jessica
Brigitte Samson is one of a kind and we could not have asked for someone better than her. From the moment we met Brigitte she truly understood Jess and my love. She understood our silly nature and how through that silliness the love we have for one another. During our ceremony her words truly touch our hearts really showing us that love can concur all with loving one another. We are so glad Brigitte was able to be apart of our special day as well as making this day so special for us! Thank you Brigitte for everything you did for us, you are one of a kind!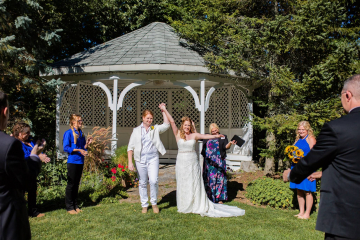 Catherine & Alexandre
Brigitte was amazing throughout the process. She was attentive, confidant and delivered a beautiful ceremony. Thanks for going above and beyond our expectations and we will definitely recommend you to everyone we know. Merci encore!
Angela & Mike
From the moment we met you I knew we chose the right person, the service was amazing, especially for a little ceremony like ours.Thank you so much in helping and guiding us and making our day extra special. It truly means a lot to us.
Amanda & Carl
Thank you Brigitte!! You rocked it. Amazing! couldn't have asked for someone better to perform the ceremony then you. Our guests said it was the best wedding they've been to!
Marilyne & Geoff
Thank you very much Brigitte for all you did for us. we loved our ceremony! Thank you for all your great and excellent work you did and we recommend you to anybody!
Julie & Mark
We very much enjoyed working with Brigitte this year for our wedding this September. Brigitte was personable, likable, and thorough. She came across as very professional, and even put her own personal touch to the ceremony for us in a script made just for us! She captured all the details we had discussed during our initial meeting, and added a touch of humour and elegance. We would certainly recommend her to anyone looking for an officiant!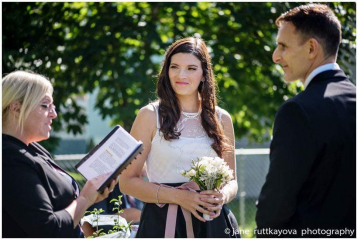 Jocelyn & Stephanie
Nous avons été entièrement satisfait de l'excellent service que tu nous as donné. Ton accueil, ta simplicité et ton empathie marquée ont permis de faire de notre célébration de marriage un événement réussi. Merci encore!
Veronique & Frederic
Merci pour la superbe expérience que nous avons vécu avec toi! Tu es très professionnelle, organisée et disponible. Tu as fait en sorte que les préparatifs concernant la cérémonie se fassent sans stress. Nous dirons à tout le monde à quel point nous sommes satisfaits de tes services. Encore une fois merci!!
Jess & Rob
We fell upon Brigitte Samson by chance, and are so happy we did! Brigitte is friendly, professional and has a very calming presence which really helped us get through our ceremony jitters. We got married the day after several tornadoes hit our city, so there were power outages, traffic lights out and just general chaos. Even though she had several other commitments that day, Brigitte was still there early, cool as a cucumber and ready to go. Several of our family members have remarked on how personal and special our ceremony was. Brigitte really listened to our story and what we wanted, while also providing her expertise when we were stuck. We highly recommend Brigitte to any couple looking for an amazing personalized ceremony!
Jenn & Francois-Michel
Thank you again, SO much! We really couldn't be happier with how the ceremony went. We received A LOT of compliments and everyone loved the way it was presented bilingually. You were such a joy to work with, thank you for all your help and guidance!! You were so great and helpful through the entire process, FM and I are so happy we found you and can't thank you enough!!
Julie & Jonathan
We would like to thank Brigitte for the beautiful ceremony. We asked her to deliver the ceremony in French and in English, and we got nothing but compliments from our family and friends. She speaks beautifully in both languages and such a joy to work with!
Nathalie & Martin
Quelle belle cérémonie! Merci a toi pour ces souvenirs mémorables! Sois rassure! Si quelqu'un parmi nos proche cherche a célébrer leur mariage, tu sera absolument la personne a recommender! Merci encore mille fois pour la belle cérémonie. Ce fut un plaisir de faire ta connaissance.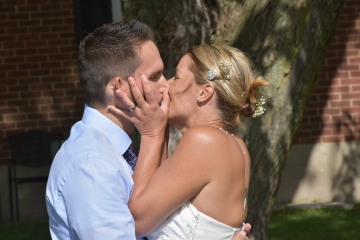 Calvin & Victoria
We had a wonderful time at our wedding and we're so thrilled that you helped make it what it was! You were always available and guided us every step of the way. Thank you for making our ceremony so special!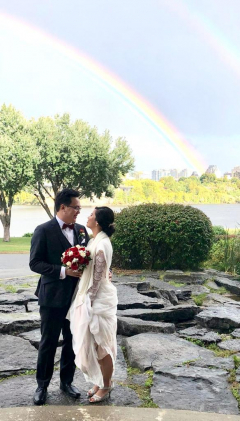 Laura & Léo
Brigitte was a pleasure to work with. She was very professional, well organized and customized our ceremony to our preferences. She made a process that seemed very complicated simple for us to understand. During the ceremony, Brigitte was calm and it made us less nervous during our big day! Our ceremony was unique and heartfelt thanks to Brigitte. We definitely recommend her as an officiant!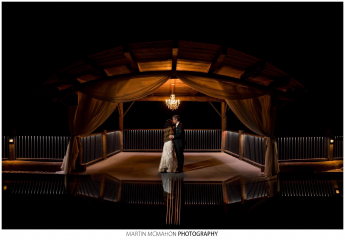 Annie & Rebecca
Brigitte was the celebrant at our wedding, and she did a wonderful job of performing our ceremony. From the first meeting to the day of the wedding, she made the whole process enjoyable and really took the time to get to know us and our story in order to create a personalized, bilingual ceremony. She is so calm and down to earth that we had hardly any nerves on the day and we just thoroughly enjoyed ourselves! We received so many compliments from our guests on how beautiful the ceremony was and how it was so 'us', which is a huge testament to Brigitte's amazing work. Annie and I can't recommend her highly enough. Thank you from the bottom of our hearts!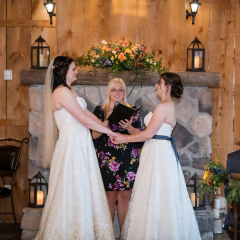 Marie & Olivier
De la première discussion téléphonique , en passant par la rencontre jusqu' à notre mariage on s'est sentis tout en confiance avec Brigitte Samson. La cérémonie ne nous inquiétait pas sachant que nous avions une personne de confiance qui nous guidait. Ca présentation et bonne humeur étaient impeccables, nous sommes plus qu'heureux d'avoir retenu ses services pour ce moment si important! Merci Brigitte pour la personnalisation et ton écoute on recommandera tes services sans hésiter à nos proches. Merci!! xxx
Kyle & Jessyca
Brigitte was simply amazing from the very first meeting. She was very friendly, flexible and easy to work with. We met with her before the wedding and got to know each other before coming up with the ceremony script. She was completely flexible in changing a few things and was able to include a French portion for my half of the family. She was truly great during the wedding and made us feel very special :) i would recommend her to anyone!! October, 2018
Samantha & Bradley
Brigitte Samson was so great and helpful. She was very informative and knew exactly what we were looking for. She was very personal and we truly loved how the ceremony went. All the email correspondence I had was clear and the quick responses were great. I would recommend as it was so easy to get everything done! October, 2018
Sophie & Timothy
Brigitte Samson was lovely to work with. She answered our questions, adapted the ceremony to our liking and officiated it like a true professional. Our guests had nothing but positive comments about our ceremony. October, 2018
Nicole & Kevin
Brigitte Samson was the best officiant we could have hoped for!. She is organized, friendly and helped the day run perfectly. Her calming words of wisdom before and during the ceremony made the process so easy. She definitely knows what she is doing! She was always available through email, and our in-person meetings and rehearsal were so helpful in ensuring that the day ran smoothly. We were lucky enough to hear about Brigitte by watching her officiate two other weddings, and we are so happy she was able to officiate ours! Thank you for everything, Brigitte! - Nicole and Kevin Feb 16, 2019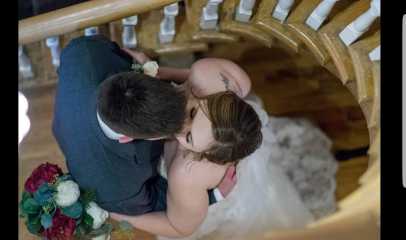 Gord & Kimberley
Brigitte Samson was great - Everyone's been commenting on how funny and warm the ceremony was ! Brigitte was amazing and she was perfect for our ceremony so a big thank you to her for all her hard work! Gord & Kimberley May 2019
Vanessa & George
"Working with Brigitte was everything we could have hoped for and more. She is highly organized and incredibly professional she set the tone of the ceremony which was emotional and heartfelt. We are so appreciative and thankful we are to have booked with Brigitte! Thank you ! Vanessa & George May 2019
Samantha & Patrick
"We just wanted to take a moment to thank you so incredibly much for such an amazing day!! We received so many compliments about the ceremony and you as an officiant! People couldn't get over how amazing everything was handled.Most of all, thank you for making Pat and I feel so comfortable during the most important moment of our lives. I honestly felt like you, me and Pat were in our own little bubble for the entire ceremony and that is entirely all thanks to you. You are so skilled at what you do! Thank you Brigitte Samson. Samantha & Patrick May 2019
Line & Richard
"Merci encore d'avoir été notre célébrante. La journée était parfaite! Quelle bonheur de pouvoir se marier dans l'intimité, sans contraintes et sans jugements. Tu as rendu le processus simple et efficace, comme je les aime. Merci pour ton sourire, ta joie et t'on ouverture d'esprit. Tu as respecté toutes mes demandes et tu nous as informé au tout long du trajet. Merci mille fois!!" Line & Richard June 2019
Caleb & Jessica
Brigitte Samson was extremely helpful the entire way through the process from the minute we booked her to after our ceremony was complete. She was always available to answer our questions and guide us through every step. She put us at ease every single minute of our ceremony and helped to make our day absolutely perfect! We received many comments about how great Brigitte did with our ceremony from our guests, and it was exactly what we asked for. We will not hesitate to recommend Brigitte to anyone that asks! Caleb & Jessica June 2019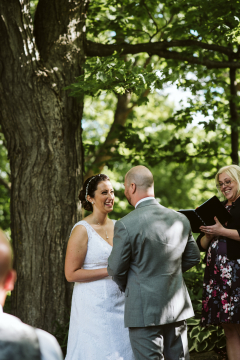 Jessica & Caleb
Jessica & Caleb June 2019 "Brigitte was extremely helpful the entire way through the process from the minute we booked her to after our ceremony was complete. She was always available to answer our questions and guide us through every step. She put us at ease every single minute of our ceremony and helped to make our day absolutely perfect! We received many comments about how great Brigitte did with our ceremony from our guests, and it was exactly what we asked for. We will not hesitate to recommend Brigitte to anyone that asks!"
Joshua & Michelle
Brigitte Samson went above and beyond our expectations. We didn't realize what an important part of our day she would be, but upon meeting her and going over the details of our wedding, we were so glad we were able to book her! Not only did we go over an itinerary for our meeting, but she made sure to understand what my husband and I had envisioned for our wedding ceremony and she really brought that to life. Thank you Brigitte! Joshua & Michelle June 2019
Nina & Terry
Brigitte made our ceremony feel happy, lighthearted, serene, and fun all at the same time (just as we wanted it!). We both felt calm having her up there with us and appreciated her positive energy and warm smile. It was the perfect ceremony, and lots of guests came up to us after telling us how much they enjoyed it. Brigitte was also very knowledgeable and confident about the laws surrounding marriage, which was important to us as our situation was somewhat unusual. We were Ontario residents getting married in Quebec, and I didn't have a Canadian birth certificate and my last name changed when I immigrated to Canada. However, Brigitte led us through all the steps and documents we needed and everything was stress-free! Thank you so much Brigitte for helping make our day so special and memorable! We are so grateful and happy we found you. Nina & Terry (married June 29, 2019)
Michelle & Josh
"After having Brigitte as my officiant for my wedding, I can 100% see why she has been awarded the Best Officiant of the year for 2017 and 2018! She was an absolutely joy to work with. Despite only meeting her once before the day of the wedding, my husband and I felt like we had known her for ages - she's just so warm and personable. As an anxious and detail-oriented person, I was immediately pleased with Brigitte's planning skills during our first meeting. I felt 100% ready for the day of the wedding - I didn't realize how much actually goes into the ceremony, so having Brigitte's guidance was amazing. I also truly appreciated that Brigitte took the time to get to know my husband and I, as well as our story. She incorporated these personal touches into our wedding which made it feel that much more intimate. Honestly, I didn't realize how big a part an officiant plays into a wedding day, but knowing what I know now, I'm so thankful we were able to book Brigitte's services. She really made our day special and unforgettable!" Michelle & Josh june 2019
Adrienne & Graeme June 2019
Brigitte was an absolute pleasure to work with. She is easy going and so organized. We spoke once and she handled everything like a pro. I didn't have to worry about a thing and she showed up on wedding day with great energy and performed her duties perfectly. I would 100% recommend her services. Adrienne & Graeme June 2019