Anna Aagaard, BA, B.Ed (York)
As an Appointed Minister ,Anna lives in the charming village of Clarksburg and covers the entire Blue Mountains area and beyond. She has happily officiated at over 200 wedding ceremonies of all kinds and her experience and devotion will ensure your religious or spiritual ceremony is as unique and special as you wish it to be, in any location you choose. She truly enjoys meeting couples and being part of their special day! Anna continues to give back to her community by volunteering with the Blue Mountains Animal Shelter. She looks forward to hearing from you!
Request Anna Aagaard
Areas served
Thornbury, Clarksburg, Creemore, Meaford, Collingwood, Craigleith, Ravenna, Heathcote, Kimberley, Eugenia, Owen Sound, Stayner, Wasaga Beach, Maxwell, Feversham, Duntroon, Singhampton, Walter's Falls, Flesherton, The Blue Mountains
Reviews
Robyn & Steve
Anna Aagaard was amazing. Very personable and professional. She kept everything running smoothly and on time but not rushed. I would definitely recommend her to anyone
Tanya and Wes
A sincere thanks for officiating our wedding. It was absolutely perfect and we thank you for all you did! September 7th, 2018
Jennifer and Murray
We wanted to thank you - our service was so beautiful and perfect, you made our day so special! Thank you! - September 22nd, 2018
Adrienne & Daniel
Thank you so much for making our day so special. We had many compliments on the service and our guests loved how genuine, personable and composed you were. We agree! September 29th, 2018.
Michael & Patricia
Anna Aagaard was a lovely soulful woman who went with the flow which was a good thing as we had some technical difficulties. Our wedding day was shared by our kids and best friends and it was FUN!! Thanks Anna :) Michael & Patricia May 2019
Christopher & Laura
Anna Aagaard was wonderful. We Wouldn't have had our day any other way. She was relaxed, calm, and kind. Very happy with Anna and All Seasons. We would recommend to her to anyone who is getting married. Christopher & Laura June 2019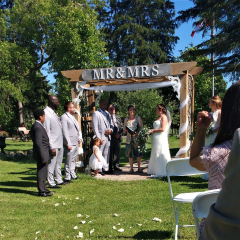 Raymond & Sandra
Anna Aagaard was so great! She is very loving, kind at heart and eloquently spoken. We would highly recommend her services to anyone ! Thank you for making our day perfect. Raymond & Sandra September 2019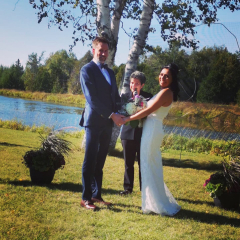 Jaco & Chelsea
Anna Aagaard was amazing and really worked with our vision for our wedding. It was a wonderful day. Jaco & Chelsea September 2019
Paul & Beverly
Anna Aagaard was great! Thank you for helping us make our day perfect. Paul & Beverly October 2019