Norma Rushton, B.Ed (UBC)
Norma is looking forward to conducting your wedding ceremony. She wants to honour your specific beliefs, traditions and wishes by incorporating those elements that are unique and important to you into your ceremony in a caring and respectful way. She lives in Mission, and has long been involved in community theatre in Surrey, Langley, Mission and Maple Ridge. She was an elementary music teacher for many years and when her two sons became interested in joining her at the theatre, she enjoyed it so much she decided to teach drama at their high school. She stays active walking, doing yoga and aerobics, and she loves canoeing. Norma is an Appointed minister with Clergy Support Church. She is designated to conduct Life Celebrations as part of the outreach program.
Request Norma Rushton
Areas Served
Aldergrove, Coquitlam, Mission, Hatzic, Matsqui, DeRoche, Chehalis, Port Moody, Abbotsford, Maple Ridge, Pitt Meadows, Fort Langley, Langley, Surrey
Reviews
David & Vicki
We can't thank Norma Rushton enough, she far exceeded our expectations. Norma made us feel so comfortable & relaxed, so much so my Sister In-law asked if she was one of my friends. Norma, thank you for braving the rain, coming to our home & being there for us ... you made our day perfect. Also, thank you All Seasons Weddings for your services you helped make choosing an officiant so easy, you've been amazing. Highly recommended. David & Vicki - Nov. 2021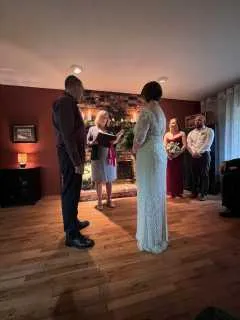 Dwight and Donna Aug 2021
Norma not only met our expectations she exceeded them. Norma was incredible. She helped us with special touches to our ceremony that was important to my wife.
Doreen & Rick
Norma Rushton was a wonderful lady. We would highly recommend her to anyone, very happy and cheerful, thank you for making our day perfect. ? Doreen & Rick August 2021