Nancy Gleason, BA (Carleton)
Nancy was recently voted by her peers as the 'Most Popular Wedding Officiant/Celebrant in Petawawa' at the prestigious international Wedding Industry Experts Awards. I am thrilled to participate and officiate in your wedding! Every couple is unique and this allows me to learn something from you about love, something about life and something about your relationship. I married in 1978 and have three children and grandchildren. We have a home in Pembroke and a working farm in Quebec. Upon retirement from DND, I fulfilled a life long dream and returned to school and completed an undergraduate degree in Law at Carleton University. I'm licenced to conduct ceremonies in Ontario and Quebec. I will approach your wedding ceremony with attention and put my heart and soul into your ceremony. I look forward to being part of your special day.
Request Nancy Gleason
Areas Served
ON: Beachburg, Cobden, Pembroke, Petawawa, Westmeath QC: Campbell's Bay, Chapeau, Chichester, Fort Coulonge, Nichabeau, Shawville, Sheenboro
Reviews
Katie & Kyle
Nancy Gleason went above and beyond our expectations to make the ceremony extra special to both of us. She was friendly to meet with and made the whole process very easy. We will most certainly recommend Nancy to other couples in the future.
Rebecca & Tom
We were very pleased with Nancy Gleason and couldn't be more happy with the service provided. We needed to find an officiant on short notice and All Seasons Weddings were extremely helpful. I would definitely recommend!
Bill & Polina
Nancy Gleason was great! The service was beautiful and she is just a great person! We could not have wished for a better officiant! Thank you so much Nancy! [April, 2018]
Bettina & Horst
Nancy Gleason was just the perfect wedding officiant for us and definitely beyond expectations! She had great ideas for the ceremony and made it unforgetable with her empathic and caring personality. Right from the start she helped with paperwork and found answers to all arising questions. Even after the wedding, she assisted us in obtaining the wedding documents we needed, what was a great support especially we both are not Canadian residents. Thank you so much, Nancy! Bettina & Horst Aug 2018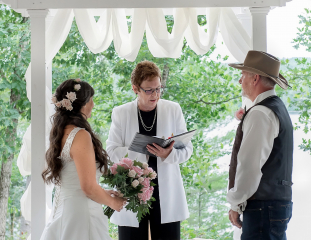 Gabriel & Rachel
Nancy Gleason was so friendly and helpful. She ensured that our ceremony went smoothly and even practiced her French so that she could incorporate bits and pieces of a bilingual service for all of the French speaking guests attending! Thank you Nancy. Gabriel & Rachel June 2019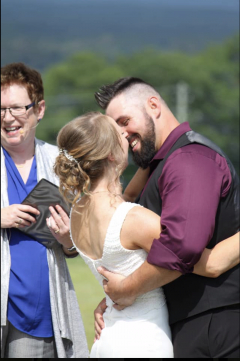 Jorden & Lauren
Nancy Gleason was so incredible! It was such a pleasure in every aspect, thank you so much for adding such a professional and positive element to our day! Jorden & Lauren August 2019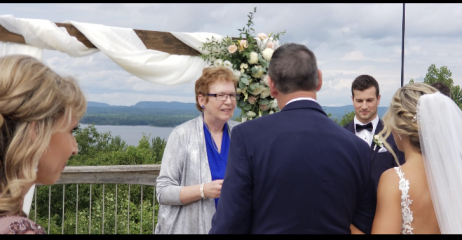 Michael & Karen
Nancy Gleason was a very very personable person. We liked her from the minute we met her. Nancy did an outstanding job on our wedding, we would recommend her to anybody. Thank you again For your services! Michael & Karen August 2019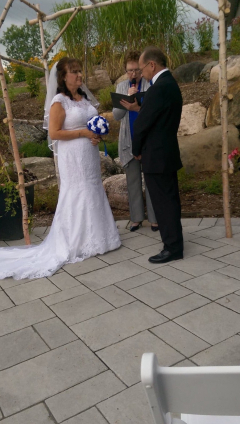 James & Elizabeth
Nancy Gleason was extremely helpful preparing us for the service. She also helped me with any follow up questions I had.Thank you so much Nancy you were Great! James & Elizabeth August 2019