Kelly Meloche
Rev Kelly is an Ordained Minister with Clergy Support Memorial Church and celebrates a life-long career of "people-ing". Her five-foot frame is never short, pun intended, on making a positive difference and raising the bar on kindness. She was born in Windsor yet spent quite a bit of her time in the country satisfying her equestrian passion. Kelly has served hundreds of families and has earned the reputation of an insightful listener and refined communicator conducting ceremonies that are remarkably tailored and forever treasured. Kelly is a dedicated professional capable of combining her quick wit, creativity, linguistic flare and energy to deliver once-in-a-lifetime moments for couples. She challenges herself to complete a half-marathon each year, is a Hospice volunteer and always saves time to spend with her two children and fur baby Piper.
Request Kelly Meloche
Areas Served
Windsor, Lasalle, Amherstburg, Harrow, Essex, Kingsville, Cottam, Leamington, Lakeshore, Puce, Belle River, Tilbury, Tecumseh, Colchester, Walkerville, Ruthven, Oldcastle, St. Joachim, Stoney Point, Comber, Woodslee, Pelee Island, St. Clair Beach
Reviews
Dan & Shari
Kelly Meloche went above & beyond We shared ideas of what we could do Offered suggestions I didn't think about Was kind ,caring & compassionate! December 2022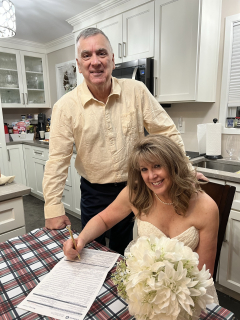 Chuck & Kim
Kelly Meloche was amazing! She made our day extra special! December 2022
James & Anetta
Kelly Meloche was enthusiastic, caring and energetic. She personalized our service and customized it to our needs. She was engaging with the people attending the wedding and had everyone smiling. She was wonderful and I would recommend her to anyone. October 2022
Calli & Mark
Kelly [Meloche] involved our friends and family in the ceremony and accompanied our unique suggestions in the ceremony with ease. She was great to work with! September 2022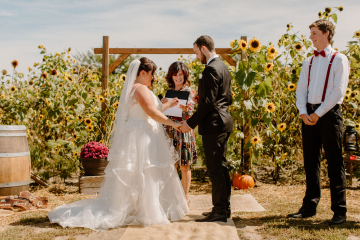 Taylor & Mitchell
Kelly Meloche was a fabulous officiant! We had heard great things about her from others and she definitely lived up to our expectations. She was kind, punctual, and flexible with us. We can't thank her enough for being a part of our special day! August 2022
Steven & Dina
We were very happy we chose Kelly to be our officiant and for our outdoor wedding at Sprucewood Shores Winery. Her delivery was warm, her presentation effective, and she incorporated a number of personal touches that made the ceremony feel incredibly special, with eloquent language and moments of humour that immediately eased our nerves. May 2022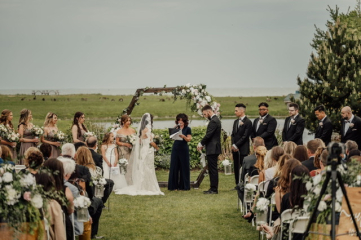 Dina & Steven
Steven and I wanted to say THANK YOU so much for your beautiful contributions to the ceremony! You added such a personal touch with an elegant combination of humour and warmth that eased my nerves so seamlessly. We are so happy we chose you to be our officiant.
D'Arcy & Breanne
Kelly Meloche was absolutely phenomenal and made our wedding ceremony everything we wanted and more! She catered our ceremony specifically to our story and we couldn't have done it without you. October 2021
James & Jessica
Kelly Meloche was so helpful and her presence and demeanor was exactly what our surprise wedding needed!! She was fantastic in so many ways!! October 2021
Eric & Kaylyn
Kelly Meloche was absolutely amazing !!!! She made our ceremony so personal and special. She is a dream to work with and made it so easy. Eric & Kaylyn September 2021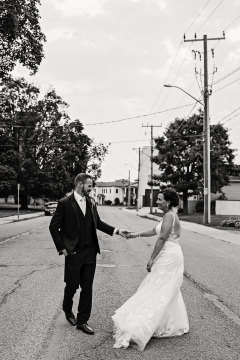 Meghan & Greg
Kelly Meloche was amazing!! We absolutely loved her. With Covid, we refrained from doing a first meet so we didn't actually meet until our rehearsal night. Even though our correspondence was strictly through email, she was able to capture us in a way that made it seem like she's known us for years. Highly recommend Kelly if you're looking for a wedding officiant :) Meghan & Greg August 2021
Katherine & Grant
Kelly Meloche was great and made the service very enjoyable. Katherine & Grant August 2021
Allegra & Jesse-Ray
Kelly Meloche provided us with a beautiful ceremony. She made it personal for us and we will always remember it. She made us share lots of laughs and smiles. We would recommend her to everyone! We appreciate everything she did for our ceremony. Having a backyard ceremony was more than I ever thought it would be and we loved it! Thank you so much Kelly!! You were an amazing officiant and we are glad that we chose you to perform our ceremony! Allegra & Jesse-Ray July 2021
Claudette and James
Kelly Meloche was absolutely wonderful. She was very personable and included guests on Zoom in the ceremony. We would definitely recommend her. Claudette & James May 2021
Jason & Christine
Kelly Meloche did everything we asked for, Kelly made our ceremony very special. Kelly had a smile the whole time she is super friendly we will refer her to others for sure! Jason & Christine October 2020
Alexander & Serena
Kelly Meloche was very friendly and helpful, we would highly recommend her service. Alexander & Serena June 2020
Kamil and Allex
Kelly Meloche did a wonderful job with making our ceremony personal. Kamil and Allex January 2020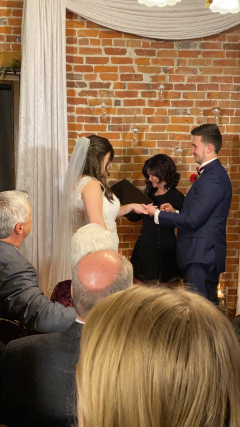 Valerie
Thank you Kelly for your patience and help in giving an amazing sermon. We are truly grateful for all you did and said. You did a magnificent job.
Egon
It was a very good celebration that you performed. Thank you so very much.
Shelbi
Thank you so much for everything you did for us even for going above what you need to do by getting us the balls and the toys for the dogs.
Carmine Robert & Linda
Kelly Meloche was fantastic!! She met with us ahead of time and knew exactly how to make our day perfect!!Thank you again for all you have done for us. Carmine Robert & Linda June 2019