Jenn Noel
Jenn was voted by her peers as the 'Most Popular Wedding Officiant in Sault Ste Marie' at the 2015 Wedding Industry Experts Awards. The wedding ceremony is the beginning of a couple's life together and Jennifer will ensure the ceremony reflects the uniqueness of each couple's commitment to one another. She is open to traditional and contemporary ceremonies and is also sensitive to Earth-based spirituality and First Nations traditions. She is comfortable working with couples of mixed-faith, mixed-culture, and same-sex couples. Jennifer's desire is to ensure your special day is one you'll remember.
Request Jenn Noel
Areas Served
Sault Ste. Marie,Garden River, Heydon, Goulais, St. Joe's,Echo Bay
Reviews
Deep & Nidhi
Jenn Noel made us feel so at ease and comfortable. We had a small ceremony, but she made it so beautiful. We had a marvelous experience with her. I thought the fact that we are Indian would make it difficult for us to manage everything; however, Jenn made it very beautiful for us. She fit in so well and really feels like she's part of the family now. Thank you so much Jenn. January 2023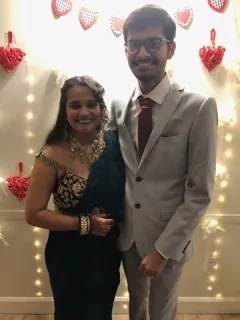 Nancy & George
Jenn [Noel] was very knowledgeable, and professional in assisting us through this special time in our lives. From the scripting of our vows to guiding us through to the signing, she was great! Jenn provided us with a warm and personal touch to our special day. Thank You, Jenn! We highly recommend Jenn to any couple requiring her services. October, 2021
Karen & Norman
Jenn Noel was professional and she managed to fit right in with our family. She was very accessible to us at any time. Jenn was calm and confident. She guided us through the ceremony, hiccups and all, with humour and patience. We were very happy that we chose Jenn. Dec 2021
Darren & Alayna
Jenn Marshall was amazing to work with, super friendly and very accommodating, She was willing to go the extra mile to have our day just the way we pictured it. December 2021
Alayna & Darren
Jenn Marshall was amazing to work with, super friendly and very accommodating, She was willing to go the extra mile to have our day just the way we pictured it. Dec 2021
Mike and Beth
We had a VERY unconventional wedding last weekend and Jenn was amazing through the entire process! She was extremely helpful and had great ideas. She is very professional but yet she was SO fun and open to our crazy ideas. Would 1000% recommend her to anyone looking for an officiant for their special day. It couldn't have been more perfect! Mike and Beth
Bryce & Jasmine
From start to finish Jenn Marshall listened to what we wanted our day to look like. She made the ceremony very intimate and personal and to us that was such a special moment. I don't think anyone could top her! She is an incredible officiant and is amazing at what she does! Thank you for everything Jenn. Bryce & Jasmine August 2019
Kaitlyn & Jason
Jen Marshall was great! Very organized and everyone seemed to have liked the ceremony. Highly recommend her!
Adrianna & James
Jennifer Marshall was amazing. I had a mishap with a different officient (not with All Seasons) and was lucky to get someone on such short notice. She was able to accommodate us to meet with her only a couple days before the wedding. She was comforting and professional. She really helped ease our nerves. Right from the start the reservations staff was accomodating, helpful, and so nice. They made it so easy.
Valerie & Kevin
Here are some words from the heart: As late bloomers on the wedding scene, Kevin and I were very 'green'. Jenn was so kind and supportive, answering all of our questions with passion. The love and enjoyment Jenn admits she gets from the privilege of performing a wedding ceremony matched the excitement Kevin and I had about our wedding and each other. Jenn made the entire process fun and easy, making suggestions where needed while incorporating them into the creative vision of our ceremony. Thank you, Jenn, for sharing in the creation of our perfect memory! Sincerely, Valerie & Kevin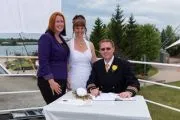 Mallory and Brent
Jenn Noel is an awesome wedding officiant! Our ceremony was exactly what we were looking for! She took the time to get to know us and listen to what WE wanted - short, simple, laid back, meaningful, sweet and non-religious. With her vast expertise she provided thoughtful suggestions and answered all the questions we had. We couldn't be more thrilled with the ceremony. I was very nervous standing in front of all our guests but Jenn was not! She was very calm which immediately put me at ease. She was easily available throughout the process, even following up with us after the ceremony. We aren't the only ones who were thrilled - we had a lot of guests come up to us afterwards to say how much they loved the ceremony (like a LOT of people told us this). I'd definitely recommend Jennifer to anyone looking to create a wedding ceremony that's meaningful for them. Take care, Mallory and Brent