Danielle Ingster, BA, BEd (York)
Danielle lives in North York with her husband and two children. She is fluent in French and English and holds an Honours B.A. in French and a B.Ed. from York University. She is comfortable conducting all kinds of weddings. You will find her warmth, compassion, and her attentive listening skills valuable assets to help you plan your wedding day. Danielle is a dedicated professional; focused on assisting, facilitating, and working collaboratively with couples in making their wedding an unforgettable occasion. She is a very experienced and creative wedding officiant credentialled as an Appointed Minister with Clergy Support Church.
Request Danielle Ingster
Areas Served
Aurora, Concord, Don Mills, Etobicoke, Forest Hill, Maple, Markham, Mississauga, Newmarket, North York, Ontario Place, Richmond Hill, Scarborough, Thornhill, Toronto - Downtown, Unionville, Vaughan, Weston, Woodbridge, Willowdale
Reviews
Ken & Nicole
The process was straightforward and smooth. I was able to explore a variety of officiant options at my own pace and easily filter through different preferences, such as location, availability, and ceremony style. Danielle Ingster was very responsive and professional, which made me feel at ease throughout the process. It was great to have open lines of communication and be able to ask any questions or discuss specific details regarding the ceremony. Our wedding felt incredibly personalized and our guests were genuinely happy with the overall vibe and rundown of the event. It was a truly memorable and joyous occasion for everyone involved. Yes. Danielle is a professional and warm individual who is incredibly accommodating and provides helpful information. Her competence, friendly demeanor, and willingness to go the extra mile have made my experience enjoyable and stress-free. June 2023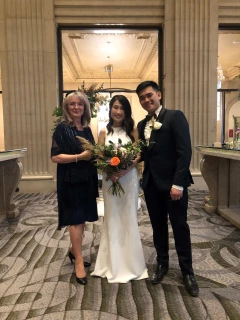 John & Kaori
Danielle Ingster was superb! She was very professional and had a lovely disposition. We are totally happy with our experience with her and would absolutely recommend to anyone looking for an officiant. April 2023
Réjean & Henriette
Danielle Ingster is completely bilingual as was the ceremony. She was professional funny and friendly. We had the most emotional and unforgivable moment thanks to her. March 2023
Jose Soto & Christa
Danielle Ingster made us feel like we knew each other for a long time. I already referred Danielle Ingster to my friend and will keep referring her to anyone I know, thank you Danielle ! March 2023
Aaron & Katerine
Danielle Ingster was amazing! A comforting and assured presence that made the ceremony better. Took everything in stride and helped us shape our vision. Merci, Danielle! July 2022
Carolina & Xiao
We couldn't have asked for anyone better to officiate our wedding at home. Danielle Ingster was super kind and professional. During the ceremony, she even helped with some Spanish translations so my parents could understand some of the vows. This added some nice extra touch and made the day very memorable! Thank you, Danielle! Nov 2021
David & Laura
Danielle [Ingster] was just perfect. Right tone and energy and we are so thankful she was such a key part of our day!!! She was amazing! October 2021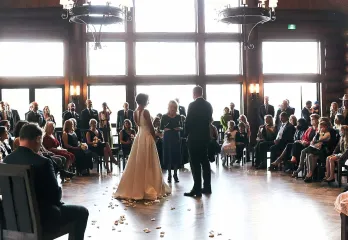 Steven & Jackie
Danielle [Ingster] was the perfect combination of warm and friendly and competent. We would recommend her to anyone. She is a gem. August 2021
Christophe & Marine
Danielle Ingster was great, very friendly and flexible. She accommodated with grace our multiple schedule changes due to Covid and was always very responsive and willing to go above and beyond her role. October 2020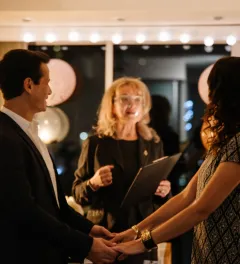 Liam & Audriana
Danielle Ingster was amazing and we are so happy we chose to work with her for our elopement. She was super flexible, even when we had to change the location at the last minute due to the weather. She arrived early and our ceremony went off without a hitch! August 2020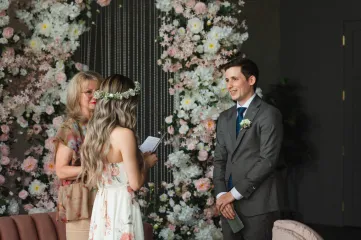 Alexandre & Siobhan
Danielle Ingster did a wonderful job as our officiant. She was had the right balance of giving us information and ideas and letting us decide what we wanted without pressure. She did a bilingual ceremony for us and it was super -- exactly what we were hoping for. August 2019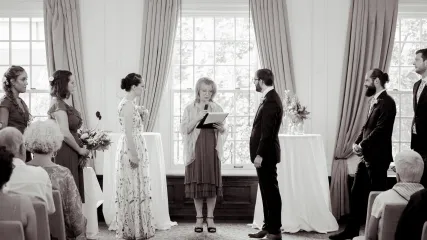 Virgile & Gaelle
Danielle Ingster went beyond our expectations ! Danielle was great and provided an excellent service. From start to finish, Danielle was great to work with. She was prepared and even helped us with the details of the ceremony. Her bilingualism is excellent! We would recommend her anytime! July 2019
Paul & Carole
Nous avons étés très satisfaits. Danielle Filiatrault a respecté nos choix, elle a été très chaleureuse et très bien organisée aussi. Nous sommes heureux d'avoir eu Danielle comme célébrante. Merci Danielle et bon succès à vous!
Carl-Andre & Brittany
Danielle Ingster was amazing, she is very professional and having her French and English skills made the ceremony really unique for our all of our guests.
Ruth & Andrew
Thanks for being so easy to work with and for making our day special. Very prompt and organized and the interactions/correspondance ahead of the ceremony were helpful, including the conversation with the officiant ahead of the day to go over details. Made the process very smooth.
Ashley & Steve
Danielle Ingster was so patient and kind. She gave us exactly the ceremony we'd imagined: short, sweet, and tender. Very affordable as well. Danielle was a lovely lady. I appreciated her efficiency so much!
Allison & Max
Danielle Ingster exceeded our expectations for an officiant. Friendly, reliable, and very professional, she was a beautiful part of our special day. She provided us lots of options and helped us customize the perfect vows for us. We are so happy to have had her be a part of our wedding ceremony!
Amber & Maryse
Danielle Ingster is bilingual and performed our ceremony both in English and in French. She was comfortable and fluent in both languages making our ceremony even more personal and intimate. Danielle also met our every need and communicated well prior to our ceremony so that we had confidence and trust in her prior to our ceremony. She was relaxed and very professional - we had our ceremony on a sailboat. Danielle was calm and easy going throughout the afternoon given the 'unknowns' of weather and time when we were out on the water, etc. She made our ceremony perfect and we couldn't have asked for a better officiant.
Lindsay & Tom
Danielle Ingster was great. She customised the ceremony exactly as we wanted it, so much so that many of our guests commented how the ceremony was so 'us'. Thanks, Danielle!
Gagan & Nauzer
Danielle Ingster was a sheer delight. Her grace and patience is remarkable. Her cooperation and kindness helped us immensely. We delayed the ceremony with wanting a bit of our cultural rituals prior to the vows. She was sincere and understanding about it all. Her friendliness and charm added much to our special day. Gagan & Nauzer Dec 16th, 2015
Emilie & John
Danielle Ingster exceeded our expectations! She made the ceremony planning process easy and stress-free. I absolutely loved that we were able to create a bilingual ceremony in French and English.
Kristine & Phil
Danielle Ingster was great! We had a beautiful ceremony, and we appreciated her help greatly.
Chaitali & Vishnu
Danielle Ingster was great, made it so easy for us. Also, she was warm and welcoming and on time! :) The process for payment and responses to my questions through emails were very efficient and timely. Definitely would consider referring Danielle and the entire service.
Angela & Adam
Danielle Ingster was amazing !!
Erin & Gregory
Danielle Ingster was very accommodating and helped us create a personalized and meaningful ceremony. Thank you Danielle for making our day as special as it was, the ceremony was beautiful and ran so smoothly.
Elsa & Mark
Danielle Ingster did a wonderful job as our officiant!! She gave us good suggestions for our wedding ceremony, and was very professional. She is a great speaker and made us feel so comfortable knowing we were in good hands. Thank you, Danielle!!