Tanyse Billas
Request Tanyse Billas
Secteurs desservis
Abbotsford, Aldergrove, Burnaby, Cloverdale, Coquitlam, Delta,Langley, Maple Ridge, Matsqui, Mission, New Westminster, North Vancouver, Pitt Meadows, Port Coquitlam, Port Moody, Surrey, White Rock
Commentaires
Dana & Anna
Tanyse Billas was absolutely AMAZING, and went above and beyond in every way. She was personable, friendly, funny, and endeared herself to all of our guests. Could NOT have picked a better officiant, and HIGHLY recommend her to ANYONE getting married. Thanks again Tanyse for making our wedding AMAZING!!! :)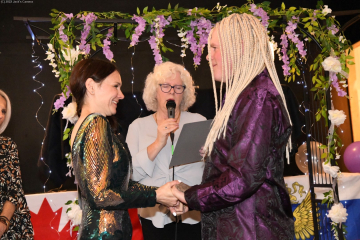 Margaret & Cary
We are so thankful for All Seasons Wedding staff and especially for Tanyse Billas who officiated our Wedding Ceremony. It was perfect and magical. I received so many beautiful comments from our guests remarking how lucky we were to have Tanyse, who greeted each guest and made them feel comfortable. She looked devine and presented a professional ceremony. We definitely did luck out having her as our officiate. August 2022
Ian & Monica
Tanyse Billas was wonderful. Offered lots of helpful info and was very professional. Thanks for helping make our big day everything we hoped for! August 2022
Stephen & Susan
Tanyse Billas was amazing! We knew she would be as she was the officiant at my son's wedding 5 years ago. She really found the right balance of the solemnity of our vows and yet the fun and joy of our celebration. I wouldn't hesitate to recommend her to anyone looking for a wedding officiant:) August 2022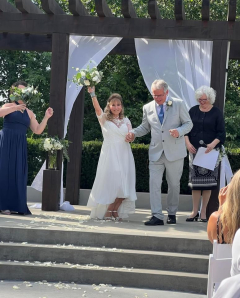 Greg & Debbi
Tanyse Billas was wonderful. We were really nervous but she walked us thru it all. Recommend her highly. August 2022
Kurt & Eden
Tanyse Billas was punctual, well spoken also very understanding and patient with little changes in our program. Very friendly throughout. Married me and my wife with such pleasure and ease. August 2022
Lindsey & Allana
Tanyse Billas was prompt and professional. She delivered a thoughtful ceremony and truly conveyed that she cared and wished the best for us in the future. May 2022
Jehad & Dayna
Tanyse Billas was an absolute blessing and we are so happy she was able to be our officiant. We could not recommend her enough ! Thank you All season weddings and Tanyse for making our day perfect. February 2022
Alexandre & Jennifer
Tanyse Billas met all of our expectation and then some. We just want to say that she was phenomenal and a absolute joy. Tanyse is funny, sweet, personable and professional all wrapped in one amazing human! October 2021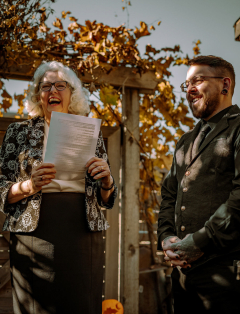 Matthew and Jennifer Aug 2021
Tanyse was great and extremely friendly, met all of our expectations and answered all emails and phone calls within a quick time frame. Our photographer recommended All Seasons Weddings and we are so very grateful, we would love to recommend to future brides.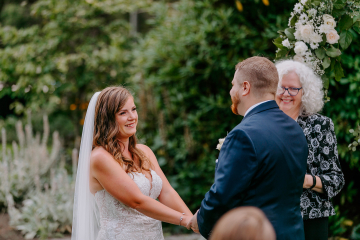 Micheal & Carly
Wedding was absolutely beautiful, Tanyse Billas went above and beyond our expectations for "just the signing of the papers". She was friendly and that made for an amazing experience thank you so much. Micheal & Carly May 2021
Bill & Angie
Tanyse Billas was a lot of fun at our wedding. While it was very small and in our living room, she conducted the ceremony professionally and with a lot of heart. It was a pleasure to meet Tanyse and have her marry us! Bill & Angie October 2020
Thomas & Samantha
Tanyse Billas beyond exceeded our expectations. Tanyse was very friendly and personable, We could have talked with her all day! She took her time through the readings, our vows that she had wrote were absolutely perfect! She helped make our day extremely special and perfect. Thomas & Samantha September 2020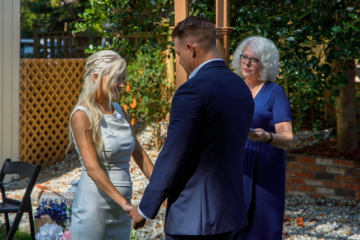 Tor & Dayna
Tanyse (Billas) was fantastic. We really enjoyed meeting up with her and getting to know her prior to the rehearsal and ceremony. The rehearsal was great and Tanyse helped everyone feel comfortable about the wedding day. The day of the wedding - Tor and I had so much fun at the ceremony. It was short and sweet - exactly how we hoped it would be. Tanyse's kind, caring and thoughtful personality helped make the day extra special. Thank you so much for being a part of our day! Tor & Dayna, August 2020
Blair & Edith
Tanyse Billas was there ahead of time, did not rush us and guided us respectfully at every step. Everything was perfect , thank you Tanyse for making out day beautiful. Blair & Edith August 2020
Jordan & Samantha
Tanyse Billas was amazing! She made everything fun,easy and way less stressful and she the nicest person! Jordan & Samantha June 2020
Joseph & Lynda
Tanyse Billas has a loving personality and a beautiful open heart. Our ceremony was very special because of her. Thank you Tanyse. Joseph & Lynda March 2020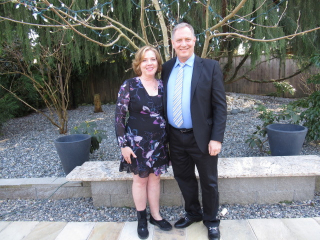 Chester & lolis
Tanyse Billas was very professional and helped my wife with our wedding. Thank you for making the best perfect. Chester & lolis September 2019
Peter & Celina
Tanyse Billas was more than we could of hoped for. She was a stranger but from the moment she arrived she felt like family. Everyone loved her. Thank you for making our day perfect! Peter & Celina August 2019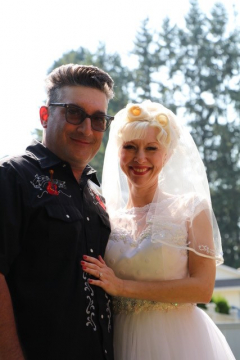 Peter & Olga
Thank you for officiating our wedding. Tanyse Billas was absolutely wonderful. We had a lovely wedding. I Highly recommend Her ! Peter & Olga May 2019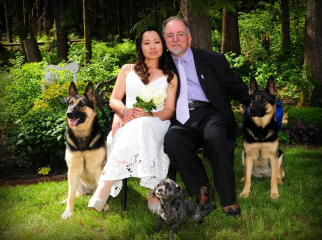 Lori & Martine
Tanyse Billas is so warm, calm, personable, caring and our day with her lovely self was just wonderful and perfect, as were our conversations prior to. You provide very caring and patient service. Thank you so much for a wonderful experience!!
Howard & Natalia
Tanyse Billas was amazing, she was very friendly easy to talk to and with. With no hesitations I would recommend All Seasons 100%. In our case, with such short notice, All Seasons did a wonderful job accommodating us and they did a wonderful job. I would highly recommend.
Michael & Paula
Tanyse Billas did a fantastic job -- we were very happy.
Jess & Tony
Tanyse Billas is a wonderful woman and she made our special day absolutely perfect ♥️
Patricia & Terry
Tanyse Billas was awesome!! She knew exactly what to say to make sure I stayed calm and collected during the ceremony. And she has such a great smile!!!
Elizabeth & Pirt
It was an absolutely wonderful experience and Tanyse Billas was so personable and sweet. Thank you for making it such a special day.
Jeff & Jonathan
It worked out perfectly. Thank you Tanyse Billas for being so accommodating on such short notice!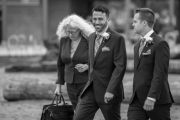 Steve & Ivetka
Tanyse Billas made it so comfortable and as stress free as possible.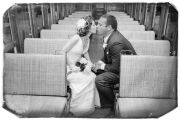 Chelsey & Kristoffer
Tanyse Billas was an absolute pleasure to work with. She is so warm and professional! Our ceremony was absolutely wonderful, and she made sure that every word reflected our unique relationship. Neither one of us could articulate what we feel for one another as well as she did. Not only were there a couple of sit down meetings for us to hash out any details prior to the big day, but Tanyse made sure we knew she was available by phone or email through every step of this process. We will absolutely be recommending All Seasons and Tanyse to anyone searching for the right officiant. Our wedding could not have been more perfect - thank you!