Sue Kellison
Request Sue Kellison
Secteurs desservis
Ottawa, Almonte, Ashton, Barrhaven, Carleton Place, Carp, Chesterville, Cumberland, Dunrobin, Edwards, Gloucester, Greely, Kanata, Kars, Kempville, Kinburn, Manotick, Merrickville, Metcalfe, Mississippi Mills, Munster, Navan, Nepean, North Gower, Osgoode, Orleans, Richmond, Russell, Vernon
Commentaires
Vinoth & Christina
Sue Kellison was beyond amazing and made our little ceremony truly special. November 2022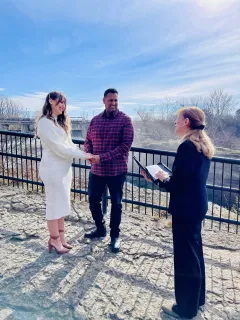 Shannon & Mohammad
Sue Kellison was wonderful, thank you so much for marrying us! October 2022
Ross & Agata
Sue Kellison is one of the most pleasant people I have ever met. She immediately made us feel at ease and her guidance was very appreciated. We were nervous and she basically "held our hand" through the entire event and leading up to it. She was just the right kind of personality that we clicked with. She was kind, funny, gentle and professional. We absolutely loved her. September 2022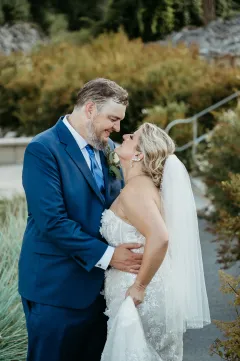 Davar & Ashley
Sue Kellison was amazing highly recommended her. September 2022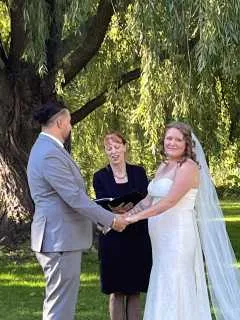 Mathew & Nicole
Sue Kellison was amazing, she helped us plan, set up and make sure everything went off without a hitch. Thank you! - ~ Sept. 2022
Jessica and Cat
Sue Kellison was great to work with; she was kind and thorough, happy to use our ceremony script and was excited to be part of our day. July 22 2022
Collin and Caitlin
Sue Kellison was the best! She accommodated us, helped us throughout the process, was warm, welcoming. Would absolutely recommend her to anyone. April 2022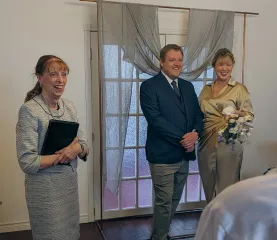 Diana & Vitaly
Thank you Sue Kellison for your professionalism and personal touch. The pandemic and its associated restrictions did not stop Sue from making our holiday unforgettable. Jan 2022
Boris & Anastasia
Sue Kellison was just absolutely lovely and went above and beyond for us. Would 100% recommend her and this service to anyone looking to get married. Thank you Sue!!! November 2021
Mark & Stephanie
Right from the start, after Sue was confirmed to be our officiant, she contacted us to wish us congratulations and introduce herself. She was informative, which was very much appreciated, as wedding planning can be stressful and overwhelming at times. For our ceremony, Sue was very friendly and well spoken, and we were very pleased with her. Thank you very much! October 2021
Sylvie & Michael
Sue Kellison was very professional and personable. She contacted me very shortly after we made our request for an officiant and I was able to call her to discuss pre-arrangements and ceremony details. She was truly amazing and beyond expectations. Sylvie & Michael July 2021
Gregory & Jana
Sue Kellison was amazing! My husband and I were both very happy with the services. Sue was very helpful with the fast preparations and paperwork. Even though our ceremony was put together very quickly and took place in a very cold weather (around -25C) it was a very nice ceremony. Sue gave us some great suggestions for the ceremony that we took and they made it very nice and emotional. We truly enjoyed our wedding and would definitely recommend Sue. Gregory & Jana January 2021
Jean-Pierre & Cecelia
: I would highly recommend Sue in a heartbeat!! Everybody asked me where I found her after the ceremony due to the amazing job she did! I didn't want a boring ceremony, and I did not get one thanks to her! She made sure we were prepared, she had our vows neatly typed out for us so we didn't have to have our cell phones out, she was well prepared with kleenex for my abundance of pregnancy emotions throughout the whole thing, she was calming and reassuring while we tried to get through our vows, she was enthusiastic in her speech and I honestly can't say enough good things about her! You can tell how much she loves doing this, and did it extremely well! Can't thank her enough!!! ❤ Jean-Pierre & Cecelia September 2020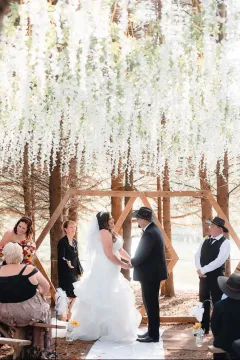 Ryan & Rhiannon
Our original wedding officiant cancelled the morning of our wedding. Sue Kellison came in at the very last minute and did an amazing job. None of our guests would have known she wasn't our original officiant. We are very grateful! Ryan & Rhiannon August 2020
Ashley & Katy
Sue Kellison exceeded our expectations. She was incredible and made our day very special. She was relaxed and was exactly what we had hoped for. I would recommend Sue as a celebrant to anyone who is thinking of getting married. Ashley & Katy July 2020
Mark & Tiffany
Sue Kellison was great, She help us through every step of the way, was more than understanding and always ensured we had everything the way we wanted. We are so pleased that Sue added such a great touch for our special day. Thank you for everything! Mark & Tiffany August 2019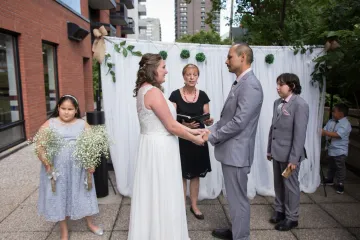 Shane & Sarah
Sue Kellison exceeded all our expectations! She was amazing! She made our special day perfect!Thank you again for everything. Shane & Sarah June 2019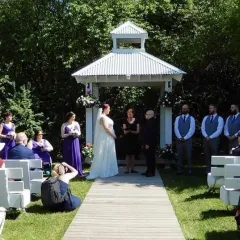 Roxanne & Phil
Sue Kellison exceeded our expectations and it was a pleasure dealing with her. She felt like part of our family. She is a very sweet lady. We have spoken with various individuals who have used your services in the past and they have had nothing but good things to say about your company. We have spoken highly of your services.
Heather & Aaron
Sue Kellison was fantastic. She met with us well in advance to go over options for our ceremony and explain our responsibilities and the paperwork. Her knowledge, experience and warm personality put us at ease. We appreciated her suggestions for how to include our two children in the ceremony as well. We appreciated the professionalism and experience of All Seasons' staff and officiants. Sue made our ceremony memorable!
Brian and Michael
Sue (Kellison) officiated at our wedding on Saturday, 2 July 2016 at The Courtyard Restaurant. Sue was professional, warm, welcoming and reassuring to both Michael and myself. She communicated clearly before the wedding and it felt like we had known her for years. She clearly explained the procedures and format of the ceremony and during the ceremony, when we both became emotional, Sue reassured us and allowed us time to compose ourselves, she even provided tissue. The most amazing thing about Sue is the way she read the ceremony that we had written. She read it as if it was her own ceremony, with passion, emotion, and beauty. We had a Lord of the Rings Themed ceremony and Sue had to read names of different realms of Middle Earth as well as declare, "Bring forth the rings." She did this with great enthusiasm and created an environment of intimacy, making Mike and I feel as if we were the only ones in the room, but still making our guests feel a part of the ceremony. Many guests complemented us on choosing Sue and asked if she was a friend of ours. We explained that we had met her only once before the ceremony and they were shocked because of the way she made it seem as if our wedding was the most important wedding in the world. Thank you, Sue, for being a part of our wedding and for making it such a beautiful and comfortable ceremony!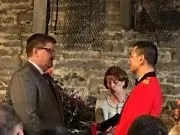 Tanya & Jason
Sue Kellison was exceptional right from the beginning to end, we are beyond pleased with and grateful she was able to do our ceremony. We are still hearing back from guests on how wonderful our ceremony was. she executed everything perfectly!
Adrienne & Matthew
We had a wonderful experience with Sue Kellison. She really put us at ease during our first meeting and was very willing to work with us with regards to what we wanted said during our ceremony. We got many compliments about the ceremony! We also really appreciate her advice about what to do regarding obtaining a marriage license.
Gail & Harald
Sue Kellison was wonderful! So kind, caring and sincere. All of our guests commented on her beautiful words and were very very impressed, as were we.
Dean & Robin
Sue Kellison far exceeded our expectations, she was the perfect match for us. Our ceremony was simply beautiful! Our friends and family loved it as much as we did. We will be sharing some photos with Sue and I would highly recommend her to anyone. I am very grateful Sue was able to be with us for this very special day, Thank you to Sue and All Seasons for bringing us together!
Darrel & Marnie
Sue Kellison is a very warmhearted person, and she lent a wonderful aspect to our special day. Thank you all for your help to make what could have been a very harrying day, with us both being from out of town, turn into something lovely. Sincerely,
Laurie & Taylor
Sue Kellison was so professional and relaxed, and instantly put our minds at ease. She was incredibly organized, and was very compassionate and gracious. We were very lucky to have her as our officiant as she made our special day even more special.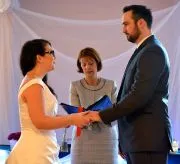 Tony and Anabela
Sue Kellison did a wonderful job on our wedding day and we would definitely recommend her to all our friends and family. She was very well organized and extremely helpful in preparing us for our wedding day. She has a wonderful personality and is very kind and caring. Everyone at our wedding thought our ceremony was very memorable and special and we could not have done it without Sue. She really helped guide us throughout our ceremony and did an amazing job.
Erik & Emma
Susan Kellison surpassed any of our possible expectations. My brother had had a city hall wedding, and his ceremony was fairly abrupt and unceremonious. Too much legalese. Susan's ceremony was unexpectedly touching. We called with a last minute request, and Natasha was able to find us an Officiant with only a day's notice. If any of our friends need such a service, I will obviously pass on heaps of praise for you guys. Thanks.
Karen and Brian
Sue Kellison was fantastic! Sue was professional, and thorough, I would definitely recommend her.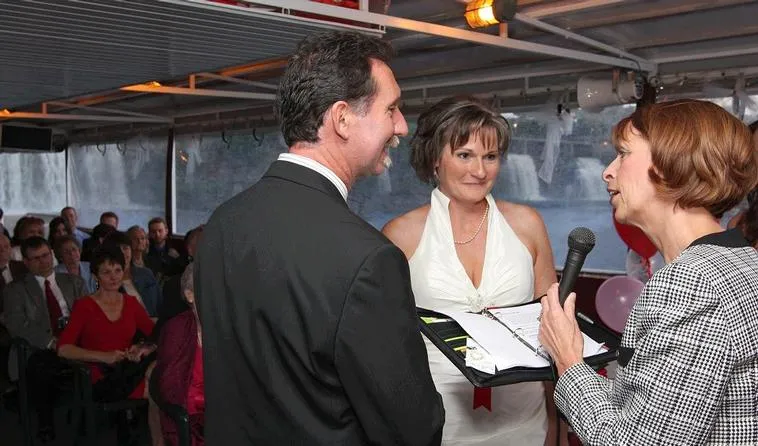 Lorie and Rozanna
Hello Sue Kellison, A very close friend of mine complimented on the wonderful job you did for us. Much of her compliments were of our wording, how expressive you were and how genuine the whole ceremony was. Lorie and I wrote our vows to each other. It was truly something to hear and say our vows. I remember during our meeting with you, you mentioned for us to look at each other and not you. Our emotions took over quite unexpectedly. Those tears of happiness and such deep emotion were extremely powerful. ...Thank you so very much for guiding us.We truly are grateful. It was the best day of our life.Thank You for Sharing Our Day.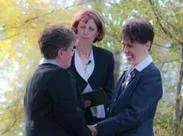 Jon and Kathryn
Hi Sue (kellison),Thank you so much for officiating our wedding. You did a marvelous job, and we received so many compliments on your behalf.We are sorry we did not have a chance to see you after the ceremony. We were whisked off in the other direction.Thank you for the information on obtaining the official marriage certificate. Once again, thank you SO much.