Sonja Shepherd
Request Sonja Shepherd
Secteurs desservis
Ajax, Ashburn, Blackstock, Brooklin, Bowmanville, Claremont, Courtice, Nestleton, Newcastle, Oshawa, Pickering, Port Perry, Raglan, Whitby
Commentaires
Alex & Jennifer
Sonja Shepherd was the absolute best! She was extremely accommodating and made our experience positive from top to bottom despite the difficult conditions as a result of the pandemic. She personalized our ceremony and ensured our wedding was truly "us"! Alex & Jennifer October 2020
Edward & Darlene
Sonja Shepherd was absolutely perfect for our ceremony. She was very patient and has the most warm and genuine personality. Sonja even worked with us through a little unexpected glitch, calmed us down and it was nothing but a smooth sailing into wedded bliss! Edward & Darlene August 2020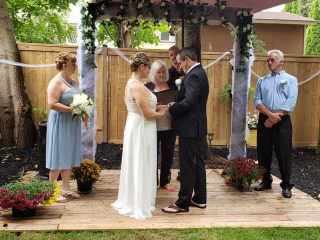 Tim & Kim
Sonja Shepherd was absolutely wonderful. She made our backyard wedding perfect. I could not have asked for a better officiant. I am so grateful I chose AllSeasons Weddings to help us plan our wedding. The staff there were so helpful. Because of COVID I was so stressed and we had to postpone our wedding from June to August. AllSeasons accommodated us with such ease making our wedding day perfect. I have told everyone, family friends and work colleagues about All Seasons and our officiant Sonja. would highly recommend All Seasons to anyone getting married. Thank you so much. I'm so grateful to All Seasons and Sonja for making our wedding perfect in an imperfect world. Our day was better than I could have ever imagined because of you. It was a day that I forgot about COVID and married my love. Sonja was caring compassionate and wonderful. We are forever grateful you helped us become Mr & Mrs! [August 8, 2020]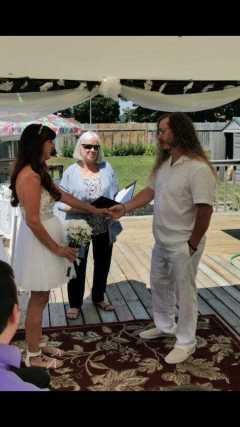 Rick & Christine
Sonja Shepherd was an absolute perfect fit for our small venue. She took the time to get to know us and delivered an absolutely perfect ceremony. We were honored to have her as our officiant and would highly recommend her. Rick & Christine September 2019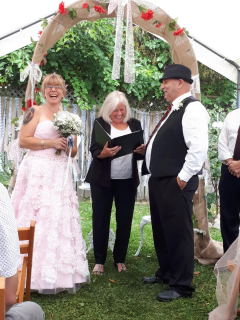 Tyler & Alexandra
Sonja Shepherd was simply wonderful! We were nervous and unsure what to expect when it came to planning the ceremony but Sonja made it really easy and fun. She is extremely well-spoken, very kind and has a warmth about her that made everyone smile. She also has a great sense of humour which was important for us and joined us after the ceremony for drinks and appetizers, mingling with our guests part of our family. Thank you, Sonja for making our day happen! Tyler & Alexandra July 2019
Jenna & Kate
Sonja Shepherd was wonderful and has such a beautiful heart! We loved her, she excelled past our expectations!! She was wonderful. Thank you Sonja! Jenna & Kate August 2019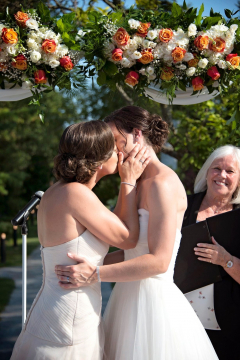 Nadia & Ashleigh
Sonja Shepherd played such a big part in making our day a special one! From our first meeting, she took our ideas and thoughts and planned a ceremony that was warm, funny and memorable for us as well as our family and friends. She kept us both calm on the day of our wedding, and made us feel comfortable when our brains were a little scattered and we forgot a few things! We are both so happy to have had Sonja lead our ceremony, and couldn't have hoped for a better officiant! [September, 2018]
Melissa & Jason
Sonja Shepherd absolutely met our expectations. She went above and beyond! Sonja took the time to get to know us and help us feel comfortable. She helped create a ceremony that fit our personality. We are forever grateful. My favourite moment during our ceremony was when Sonja encouraged us to take a moment to really soak in and remember the moment. She encouraged us to look at one another, and then to our guests in the orchard. This moment will be forever in our memory.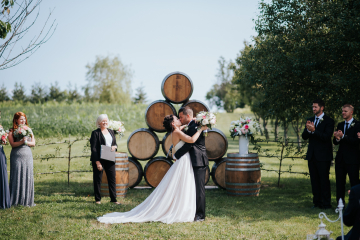 Mara & Dylan
Sonja Shepherd exceeded our expectations! [December, 2017]
Joe & Carrie
My wife and I booked Sonja Shepard through your service as our officiant, and we couldn't have been happier with our decision. Every time we communicated with her leading up to the event she was sweet and kind. She helped us to put together the perfect ceremony and she delivered it wonderfully. We would highly recommend Sonja to anyone who is looking for an officiant for their wedding. She is an amazing woman.
Julie and Dave
Just had Sonja (Shepherd) as our officiant for our wedding. She was brilliant. Our wedding was super casual at our house and Sonja was perfect. She is a lovely, genuine lady. I highly recommend her for future brides/grooms. :)