Sandy South
Request Sandy South
Secteurs desservis
Astorville, Bonfield, Callander, Corbeil, Jocko Point, Nipissing, North Bay, Powassan, Redbridge, Restoule, Rutherglen, Trout Creek
Commentaires
Justin & Alisha
Sandy South was everything I ever hoped to find. Considering we didn't know each other, Sandy made me feel so comfortable. She was flexible, helpful and truly made our day amazing. From every e mail back forth, from finding us the most perfect spot to do photos, and keep as a treasure spot in our hearts. Sandy out did herself. She was friendly, loving, supporting, she got everything rolling and for our day she was everything we needed. We can't express our gratitude to her and her husband. It was like we knew them for years ago. We look forward to keeping a connection with Sandy and Bob. August 2022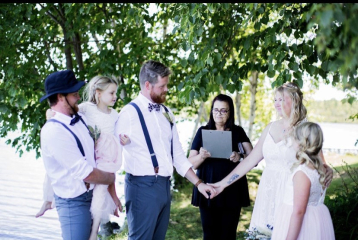 Jude & Corey
Sandy South was a fantastic officiant, can't recommend her enough. The ceremony she put together was beautiful, and she's such a friendly person. Thank you Sandy for making our special day extra great. June 2022
Katrina & Evan
Sandy South was the officiant for our wedding on Sept 4th, 2021 and she was AMAZING! We were both nervous but Sandy made the ceremony perfect and made us feel so comfortable. It was perfectly done (short and sweet) just what we wanted as a couple. I highly recommend Sandy. Thank you again Sandy and to All Season Weddings for making the whole process a breeze! Katrina & Evan Sept 2021
Cassidy& Jameson
Sandy South was awesome at my wedding! I was very nervous speaking in front of everyone but she made us so comfortable. It was also a "lesbian wedding" and she was very respectful. I was worried about trying to find an officiant willing to marry us but she was perfect! I highly recommend to anyone getting married, essentially my LGBT friends! Cassidy& Jameson August 2020
Brandi & Jason
I would specifically refer Sandy South as she was awesome. I appreciated how easy it was to get an officiant. I also liked knowing that no matter what happened (if my officiant was sick or couldn't make it) somebody would be there to marry us. That made it worth it alone. I was very pleased with my officiant, Sandy South, and with the service and will most certainly refer All Seasons to anyone who asks. Thanks again.
Doug & Claudette
Sandy South went above and beyond our expectations. She designed the perfect ceremony for us. She was an amazing trooper with all rain we got. The ceremony went without any problems. We are very pleased.Your office was fantastic. We have told lots of people and we always tell them to check it out. Thank you so much for everything and like we said Sandy South was amazing.
Corey & Tiffany
The ceremony was absolutely perfect. Everything Sandy said applied to me and Corey exactly if I know of any other weddings Sandy will be the one I recommend she was absolutely phenomenal. Corey and I would like to thank you Sandy for giving us the best day of our life in perfect words you really did an amazing job and everybody thought everything you said was just perfect for me and Corey thank you again !!!
Megan & Nick
Sandy was absolutely amazing. She worked with us and gave us a ceremony we will never forget.
Lace & Andre
Sandy South exceeded our expectations. The ceremony was exactly what we hoped for and the words perfectly expressed our thoughts and feelings. I was corresponding with the reservations office and they were very helpful and quickly answered all my questions. You made everything so easy for us. We really appreciate it!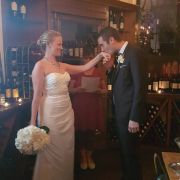 Jena & Jacob
Sandy South was exactly what we wanted! She was funny, respectful and made our "quickie" ceremony extremely enjoyable.