Nadia Madzarac
Provenant de l'industrie de la planification et gestion d'événements, Nadia est très familière avec les sensations fortes et l'importance de votre jour de mariage. Nadia demeure dans la grande métropole de Montréal, elle est parfaitement bilingue en français et en anglais. Elle peut personnaliser à votre goût votre cérémonie de mariage ainsi que le thème choisi pour se grand jour… ceci avec amour et aucun jugement. Nadia aime être entourée et voir les gens heureux, sa mission de vie est d'aider les autres à vivre dans un monde meilleur. Elle serait honorée de présider votre cérémonie de mariage, le jour et à l'heure de votre choix.
Request Nadia Madzarac
Secteurs desservis
Montreal island, Laval, Anjou and Montérégie area
Commentaires
Debbie & Scott
My husband and I were very satisfied with Nadia [Madzarac]. She was very kind and friendly and always had a smile. August 2022
Rooland Et Sonia
Wow une seconde extraordinaire le service exceptionnel de 1 à dix cela est 10 sur dix merci pour tout cela Nadia est une femme de parole et d honneur magnifique journée de joie et de plaisir xxxx May 2022
Catherine & Marc
Nadia Madzarac was easy going and was very flexible; she adapted very well to our circumstances. Thanks Nadia. Feb 2022
Marc & Eva-Marie
Nadia Madzarac was lovely, friendly, open-minded and funny. We immediately felt comfortable with her. She had us laughing at the ceremony and guests made sure to tell us that they thought she was wonderful. September 2021
Alison & Hugo
Nadia Madzarac était incroyable et très chaleureuse avec les invités ! La cérémonie s'est déroulée à merveille !! Merci encore pour tout !! Alison&Hugo September 2020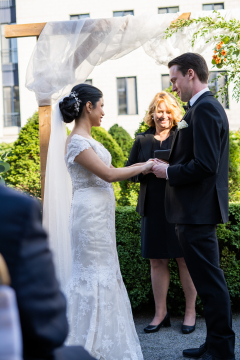 Marc & Alyssa
Nadia Madzarac was just lovely. We really wanted a short ceremony and she really was able to tailor the ceremony to meet exactly what we wanted and needed. She didn't just deliver in this way- Covid-19 has really affected the way ceremonies are performed and the way meeting and communicating with the couple occur. Nadia really made sure she made everyone comfortable and her communication was on point! Marc & Alyssa September 2020
Aimé & Marjorie
Nadia Madzarac is truly amazing ,she helped make our day even more special the we thought it could be . Thank you for a wonderful ceremony. Aimé & Marjorie August 2020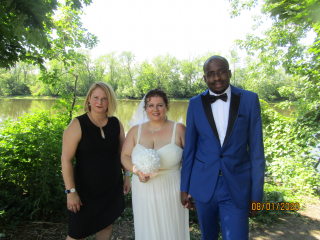 Pierre & Lucie
Nadia Madzarac was well prepared and she was on schedule. She was able to add a little bit of humor during the ceremony which make it a great moment. Thank you Very much Madame Madzarac. Pierre & Lucie May 2020
Natalie & Danny
Nadia Madzarac was absolutely amazing. Once meeting with her, it is very evident how down to earth she is and how much she enjoys celebrating love. She made us feel at ease and is truly a wonderful person. Our ceremony was perfect, Nadia is very professional and a pleasure to work with! Natalie & Danny August 2019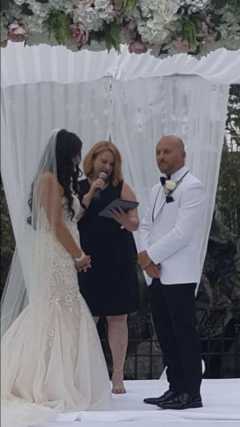 Harold & Dawn
Nadia Madzarac was extremely helpful, we couldn't have done it without her. We live in the U.S. and had many questions which Nadia answered every time. She was a complete delight to work with in every way possible. December, 2018
Chantale & Frederick
Nadia surpassed our expectations. Her passion for weddings shines through making our day even more special. Very friendly and helpful. Made everything easy for us. We absolutely recommend All Seasons to others.
Martin & Lucie
Nous vous remercions et on à eux beaucoup de de félicitations car la cérémonie étais parfaite et à la hauteur le monde on tous aimées et un gros merci à Nadia et oui ns allons vs référer à autres aussi celle de Nadia un gros merci xx
Melanie & Pierre-Alexandre
Nadia a été super, exactement le genre de personne qu on recherchait. Les gens nous ont demandés si on la connaissait avant, si elle était une amie. Super bon "match". Merci!
Fatemeh & Jimmy
Nadia Madzarac was great when performing the ceremony and was extremely helpful to us both and also quite humorous and great at improvising when little slip ups occurred.