Mara Young
Request Mara Young
Secteurs desservis
Belleville, Stirling, Madoc, Marmora, Tweed, Frankford, Trenton, Brighton, Carrying Place, Wellington, Picton, Wapoos, Napanee, Deseronto, Shannonville, Corbyville
Commentaires
Graden & Brittany
Mara young was wonderful . We will definitely recommend using all seasons wedding they are very nice people what a lovely wedding we had. Thank you Mara . September 2022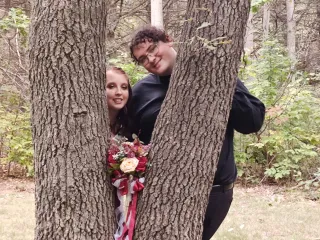 Earl & Marcy
Mara Young was absolutely amazing ! Everything went smoothly! June 2022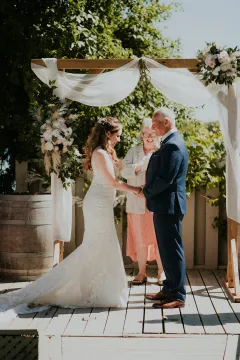 Carol & John
I just wanted to say how grateful we were to have Mara Young with us on our wedding day. Mara, you were perfect for us, you guided us through, you are such a kind and beautiful soul. We are so happy that you were there, you added so much joy to our special day. July 2022
Nolan & Hannah
Mara Young exceeded out expectation. Thank you Mara for our beautiful ceremony . October 2021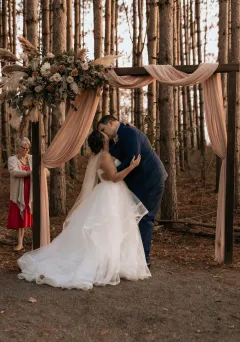 Justin & Tiffany
Mara Young was amazing! Even with my husband's impromptu "always" instead of "I will" making us all smile, she went with it, made us feel so comfortable ? October 2021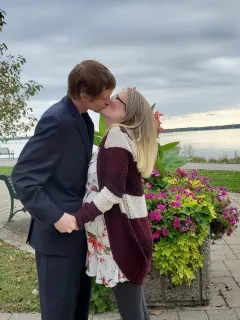 Eric & Lisa
Mara Young was wonderful! She was friendly, engaging and was a great fit to our intimate and relaxed ceremony. August 2021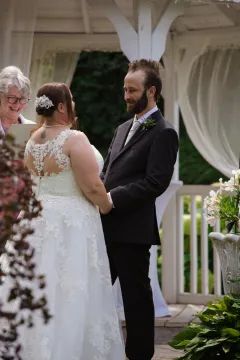 Ryan & Karie
Mara Young was very knowledgeable and answered all of our questions, which we had many. Mara was also great at calming my nerves and guiding me though the ceremony. Thank you for a beautiful ceremony. September 2021
Nolan & Hannah
Mara met all of our expectations. Thank you Mara!!! October 2021. Photo by Charlotte Rosalyn Photography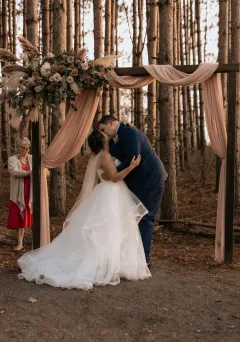 Derrick & Robin
Mara Young took the time to chat with us on the phone when we had any questions. Mara was happy to adapt the ceremony as we wished. On the day of the wedding it did not feel like she was a stranger despite meeting for the first time when I walked down the aisle! Thanks again Mara. Derrick & Robin September 2020
Bram & Julia
Mara Young was such a friendly, warm presence who truly made us and our guests at ease during our wedding ceremony in the county. We would highly recommend Mara Young! Bram & Julia August 2020
Kirk & Laura
Mara Young was reliable, helpful and lovely. Her service was just what we wanted. She listened to our needs and helped immensely. I would highly recommend her. Kirk & Laura August 2020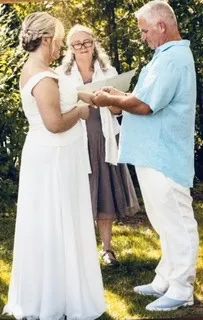 Lisa and Jeremy
Mara was, in a word, PERFECT! We eloped during COVID-19 to a beautiful resort at Lake on the Mountain in Prince Edward County. The strict mitigation measures had been lifted the week prior, so we were so very lucky. Mara arrived early to help us scout out the perfect location by the water for our ceremony. She was down-to-earth, so easy-going and had such a calming nature about her. She was beyond our expectations! We wrote our own vows and Mara added some traditional vows to our ceremony as well. We, of course, had a detailed phone call with her before the ceremony and got to know her on a personal level, too. Mara joined us for a celebratory toast and was so generous as to give us a copy of the ceremonial vows. We couldn't have found another individual as wonderful as Mara for our most special day. Thank you, Mara! Lisa and Jeremy June 2020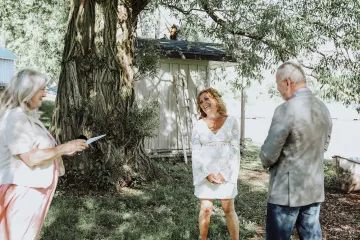 David and Sandy
Mara Young was wonderful, pleasant & very thoughtful. She came to our home to perform the ceremony. We're very happy with Mara's service and would gladly recommend her to anyone planning to wed. David & Sandy December 2019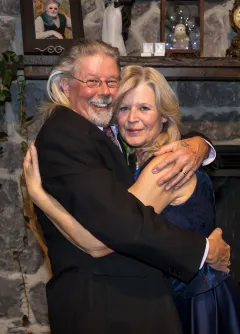 Lucas & Lindsey
Mara Young was fantastic. She is very accommodating. We wanted a relaxed, intimate ceremony which she helped us customize. She has such a calm, welcoming presence and was just perfect for our day! Lucas & Lindsey November 2019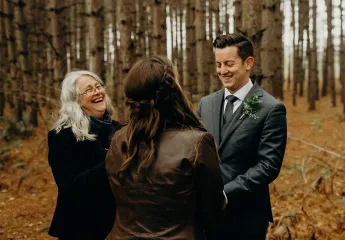 Laura & Adam
We were a little bit lost before we talked to Mara Young. With two weeks to go until our wedding, her advice and understanding was exactly what we needed. She helped bring our "non-traditional-but-not-super-alternative" vision together. Mara's experience was evident and so appreciated. Mara was an integral part of our day and we couldn't imagine it without her. Many thanks! Laura & Adam October 2019
Nicolas & Emma
Mara Young was better than we ever could have expected! She kept our ceremony flowing and light - through her guidance it truly felt like a ceremony of love and union. You could tell quite honestly that Mara actively enjoyed being present and was doing that she loved doing. I would recommend Mara 1000 times over to any and everyone having a wedding in the future :). Nicolas & Emma August 2019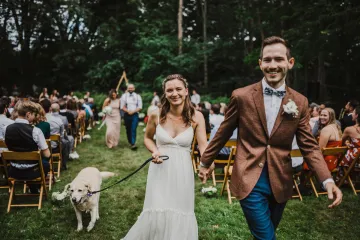 Jim & Hilary
Mara Young was so sweet , accommodating and personable! We felt so lucky to have Mara as our officiant, her words were so beautiful and she will forever hold a very special place in our lives! Thank you Mara! Jim & Hilary July 2019
Bryer & Rex
Mara Young was a wonderful officiant! We thought the world of her. She made our day very special! Mara is definitely a ray of sunshine! We can not thank her enough! Thank you from the bottom of hearts! Bryer & Rex July 2019
Chris & Jennifer
Mara Young was absolutely amazing! We met with her before the wedding and instantly knew she would be perfect for us. She is so easy to talk to and really wants to get to know you as a couple. Our ceremony was perfect and we could not have asked for a better person to marry us. All of our friends and family complimented her and how easy it was so understand her and how beautiful the ceremony was because of it. Thank you from the bottom of our hearts Mara we are so grateful you were a part of our special day Chris & Jennifer May 2019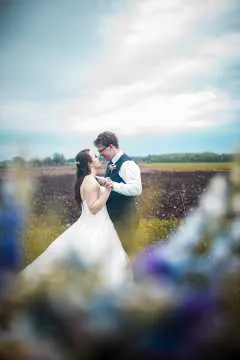 Harold & Mary
Mara Young was very friendly and helpful, she gave us exactly the wedding at we wanted. Harold & Mary May 2019
Alan & Kiyoshi
Mara Young was not only our wedding officiant but has become our friend and soulmate. She kept two grooms at ease and focused on their wedding day. She provided us with a great ceremony bringing together many cultures from both the East and the West making everyone enjoy the day [Sept 18th, 2018]
Christianne & Christopher
Mara Young was absolutely wonderful. She accommodated our every wish and delivered an intimate ceremony that was even more perfect than we imagined. We give her our highest recommendation.
Melanie & Lucas
Mara Young was amazing. Very helpful, understanding. Funny. We loved her. You guys are so easy to contact and verry helpfull
Beth & Chris
Mara Young was great. We really liked her!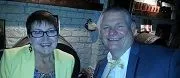 Melissa & Todd
Mara Young was so friendly and easy to talk to, made us feel like we knew her forever. We were so happy with Mara, everything was wonderful. She put so much time into meeting with us and making sure our ceremony was exactly what we wanted.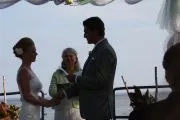 Brandyde & Dan
Thank you Mara Young for everything you did for us on our special day. Everyone at the wedding commented on how it was such a beautiful service. Dan and I are very happy that we met you and we will definitely recommend you to any friends or family in the future. Thank you again.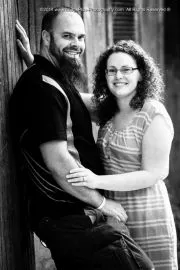 Katie & David
Mara Young made our wedding more intimate and beautiful than we could have ever dreamed. Our friends and family LOVED the ceremony.
Heather & Desmond
Mara Young was AWESOME!!
Kristin & David
Mara Young by far exceeded our expectations. She was more than helpful, she impressed the parents of the bride and groom and one of our guests so much they requested she officiate their wedding. Mara was both personal and professional. Her attention to our requirements for the ceremony was fantastic. Mara is a lovely person.
Erin & Liam
Mara Young was the officiant for our wedding at our home in Frankford. We found her to be so cheerful, wonderful and helpful. It was really important to us to have a friend perform the ceremony, she worked so well with him, and was so flexible to give us what we wanted. It was very clear to us that she thoroughly enjoys performing wedding ceremonies. I would highly recommend her and your companie services to others. Thank you so much for making our day that much more special.
Katy & Ryan
Our officiant Mara Young was very warm and open to our ideas. She helped us with putting our sand ceremony together despite never having performed one before herself. We had many people tell us the ceremony was beautiful and unique and we were very happy!
Brenda & Kelly
Mara Young is a wonderful lady. Very open, considerate and exceptionally easy to communicate with. After our meeting, Kelly and I were very happy with the way it had went and the choice I had made for the officiant. The staff at All Seasons Weddings was great to work with. Very accommodating at the last minute for us. Thank you again for everything.