Lynda Legge
Request Lynda Legge
Secteurs desservis
Chesley, Elmwood, Tara, Hanover, Paisley, Port Elgin, Southampton, Sauble Beach, Wiarton, Owen Sound, Chatsworth, Williamsford, Dornoch, Holland Centre, Hepworth, Shallow Lake, Allenford, Keady, Walters Falls, Park Head, Desboro, Tobermory, Lion's Head, Stoke's Bay.
Commentaires
Kyle & Reagan
Lynda Legge was amazing! She helped us plan our ceremony and executed it perfectly. She matched our laid back approach and helped us create the perfect day. October 2022
Tim & Rebecca
Lynda Legge was amazing! We would highly recommend her services. June 2022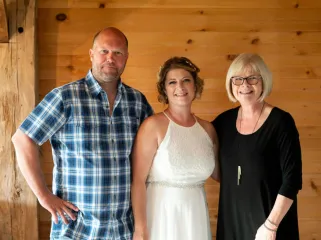 Brad & Beth
Lynda Legge was absolutely perfect as the officiant for our wedding. She was patient, compassionate and gave us the intimate ceremony we asked for. Her organizational skills with the paperwork made the process easy. I would highly recommend Lynda as an officiant. May 2022
Denver & Aly
Lynda Legge was amazing. She did such a good job with our ceremony. She was very helpful. We got so many compliments on our ceremony and officiant. Sept 2021
Shane & Shauna
Lynda Legge was phenomenal to work with! She was very accommodating and professional. Lynda made everything extremely easy for us, we are so thankful she was part of our special day! Shane & Shauna June 2021
Dwane & Tanya
We had a wonderful ceremony. Lynda Legge was great. She was personable and worked with us to make sure our ceremony was what we wanted. Thank you Lynda. Dwane & Tanya July 2021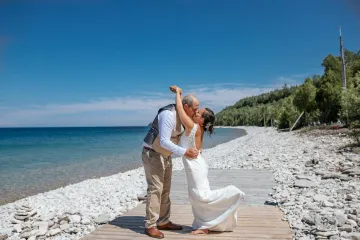 Susan and Curtis
In light of the recent covid lockdown and subsequent "stay at home" order, we moved our ceremony up. Our officiant, Lynda Legge was not only accommodating, she was gracious enough to turn it around with very little notice . Our wedding was not as originally planned, in fact I didn't even have my dress, my hair, makeup, or nails done. We were not able to have all of our family and friends with us, however we did have the most perfect sunset ceremony performed by the most perfect officiant, in our own backyard, witnessed by both of our mothers . Lynda Legge was amazing, which has compelled me to write this recommendation, due to her patience and professionalism during these truly unsettling times . She put us at ease and allowed me to marry my best friend in the comforts of our own home without any of the stresses of the outside world effecting us . I highly recommend Lynda to anyone looking for an officiant who exudes professionalism and a genuine caring attitude. Susan & Curtis April 2021
Corey & Lydia
Lynda Legge was wonderful and really made us feel at ease. It was quite cold outside on our wedding day, and she was a total trooper. We would highly recommend Lynda. She performed the most wonderful ceremony for us and we had a perfect wedding! Corey & Lydia October 2020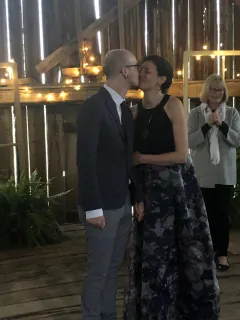 Chris & Kelly
Lynda Legge was amazing. With covid-19 rules changing every week, she was so supportive. She sent me all different types of vow, readings and ceremony options so we could make our little wedding personal. She was warm and friendly and guided my wedding party with professionalism. Chris & Kelly July 2020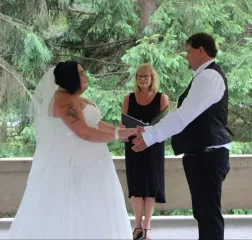 Shawn & Kelsie
Lynda Legge was wonderful. Very bright and cheerful! Was great at communicating especially during a pandemic! Shawn & Kelsie June 2020
Ann & Rick
We could not have asked for any better service than what we received from Lynda Legge. Lynda went above and beyond. She was a great source of information. Thank you for making our day easy and stress free as possible. Ann & Rick. July 2019.
Lauren & Spencer
Lynda Legge did a great job officiating our ceremony. She was professional and kind not only on the big day, but with the numerous meeting, phone calls and emails leading up to it. We really appreciated the wide variety of options for our vows to create something that reflected us as a couple. Thanks again Lynda!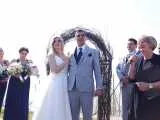 Michael & Lisa
Lynda, on behalf of Mike and I - thank you so so much for everything. Our day was absolutely perfect and you contributed to that. Our wedding was a fairy-tale day...
Ashley & Earle
Lynda Legge is the sweetest and most caring person I have ever met! She made our wedding day even more special than we thought possible. Thank you everything! Ashley & Earle 10/28/2017
Rachel & Chas
Lynda Legge was fantastic to work with. She was so organized and helpful, and was super flexible when it came to meeting with us, and customizing our ceremony to be exactly what we wanted. She took it very seriously, but also had a great sense of humour which was important to us. She really is a sweet person and we are thankful she was a part of our day! Thanks again Lynda!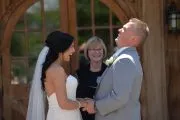 Sue & Brian
Lynda, Brian and I can't thank you enough. You helped us out so much with the ceremony and helping us make Brian's girls feel special to helping me calm my nerves during the ceremony. Thank you for helping make our day special and memorable.
Breanna & Brian
Lynda Legge was fabulous! She even walked our dog to the ceremony for us. Lynda performed a beautiful ceremony!
Justine & Stu
Our ceremony could not have been more perfect! Lynda was extremely helpful throughout everything. She helped us customize our ceremony to suit us and we had nothing but compliments from guests about how wonderful the ceremony was. I would recommend her to anyone and everyone!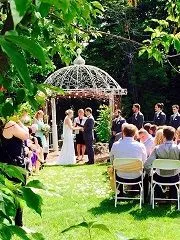 Pamela & Bill
Lynda Legge was amazing to work with! She helped everything run so smoothly the day of our wedding and was available at any time to answer any questions we had. When our previous venue was shut down just a few months before our wedding, Lynda was very understanding and made sure she was still available to help us out in any way for our big day. Thank you so much for your kind and comforting words and for being our officiant on our wedding day!
Gail & Greg
Lynda Legge was the Wedding Officiant at our wedding and we really appreciated her ability to tailor the wedding to exactly what we wanted. She spent time with us planning for a ceremony that was so special and wonderful. Thanks Lynda for making our day wonderful.
Kaitlyn & Zachry
Lynda Legge exceeded our expectations. She was kind, gracious, and helpful. Thank you Lynda!
Teri & Randy
Lynda Legge was a great officiant. She really seemed to get us & did her best to help with our vision. She was very professional & charming. We would recommend her to anyone who wanted something not so traditional !!
Heather & James
We were so happy Lynda Legge could marry us. This was the second wedding she has done in our family. She is a very nice and helpful lady! Couldn't have went better! Thanks again!
Katherine & Robert
Lynda Legge was amazing. Many people have told us that our wedding was the nicest ceremony they have been to and a big part of that was Lynda's doing. She puts us at ease at the meeting before the wedding and during the ceremony. I would recommend her to anyone!
Michele & Kendrick
Lynda Legge was very professional and helpful in the lead up to our wedding, making sure we were prepared. She was very flexible to our needs and what we wanted our ceremony to be. On the day, our ceremony was lovely, and many guests commented on how they really enjoyed it and thought Lynda did a marvellous job. She set the tone for the intimate style ceremony that we wanted, and was so good with any last minute changes we wanted to make. We would definitely recommend Lynda to others.
Jordan & Travis
I have already told other couples about Lynda Legge! She made everything perfect, from the rehearsal to the wording to the ceremony.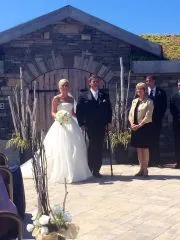 Jason and Bonnie
Jason and I just wanted to let you know we were so happy with the ceremony. It was perfect in everyway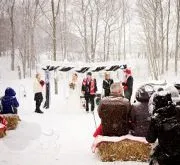 Raelene and Jason
Lynda is amazing, she totally exceeded our expectations. She made our wedding day so special. Her delivery, her voice, her whole way of being, was just so lovely and warm. We felt it, and so did our guests. So many people commented on how lovely she was. We can't thank her enough. What a special lady.
Samantha & Benson
Lynda Legge was amazing! She was always available for questions or concerns wether it was the weekend or weekday. She let us design a ceremony that works for us and it turned out beautifully. She came out to comfort me (the bride) before the ceremony and really put my mind at ease. Lynda was the perfect person to marry us. We couldn't ask for our wedding to go any smoother!