Laurie Rupert
Request Laurie Rupert
Secteurs desservis
Calgary, Airdrie, Cochrane. Also serves: Strathmore, Okotoks, Canmore, Banff (Please note: an additional travel fee applies for Laurie's travel to these areas.)
Commentaires
Natasha & Taylor
Laurie Rupert was awesome. She was so easy to talk to and let us know in detail everything that would go down that day. She showed up early and made everything so comfortable being professional, genuine and respectful. We would definitely recommend her!!!!! Natasha & Taylor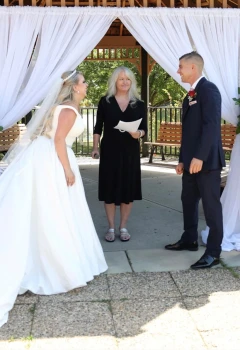 Shannon & Jeff
A big thank you to Laurie Rupert for being apart of our day. You made me feel very comfortable and not so nervous about standing in front of everyone. Thank you! Everyone kept talking about how wonderful you were as well. Shannon & Jeff May 2023
Barbara & Rob
Laurie Rupert was so lovely to work with and made our moment feel personal, intimate and special. Rob and I loved celebrating our special moment with Laurie. she made our moment feel personal, intimate and special. Barbara & Rob June 4 2022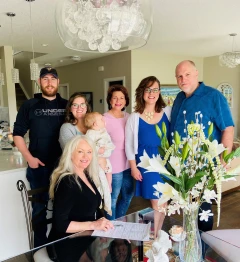 Troy & Audrey
Laurie Rupert was amazing! She is so confident and articulate, she gave us both so much comfort when she gave our vows. She has such a way about her that really makes you feel comfortable and less anxious when saying your vows. She expresses her self so eloquently. Thank you Laurie for making our special day so perfect and memorable. September 2022
Caitlyn & Dakota
Laurie Rupert was very professional, polite and kind. All in all, everything was wonderful. Thank you so much for helping to make our day so special. June 2022
Sophie & Peter
Laurie Rupert was very friendly and supportive. She perfectly matched the tone of our wedding and helped make it a wonderful day. June 2022
Shantelle & Joel
Laurie Rupert was lovely and professional. The ceremony was exactly what we wanted, simple and sweet. Dec 2021
Lauren & Austin
Laurie Rupert was amazing. Dressed appropriately, looks great in the ceremony pictures. Very kind! My husband and I both loved her! September 2021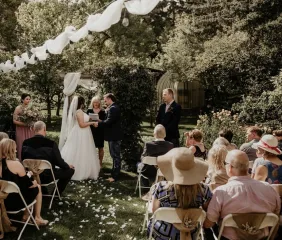 Jan & Matt
Laurie Rupert was the perfect fit to our perfect wedding. From the very beginning to the very end she did exactly what we were hoping for. Thank you so much for making the day that much easier. Jan & Matt August 2021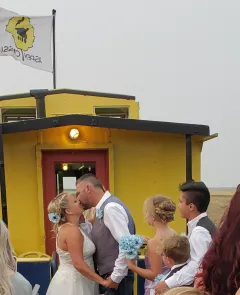 Brian & Desiree
Laurie Rupert met our expectations and more! We had to meet virtually due to COVID and she still nailed it. She officiated my sister's wedding, and then mine. It was very special. She also looked gorgeous at our wedding! Brian & Desiree June 2021
Derek & Michelle
Laurie Rupert is a wonderful person. She is warm, professional and did such a lovely ceremony. She made our wedding day special and would recommend her any time. Thank you Laurie ! Derek & Michelle August 2019
Tom & Julie
Laurie Rupert was great - everything went just as planned! Turned out perfect! We would highly recommend her - she did a beautiful ceremony for us. Tom & Julie August 2019
Tia & Alex
Laurie Rupert was professional and did an excellent job. She arrived on site before the ceremony and was prepared to perform the ceremony. She made minor adjustments to the program at our request and guided us through the entire process. She was dressed for the part and looked good in our pictures. Overall very pleased with the service Laurie provided. Tia & Alex. June 2019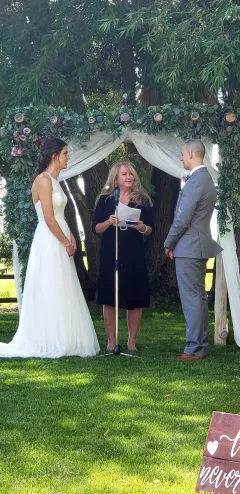 Dave & Sheila
I was very happy with Laurie Rupert and the Wedding Ceremonies process. I found the communication very clear and so had a true understanding of what was provided. It was very appreciated that there was no stress regarding our wedding officiant. I wouldn't have changed a thing, and would recommend Laurie and All Seasons Wedding Ceremonies without hesitation. Thank you!!!!! Dave & Sheila June 2019
Megan & Brennan
Rev Laurie was very professional and did a very good job preforming our wedding ceremony. There was a couple surprises and differences to the things said in our ceremony but it was fine and didn't matter much to us. Thank you Laurie for being there on time and doing such a great job!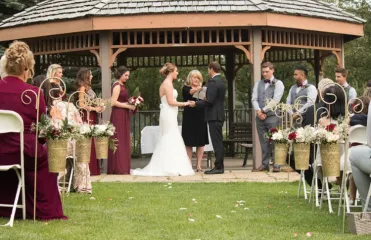 Morgan & Trenten
Hi Rev Laurie, Trenten and I just wanted to say thank you for being so wonderful during our ceremony. We both felt that you were the perfect person to have there on our big day, especially with our laid back crowd. It was very meaningful to us to have someone who understood our style and exactly what we were looking for. Thank you again for helping to make our big day perfect!
Samantha & Jett
Rev Laurie Rupert was the perfect fit for our wedding day! We felt so comforted when we first talked to Laurie on the phone before the wedding, she was very open to conducting the ceremony exactly how we had in mind! (Long as it was legal). On the day of, we had a last minute change to the closing of the ceremony and she did such a wonderful job making it flow and bringing it to an end with no hesitations or uncertainty. Thank you Laurie for making our day so special!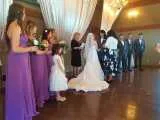 Rolene & Chris
Laurie Rupert was very friendly and professional. She was very flexible and we were able to make chances less than 12 hours before our ceremony. I was referred to Laurie and I would highly recommend her to everyone I know. She is an amazing officiant and I am glad she was able to direct the most special ceremony of my life.
Mark & Sheena
Laurie (Rupert) worked very closely with us before the wedding as we had some unusual requests and on our big day everything went off without a hitch. Her inviting, warm and friendly demeanor really made the ceremony a huge success. Thanks Laurie!! Mark and Sheena
Mike & Antony
Laurie Rupert was a pleasure throughout our entire experience with her. She was professional and engaging, but also warm and genuine. She arrived on the day of the event looking great, with a sunny disposition to match and added a great deal of positivity to our already special day. I would highly recommend Laurie Rupert, and have done so to any of my friends considering an Officiant. Mike & Antony September 05 2015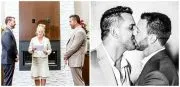 Stephanie
Laurie Rupert was an excellent officiant. She was friendly and helpful when we met her to discuss our wedding plans, and very flexible with what we wanted to do. She provided us with a template, and was helpful in explaining what happens on the big day. She looked fabulous and professional, and was positive and upbeat - we really appreciated her energy. We had an unconventional ceremony, and she was non-judgmental and even excited to be a part of it. We received many compliments about her from our guests. I would absolutely recommend her to anyone.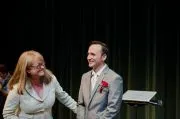 Lauren & Aaron
Laurie Rupert was wonderful!!!! We are sooo happy!!!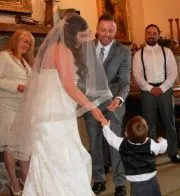 Heather & Christian
Rev. Laurie Rupert was wonderful to work with! She made herself available any time we wanted to meet or talk about questions we had and she gave great input. On the day of our wedding she made us feel very calm and comfortable. Everyone loved how sincere she was and told us that they thought the ceremony was beautiful. We always felt like we were being taken care! Thank you and God bless you.
Rae & Alan
Laurie Rupert exceeded our expectations - she was so warm and lovely... like she had known us for years. All Seasons was a great, easy and professional service.
Carrie & Kevin
Laurie Rupert was the best and I would highly recommend All Seasons for friends and family. We had a quick, easy and beautiful service. Laurie was the perfect fit for our day. I can't thank her enough.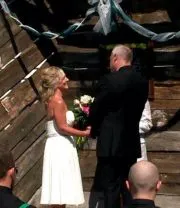 Christine & Kevin
Laurie Rupert was awesome!!! She made our wedding ceremony go very smoothly and we had a wonderful time!! She is a very kindhearted lovely lady and she looked very nice the day of our wedding!! A great time was had by all and we got a lot of compliments!!! Thanks again Laurie!! :)
Cathy & Gord
Our wedding was officiated by Rev. Laurie Rupert in Calgary and I will say she did an awesome ceremony. Our family was touched by her sincerity and genuine heart felt words. She is a very charming woman and a true professional who enjoys performing/officiating weddings. I know they are the readings that you chose and she has done them a thousand time, but she puts a warm and caring touch to everything said. I truly love the man I married and I loved have Laurie there to perform our wedding. If she is your wedding officiant, you will not be disappointed.
Amy & Scott
Laurie Rupert was perfect for our wedding day. We thought she was great!
Lisa & James
Laurie Rupert was fantastic! After the ceremony many of our guests commented on what a great job she did and we agree. She was a pleasure to work with and she made our day even more special!
Jennifer & Ryan
Laurie Rupert was amazing!! Her outfit was gorgeous, perfect for a bright summer day, and her friendly smile was comforting to a nervous bride! She was great.
Charlene & Colin
Laurie Rupert was professional and has a sense of humour. She remained calm on the day of our wedding which helped both of us remain calm and confident. She gave us some tips before the ceremony and made everything very easy to follow. We appreciated being able to have input into our ceremony and we had many comments about how beautiful the ceremony was, how it was fitting for both our personalities, and everything went as planned. Thank you for helping us create the day of our dreams.