John Dancavitch
Request John Dancavitch
Secteurs desservis
Muskoka, Kawartha Lakes, Barrie, Orillia and area, Gravenhurst, Huntsville.
Commentaires
LeeAnne & Peter
John Dancavitch was fantastic and really added to our special day. Thanks so much to everyone. LeeAnne & Peter August 2021
Bernadette & Kenneth
John Dancavitch was absolutely amazing. He made everyone comfortable😀. Bernadette & Kenneth July 2021
Paul &Jennifer
John Dancavitch was very friendly and has a great sense of humour. I have already recommended him to others. Paul &Jennifer July 2020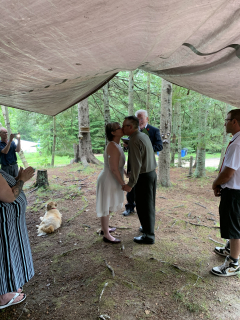 Ryan & Gabrielle
John Dancavitch was kind and on top of his game. I never worried he wouldn't complete his task- he's clearly performed many ceremonies and has a confidence about it that put us at ease. John was very accommodating and willing to work with us to create the perfect ceremony. I really appreciate it John! You helped make our special day perfect. Ryan & Gabrielle September 2019
Gabrielle & Ryan
Hope you're having a wonderful start to fall! I just wanted to reach out and say thank you for hosting such a lovely ceremony for Ryan and I. We were so happy with how it went and the light, fun tone you brought to the wedding. You rock! Thank you so much, John Gabrielle & Ryan ~ Sept. 2019
Brett & Mackenzie
John Dancavitch went above and beyond our expectations. His calm, gentle and professional manner was so appreciated. He made the planning easy and did exactly what we asked of him. I would highly recommend John to anyone!!! Brett & Mackenzie August 2019
Jenna & Andy
We just wanted to say thank you again John Dancavitch! You were so great to work with and really helped make our day special! We couldn't have chosen a better officiant. :) -Jenna & Andy ,Aug 18th, 2018
Emma & Nathan
John Dancavitch was fantastic! He worked with me to help put together a perfect ceremony. He was very kind and we were very pleased with him. Thanks again John for a wonderful day!
Laura & Derrick
John Dancavitch was very professional and exceeded all of our expectations! We thoroughly enjoyed working with him and he definitely was exactly what we expected. Made our day that much better!
Andria & Jim
John Dancavitch did an amazing job at ensuring our big day went smoothly. We are so glad we decided to go with him.