Janice Marks
Request Janice Marks
Secteurs desservis
Gravenhurst, Severn Bridge, Washago, Port Severn, Andrea, Barrie, Brechin, Beaverton, Midland, Big Cedar, Carthew Bay, Coldwater, Cooper Falls, Coulson, Cumberland Beach, Dalston, Dalrymple, Edgar, Fesserton, Craighurst, Hawkstone, Hillsdale, Horseshoe Valley, Jarrett, Lagoon City, Midland, Moonstone, Mount St. Louis, Orillia, Oro Station, Oro-Medonte, Prices Corners, Rama, Shanty Bay, Washago, Warminister, Bracebridge, Alliston
Commentaires
Ross & Dan
Janice Marks was awesome! She really made us feel comfortable and gave us exactly the ceremony we wanted. Highly recommended. July 2022
Barb & Kevin
Kevin and I just want to thank you so very much for the beautiful wedding ceremony that you performed for us on September 6. The words you chose turned a rather small, simple event into a very meaningful, memorable and quite special occasion... and one that we shall both cherish for the rest of our lives. You managed to find just the right tone and made the vows very personal to us... like they were written exclusively for us and no one else. We really do appreciate everything you did and can't thank you enough for making it such a lovely, happy, stress-free day -- we'll definitely be recommending you to anyone who is looking for a wedding officiant -- you're absolutely the BEST! September, 2022
Scott & Michelle
Janice Marks Exceeded our expectations with our ceremony planning meeting. She helped us write our personal vows and spent a lot of time with us making our ceremony exactly how we wanted on the day. She even found readings that were very fitting for us and our ceremony. August 2022
Rachael & Eric
Janice Marks rolled with the changes of my wedding effortlessly. It changed drastically and she was amazing throughout it all. July 2022
Brodie & Erica
Janice Marks did great couldn't ask for any better. Thank you for making the day perfect! Brodie & Erica September 2020
Albert & Trish
Janice Marks was absolutely wonderful. Janice is amazing so kind, thoughtful, helpful.. She made us feel so at ease Even tho we where both nervous wrecks. Albert & Trish August 2020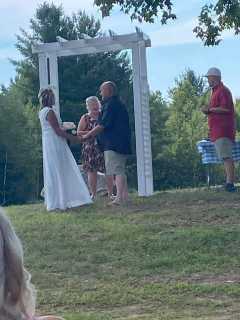 Albert & Chantal
Janice Marks performed our ceremony , she was very friendly and professional, we would most definitely recommend her :) Thank you for a beautiful ceremony. Albert & Chantal July 2020
Mike & Kev
Janice Marks was absolutely wonderful to work with. She is very quick witted and has a great sense of humor, wich all played part in making our ceremony better than we could imagine. We were asked by several guests where we found her as everyone was very impressed with the ceremony Janice presented. We would highly recommend Janice. Mike & Kev August 2019
Kerry & Joanne
Janice Marks was very fun and very professional. We would highly recommend her. Thank you Janice. Kerry & Joanne August 2019
Jordan & Melody
Janice Marks was very funny and open to what we wanted! Thank you for making your day perfect! Jordan & Melody August 2019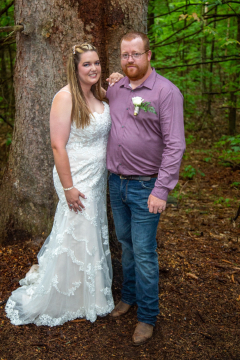 Kyle & Danielle
Janice Marks our officiant was lovely and respectful, helped us with all the steps, and any misunderstandings. Thank you Janice! Kyle & Danielle May 2019
Maegan & Tyler
Janice Marks was amazing and really made our day very special. She was so easy to work with and really tried to get to know us as a couple in order to personalize the ceremony. Her humour and laidback personality made us very comfortable and relaxed. Thank you Janice!
Jennifer & Kyle
Janice Marks is amazing! We couldn't have had a better person make sure our wedding day went perfect!
Megan & Chris
Janice Marks was very experienced friendly and helpful. She gave instructions when needed and is very suited to the job.
Mike & Rachel
Janice Marks was amazing! We loved working with her, Janice was completely adaptable to customizing our ceremony to exactly what we wanted. Janice has a great sense of humour, was a calm and steady presence on a very stressful day. Janice was also so thoughtful and would move slightly out of the way so our photographer could have an unobstructed shot. Such a simple move but our photos are amazing because of this. Thank you Janice we loved having you a part of our special day.
Don & Sheila
Janice Marks did an amazing job at our surprise wedding, in the middle of our Thanksgiving dinner. Her professionalism, along with a great sense of humour and orderly decorum, made our ceremony an experience that we will cherish forever. For a couple who only wanted something short and sweet, Janice went out of her way with suggestions and advice that made any decision making very easy for us. We are so happy to have had her officiate our wedding. Thank you for everything! Oct 2018
Chanel & Craig
Janice Marks was so great, patient and also enjoyed her time with us. She made sure that everything went smoothly and was helpful throughout the entire process from the first time we met, until the end of the ceremony on our wedding day.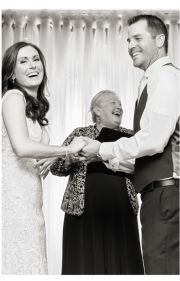 Gail & Kevin
Janice Marks was amazing, she made the ceremony very memorable. I'm so happy to have met her. From the moment we met, she helped us with our vows and suggestions and helped us to make it our own. Absolutely would refer Janice, she made our wedding very special. If you want a officiant who will listen to your wants and needs in a ceremony, Janice is the one. She is also very helpful and will keep in touch with you to help you achieve your goals with your wedding vows. I could not have met a more perfect officiant for our wedding.
Ashley & Kyle
Janice Marks was professional, courteous, and kept us informed about all things pertaining to the ceremony. We really enjoyed having her there.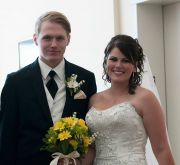 Peter & Joanne
Janice Marks not only met our expectations...she was fabulous! Janice took the time to talk with Peter and me, to understand our relationship, and learn a little about both of us. She has a great sense of humor, a warm and honest personality, and made us feel like we were her most important wedding! It was a real pleasure getting to know Janice. We felt very comfortable and calm with her, on a very excitable day. Our vows and readings were very much us, and Janice kept us right on track, offering suggestions, emailing us all kinds of information. Cannot say enough good things about her!
Kate & Katie
Janice Marks was amazing. She was always available to discuss details. Her approach was so perfect, and she was very professional. Even during crunch time for wedding prep, she stepped in to help with the last minute things. Amazing and added so much to our day.
Brandon & Lindsay
Janice Marks was great! She was extremely professional, helpful and took all of our requests into account which made our service truley special! I would recommend Janice again. Thank you!