Janet Borneman, BA (Wilfrid Laurier)
Request Janet Borneman
Secteurs desservis
Parry Sound, Humphrey, Rosseau, Foley, MacTier, McDougall, Seguin
Commentaires
Brian & Stephanie
Janet Borneman meet our expectations and then some. She was kind, helpful and walked us through the entire ceremony with ease.I would recommend Janet Borneman for everyone. Janet's experience really shows through the whole process! We really enjoyed having her as our officiant. Brian & Stephanie August 2020
Shannon & Jeffrey
Janet Borneman is very easy to talk to. She's very professional but also felt like part of the family for the day - which was very nice. We are very pleased with the service All Seasons has provided.
Ryan & Sean
Janet was awesome!! I would recommend her to everyone! She was very helpful before the wedding during the planning stages and on the day of!!
Patrick & Jen
Janet Borneman is a wonderful person. She was very easy to talk to and had a lot of great suggestion for our wedding ceremony. We wanted to incorporate tying of a rope into our ceremony, Janet was very helpful and gave us some great input. Over all Janet made our wedding ceremony something that we will never forget. Thank you so very much Janet.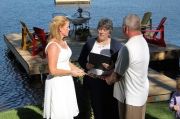 Sheryl & Donald
Janet Borneman was amazing!! We wanted to include something that symbolized the joining of our two families and the selection Janet chose was absolutely perfect!! Everyone is still talking about how beautiful the ceremony was. The reservation office, especially John was very quick and efficient when responding to my emails! I have already posted a plug for All Seasons on FB :) Fantastic people, great pricing, amazing ceremony!