Gerry Copeman, BA (Waterloo); BA, STM (U of T)
Request Gerry Copeman
Secteurs desservis
Sudbury, Garson, Falconbridge, Skead, Hanmer, Val Caron, Blezard Valley, Capreol, Val Therese, Azilda, Chelmsford, Dowling, Wanup, Coniston, Wahnapitae, Copper Cliff, Lively
Commentaires
Jack & Hunter-Lee
Gerry Copeman was beyond amazing! He went above and beyond! Very friendly, helpful and made everything that day so simple! I would and have recommended him to people looking for an officiant! Jack & Hunter-Lee June 2021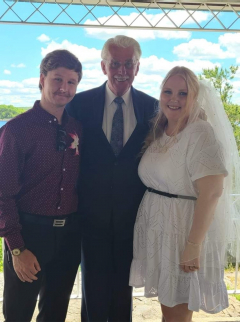 Kerry & Matthew
We picked Gerry Copeman as our wedding officiant based on his great reviews through All Seasons Weddings. We emailed a few times and met with him prior to the wedding to go over the ceremony readings and vows. Gerry was extremely professional and well organized and made us feel very comfortable. We opted not to use our own vows and we were very happy with what he brought to the table instead. He came in to speak with me (the bride) before I walked down the aisle and just made sure I knew exactly where to stand and what to say etc. so that things would go smoothly. The ceremony was short and sweet which everyone really appreciated. Gerry did a fantastic job as our officiant and I would highly recommend him to anyone looking for one. Kerry & Matthew July 2019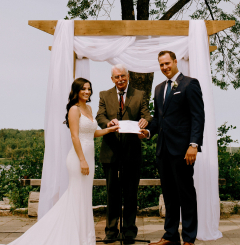 Jordan & Kaitlyn
"I was so excited to have Gerry as the officiant for our wedding as he has a special connection to my family (he married my parents!). Gerry was the upmost professional and kind - so easy to work with! He made sure we were prepared and made us feel comfortable and confident on our big day. Such a pleasure to work with, we would recommend him in a heartbeat!" Jordan & Kaitlyn July 2020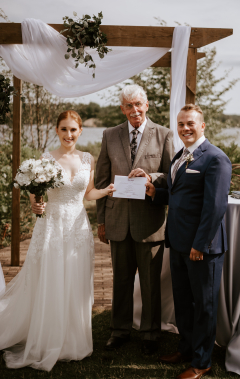 Sagar & Manali
Gerry Copeman made sure everything was perfect, he made our special day memorable💕 Sagar & Manali October 2020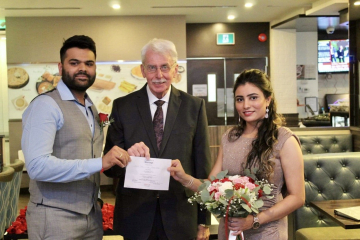 Paul & Lisa
Gerry Copeman exceeded any expectations. He was cordial, friendly and endearing. We would recommend Gerry Copeman. He was professional and kind, prepared and punctual. Paul & Lisa October 2020
Andrew & Paige
Gerry Copeman was very friendly and made our ceremony very special. Thank you! Andrew & Paige July 2020
Philippe & Jacqueline
Gerry Copeman was an amazing and charismatic officiant! He dealt with all the changes due to COVID-19. Gerry was happy to still marry us, as if nothing had changed. He made sure the wedding was just as planed given the restrictions we faced. Philippe & Jacqueline May 2020
Ian & Alyssa
Gerry Copeman did such an amazing job officiating our wedding. He was warm, professional and spoke eloquently. We had so many guests comment on his lovely words, and how true to us he made our ceremony. Thank you, Gerry! Ian & Alyssa September 2019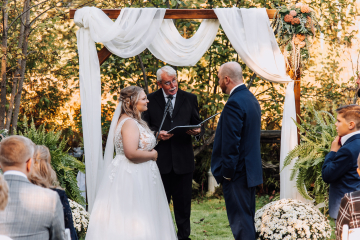 Brittany & Mélanie
Gerry Copeman was absolutely amazing. He not only made our ceremony beautiful and memorable; he was professional, kind; spoke very sweet by adding some personal touches to the ceremony and made everyone feel welcome to be apart of our special day. Gerry will always be a huge part to how successful and beautiful our wedding was. Can not thank him enough! Brittany & Mélanie October 2019
Lyle & Danica
Gerry Copeman was very attentive and very flexible in how he presents and officiates the ceremony. He was great to work with, and very punctual. Gerry also made the ceremony enjoyable by adding some humor with his speech. Would recommend Gerry to anyone and everyone. Great job! Lyle & Danica August 2019
Bob & Noelle
Gerry Copeman was amazing, he guided our guest officiant Steve through the whole process and made our day special. It was Great being able to have our friend marry us and have Gerry Copeman guide us through the process . Garry gave us exactly what we wanted for our wedding day ! Bob & Noelle August 2019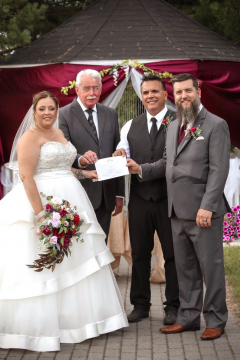 Lisa & James
Gerry Copeman was a great officiant. He was very professional, accommodating and had a great sense of humour. We strongly recommend him. Lise & James Oct 2018
Nicholas and France
A huge thank you to Rev Gerry Copeman for making our wedding celebration so special and beautiful! Nicholas and France Sept 8th, 2018
Stacy & Andrew
Gerry Copeman was the perfect person to perform our wedding ceremony. He is a personable and professional individual who took the time to explain everything we needed to know. As well, he gave us the opportunity to personalize our ceremony and make it unique and memorable to all in attendance. All reservations staff with whom we came into contact were friendly and helpful. We could not have asked for more.
Laryssa and David
Hi Gerry! David and I wanted to express our gratitude! We didn't quite get a chance to say so after the wedding. We both thought the ceremony was beautifully done. The rest of the day went off perfectly. Thank you so much for being part of our day! Laryssa & David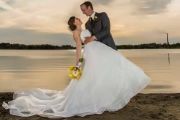 Steph and Rene
Rene and I want to thank Rev Gerry Copeman for delivering such a beautiful ceremony at our wedding! I was an absolute pack of nerves before I walked down the aisle and Gerry was so calming and encouraging that it helped me to relax and be present in the moment! He was extremely professional and delivered a beautiful ceremony that everyone really enjoyed! Gerry was even able to make light of the awkward moment when our best man was struggling to get the rings out of his pocket! He was an absolute pleasure and we could not have imagined anyone else performing our marriage ceremony! We highly recommend him! Thank you so much Gerry, we truly appreciate everything!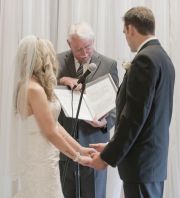 Marcy & Richard
Notre célébrant, Gerry Copeman, était professionnel & amical. Il nous a guidé afin de nous rendre plus à l'aise et nous lui en sont très reconnaissants. Il était ouvert à nos idées et nous laissait choisir la façon dont nous voulions célébrer note cérémonie. Nous sommes très heureuxde ses services et nous le recommandons à d'autres! Très satisfaits de vos services, merci!
Vanessa & Michael
My husband and I had a great experience with Gerry Copeman as our wedding officiant. He did a lovely job at our ceremony. He allowed us to make it our own and we appreciated his own little touches as well. He brings a lot of experience and helpful suggestions as well as some humour which is very refreshing. We would highly recommend him! We were very pleased with our ceremony. He was an absolute pleasure to work with :) Vanessa & Michael 10/08/2016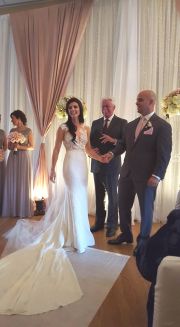 Tammy and Gary
Having chosen wedding ceremonies by all seasons, certainly made wedding planning more simple. I couldn't have been happier to have selected Gerry Copeman as our wedding Officiant. He presents himself with warmth and humbleness which contributed immensely to our ceremony. Such a kind, passionate man, we are so ever grateful to have had Gerry officiate our wedding.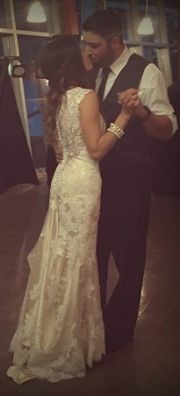 Andrea and Seth
Gerry - thanks again for being part of our wedding. You were great! Here is a picture of the three of us that I thought you might like. Cheers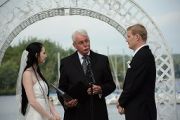 Sarah and Jeremey
Gerry, It is so funny how I accidently without knowing had the best officiant for my beliefs. Gerry you were so great and friendly and helpful. Thank you for being there on such a special day for me. Hugs, Sarah. Couldn't have asked for a better officiant. Thanks so much Gerry for helping Sarah and I start our married life together. Jeremey.
Michael & Daniel
We met with Gerry Copeman a few weeks prior to our wedding date This is when he explained to us the ceremony layout and what we should expect at that time It was very reassuring to us how confident he was in his duties. Several of our guests asked who supplied us with the service .We have referred your name to a few already. Gerry offered several options in the readings for the ceremony Great feedback from guests how well the ceremony went that day. My 86 year old mother even said it was a lovely time. Gerry set our unrest to ease as he prepared us for the event
Amanda & Bradley
Gerry Copeman did an amazing job. He was very helpful and friendly. Gerry did a fantastic job and respected our wishes.
Jessica & Rafiq
Gerry Copeman was friendly and helpful during our pre-meeting. The ceremony was wonderful, he has an excellent blend of formality and humour. In addition to be happy with the ceremony ourselves, we received a number of complements from our guests. All Seasons' reservations staff were friendly and responsive. The process was smooth and Gerry was excellent, we would definitely recommend to others. We were very happy with all aspects of our dealings with All Seasons and Gerry Copeman.
Crystal and Colin
Hi Gerry, We just wanted to say thank you very much for officiating our wedding this weekend. You did a wonderful job and we were so happy to have you there to help us tie the knot! All the best,
Steve & Mary
Gerry Copeman was phenomenal! We had numerous compliments on our ceremony, in particular how well spoken Gerry was. We have already referred you!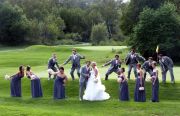 Maxime & Vincent
Gerry Copeman was amazing! He supported our ceremony decisions and executed everything perfectly! He presented as extremely professional, yet easy going - exactly what we were looking for. All staff we communicated with were very friendly and helpful. I have already referred friends to All Seasons Weddings, this organization is the total package.Thank you for everything and keep up the great work!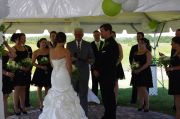 Valerie & Gerry
Gerry Copeman was very accommodating with our ceremony request and easy to work with. I had a very good experience and have already passed along the web address to a friend of the family.
Celia and Brent
My wife Celia and I, Brent, were married this past September by Gerry Copeman. I have to say, we were blown away by his helpful and caring nature. He really put the wedding ceremony in our hands. It was very nice to see some examples of other ceremonies and then work what we like from them into what we had pictured for ours. Gerry was very patient with us, in this process. During our meeting, he made us feel at home, as though we were speaking to a friend about how we pictured the ceremony going. We never felt rushed, we had the feeling that he truly cared that we were happy, and this carried on throughout the planning and actual wedding. I would absolutely recommend his services to any one of my friends, or in that case, anyone wanting to get married! Thank you so much for allowing us to have him officiate our ceremony, it just wouldn't have been the same with out him!!!
Warren and Ginger
Gerry Copeman was the perfect officiant for our wedding ceremony. He was incredibly flexible and went out of his way to help ensure we had the ceremony we wanted. Gerry took extra care to personalize the ceremony and made it obvious to our friends and family that he had taken the time to get to know us as a couple. Gerry has an easy-going manner and makes everyone around him comfortable. He is an eloquent speaker and it is clear that Gerry enjoys being a part of a couple's celebration. Thanks Gerry for making our day so special!