Bethanie Kramer
Request Bethanie Kramer
Secteurs desservis
Thunder Bay, Kakabeka Falls
Commentaires
Arar & Shaylee
Bethanie Kramer was incredible! My husband and I were both in tears (happy, of course) at the altar, and Bethanie was gracious and kind enough to help us take a calming breath. She had no problems adjusting her speech to our specific wants and needs. She's wonderful - highly recommend! October 2022
Tyler & Kelsey
Bethanie Kramer was wonderful. She brought a sense of calm to all of us at our ceremony. Just before the ceremony, she took a moment to speak to me and to help me take a few deep breaths before the ceremony began. She gave a beautiful reading and during the ceremony helped guide us to where we needed to be. Thank you for being wonderful! September 2021
Sadha & Taylar
Bethanie Kramer is and was amazing! We loved having Bethanie as our Officiant . She made our day perfect !!! Thank you ! Sadha & Taylar September 2020
Charles & Samantha
We are so thankful that Bethanie was able to join us for our special day! The service she performs is truly a gift to our community and families. Sharing our vows was so much more meaningful thanks to her support and accommodation of our unique family dynamic. It was a pleasure to share this moment under her guidance. Charles & Samantha September 2020
Brandon & Becky
Bethanie Kramer went above and beyond to accommodate us. Our plans had repeatedly changed due to COVID and simply because we're disorganized people. She was with us every step of the way and very easy to work with. We are very grateful to have someone as wonderful as Bethanie to be with us on our special day, we couldn't have imagined it any other way. Brandon & Becky July 2020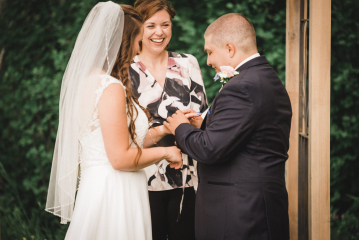 Erika & Jared
Bethanie Kramer was absolutely amazing!!! We felt comfortable with her right from the beginning and she went out of her way to make sure that everything for the ceremony was perfect. Bethanie is extremely efficient, on time, polite, and easy to taik to. She made our ceremony exactly what we wanted and did it all with a big smile :) Bethanie went over and above what we expected to get from a wedding officiant. She was incredibly friendly, and really helpful- especially with a groom who had a lot of questions as to where to stand, and when to do what :) I have already told many people that Bethanie was one of the best parts of planning our wedding and will definitely continue to do so. She was willing to take all of the changes I had made to the script and sent back a rewritten version that worked for both sets of people in a really timely manner. We are so happy with our choice of officicant!! :D
Chantal & Neil
Bethanie Kramer was beyond amazing at out wedding. We unfortunately had some very rude guests who would not leave when their child who was loud, and Bethanie did not skip a beat, raised her voice so people could hear her, and made our ceremony memorable! Bethanie was understanding of our wants and needs in our ceremony, she was easy to contact, as well as easy to get along with. She was very patient with our family and wedding party.
Maygan & Steve
Bethanie Kramer more than met expectations, she was open and available when we had questions, the ceremony was beautiful and exactly what we had hoped for. The reservations office was very helpful, provided prompt and accurate information. I cannot say enough good things about the service we received, truly made our wedding memorable.
Carla & Greg
Bethanie Kramer was wonderful and amazingly helpful and knowledgable!
Amy & Mark
Bethanie Kramer was awesome. She was accommodating and very professional. People complimented that our ceremony was perfect length. Thank you again.