Adrienne Chateauneuf
Request Adrienne Chateauneuf
Secteurs desservis
Barrhaven, Casselman, Embrun, Kanata, Kenmore, Manotick, Orleans, Ottawa, Ottawa Central, Ottawa East, Ottawa, South, Ottawa West, Rockland, Russell, Stittsville, Kenmore
Commentaires
Carly & Eric
We want to extend our thanks, but feel really at a loss to describe how amazing you were and how much grateful we are to have found Adrienne Chateauneuf as our officiant! From our first meeting, to rehearsal day, to wedding day! you made us feel calm, confident and comfortable, and this allowed us to enjoy the process and enjoy the ceremony without nerves! From the bottom of our hearts, we are so thankful for you to have been our officiant, and also so excited to share that we have received soooo many compliments from guests that this was one of the best ceremonies they had attended. You impressed us all! Much love, Carly and Eric September 2021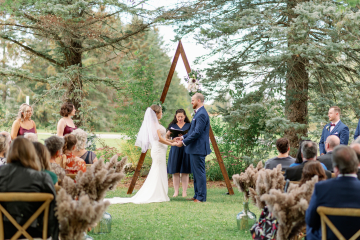 Rachele & Valerie
Adrienne Chateauneuf was absolutely wonderful and I would recommend her to anyone and everyone! She was warm, professional, kind, and radiated joy and peace throughout the entire journey. Despite numerous last minute changes she was always accommodating, understanding and kind. She was open, thoughtful and engaged and made sure that our ceremony and our vows were exactly what we wanted them to be. I couldn't have asked for a better Officiant and I am so glad that she was available to be part of our day. Rachele & Valerie August 2021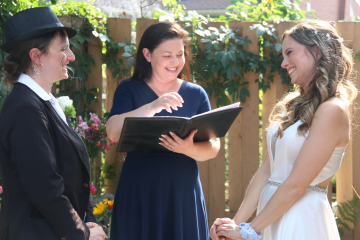 Megan & Jeffrey
Adrienne Chateauneuf was truly a dream! She created the perfect ceremony for us on the day and was a rock of support in the build up! Megan & Jeffrey July 2021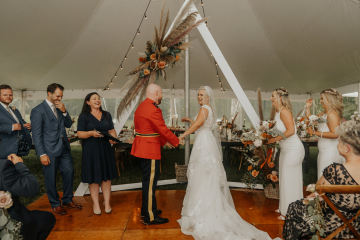 Jodie & John
We were extremely honoured to have Adrienne Chateauneuf as our officiant. During our rehearsal she was extremely thorough and made sure we knew exactly what was going to happen. We felt very confident at the end of the rehearsal. The service itself was amazing. She went above and beyond in her role as officiant including quotes from superman and batman (we had a nerdy wedding) to helping set up our Cesar bar and even spraying down furniture and guests when our dog was sprayed by a skunk. We cannot recommend her strongly enough. If you are looking for someone to truly make your special day that next level better. Jodie & John August 2021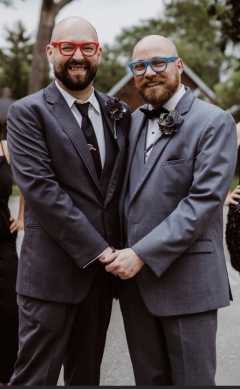 Tony & Ashley
Adrienne Chateauneuf was amazing! So sweet and nice! We would definitely recommend Adrienne to anyone looking for an officiant. Tony & Ashley June 2021
Tasha and Ken
Adrienne was fantastic! She was so well organized and responsive from Day 1. It was important to her that she knew 'our story' and wrote a beautiful ceremony. With a Covid wedding, there was so much uncertainty. She was so kind and reassuring when we postponed our wedding the first time. During our ceremony, she calmed us down when nerves were most high and made us laugh when we needed it most. It is clear she loves what she does. We were so happy with how the ceremony went. :) We would recommend her to anyone. Thanks so much Adrienne! Tasha and Ken May 2021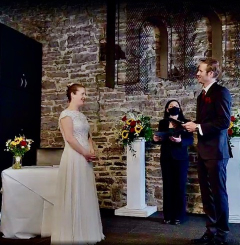 Jason & Dana
Adrienne Chateauneuf was wonderful to work with! We cannot recommend her enough. It felt as though we were planning our wedding ceremony with a friend. The ceremony she wrote was very beautiful and heartfelt. She was professional every step of the way and made the whole process stress free and simple for us. 10 out of 10 would recommend. Jason & Dana September 2020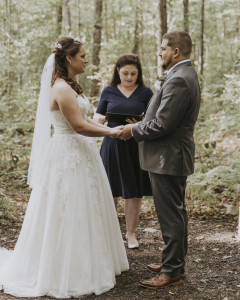 Jaehoon & Genevieve
Adrienne Chateauneuf was very professional and friendly. From the first phone call, we knew we were in good hands. In these uncertain times, we really appreciated her approach: she had answers to all of our questions, was well prepared and gave us full control over the text as well as advice on what to include in our vows. On the day-of, she came early and officiated a perfect ceremony. Adrienne was extra thoughtful, making sure her outfit matched with our colours and subtly moving out of the frame during our first kiss! Jaehoon & Genevieve October 2020
Mike & Stephanie
Adrienne Chateauneuf was absolutely amazing right from our first phone call to meeting us in person to our wedding day, she helped make our day and experience unforgettable. She was personable, always had a smile on her face and we truly could not recommend her enough. You can really feel how much she loves marrying people. Thank you so much ! Mike & Stephanie September 2020
Derek & Rachel
Wonderful ceremony! Adrienne was such a joy, so professional and super easy to work with. We're so excited to have her as our officiant next year, as well! Derek & Rachel September 2020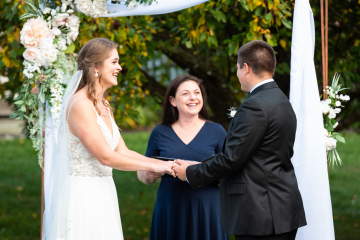 Gabby & Mike
Adrienne Chateauneuf was amazing!!! She performed our wedding ceremony Oct 9th, 2020 and she was lovely!!! She made everything so easy for us and she was super pleasant!! Adrienne helped make our wedding day the best it could possibly be! She took the time to actually get to know us and our story! She was very personable!! We are so very glad we picked her to be out officiant! Thank you so much Adrienne!!! Gabby & Mike
Joe and Ada
Thank you to All Seasons and especially Adrienne Chateauneuf for the excellent short-notice service at our wedding last month. Adrienne was an exceptional officiant, clearly communicating and helping us with our planning. Her presence added to the day, with a clear and emotionally meaningful voice and a thoughtfully conducted ceremony. She was respectful of our precautions, adapting well to the backyard wedding. We would recommend her as an officiant to all who need one. Sept. 2020
Lisa & Alex
Adrienne (Chateauneuf) is simply the best! I knew we hit the jackpot from our very first phone call with her. Adrienne is kind, genuine, and radiates this positive and reassuring energy that all bride and grooms need on their wedding day. She was always available to answer any questions and was organized right from the start, making this process feel so effortless on our part. She crafted and delivered a meaningful and memorable ceremony that aligned our wants and reflected us as a couple. Adrienne is truly a talent and we would not hesitate to recommend her to anyone looking for officiant services. Thank you again Adrienne! Lisa & Alex, August 2020
Brandon & Sarah
Adrienne Chateauneuf was absolutely fantastic. She was extremely helpful and flexible given the unique circumstances - pandemic, rain, tornado warnings and our friend wanting to be involved. She is extremely kind, friendly and personable. I have already recommended her to a few friends of mine. My husband and I have only great things to say about Adrienne! :) Brandon & Sarah August 2020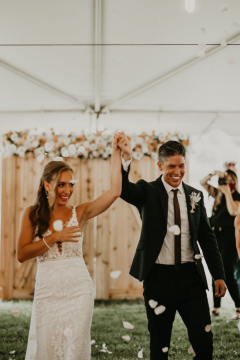 Nick & Julia
Adrienne Chateauneuf was a pleasure to work with and she seamlessly guided us through the whole process. She was also extremely flexible with our changed wedding plans due to COVID. Thank you for everything! Nick & Julia June 2020
Stephanie
We are ecstatic with our decision to go with Adrienne Chateauneuf as our officiant. She is friendly, professional and organized. Communication was spot on and she was great at answering any question we had. Adrienne's confidence helped make us feel calm and collected before and during the big day, while her radiant smile added extra joy to our short and sweet ceremony. We give her two big thumbs up and recommend her to everyone! Stephanie Feb 2020
Brock & Dawn
Adrienne Chateauneuf was wonderful to work with! She was very kind and professional. Thank you for making the day wonderful. Brock & Dawn November 2019
Braunwyn and Adam
My husband and I were so grateful to have had such a beautiful ceremony performed by an outstanding officiant. Her words were touching and exactly the tone we asked for. Adrienne made the whole process of paperwork easy and seamless. One of our guests even said it was the best wedding ceremony she had ever been to and she's been to thousands as she is a retired wedding photographer. Thank you so much to Adrienne and the All Seasons team for making our day unforgettable. Braunwyn and Adam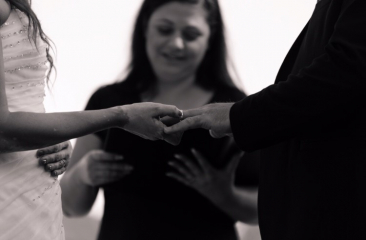 Brian & Dana
We were apprehensive about an officiant and had spoken to some people we did not click with. We finally found Adrienne. Adrienne Chateauneuf was so personable and added an extremely personal touch to our ceremony - she put us at ease right away and guided us throughout the process for ceremony ideas and the overall structure. We had so many comments from our guests about how beautiful the ceremony was. We would highly recommend Adrienne to any couple looking for a non cookie cutter wedding ceremony. Brian & Dana October 2019
Brad & Jennifer
Adrienne Chateauneuf was so amazing! She was the perfect fit to our wedding 😊 Would recommend her to any of my friends and family. Brad & Jennifer September 2019
Meghan & Marcus
We want to thank Adrienne Chateauneuf, she was fantastic! We recently went on our honeymoon and listed her as part of our top three favourites of the wedding when sharing our experience with other guests at the resort. We were sitting having a cocktail and the Bill Withers song (the one we walked out to) came on and both of us started to tear up. We honestly can't describe how Adrienne made us feel by the words she said and the calm and relaxed way she ran the ceremony. Adrienne has a wonderful sense of humour, a genuine approach and a very down to earth attitude. We absolutely loved working with her! Our friends and family were raving about how incredibly talented Adrienne is and we couldn't agree with them more. We were thrilled to have had her be part of the day. She truly did add a very special and memorable experience to the event and we can't thank her enough for this! Meghan & Marcus July 2019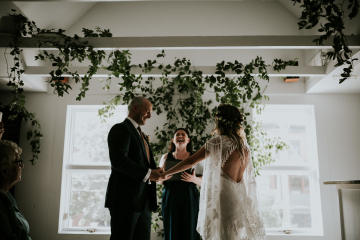 Alicia & Mitch
Adrienne Chateauneuf was absolutely amazing! As soon as we booked her for our September wedding she scheduled a phone call and we all chatted for almost an hour. She took the time to get to know us and really helped us to make sure the ceremony was exactly as we wanted. She was warm, welcoming and so kind. She definitely made us feel comfortable and confident. Thanks Adrienne for being there for our special day and making the ceremony absolutely perfect! Alicia & Mitch Sept 2019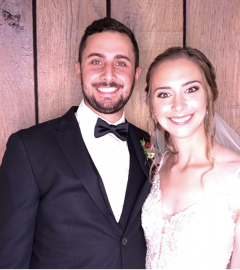 Katrina & Sean
Adrienne Chateauneuf was so wonderful and made my husband Sean and I feel very comfortable from the very first phone call. You can really tell how passionate she is and how much she cares about making your ceremony special. She listened to us and gave us great ideas. We are so thankful Adrienne was part of our big day! Thanks! Katrina & Sean Sept 2019
Paul & Brenden
Adrienne Chateauneuf was an exceptional officiant. We really enjoyed our experience from introductory meeting to the big day itself. Adrienne really cares about the couples she marries. Paul & Brenden September 2019
Chris & Anna
Adrienne Chateauneuf far exceeded our expectations! She was incredibly kind, supportive, and professional every step of the way. She was also so open-minded and flexible, allowing us to have the exact ceremony we'd always dreamed of.Adrienne was absolutely incredible to work with. Her passion and love for officiating and working with people shined through in her sincere joy and excitement every step of the way, and her professionalism and knowledge was impressive. My husband and I feel like we won the jackpot finding Adrienne; She was so open-minded and flexible, allowing us to have the ceremony of our dreams. Adrienne's kindness, warmth, and passion were a gift and we will recommend her to everyone we know who is need of officiating services. She's truly amazing! Chris & Anna September 2019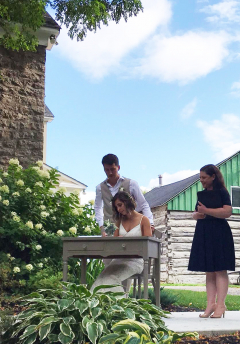 Robert & Carole
Adrienne Chateauneuf was just plain awesome and made our day as perfect as it can be. She was a very understanding person and helped us get over being nervous , having to remember lines, she really works for the couple. Everyone at the venue said how professional and beautiful she looked looked and was dressed accordingly for our venue. Not planning on getting married again but would definitely recommend Adrienne to anybody who is planning it, she makes it look so simple and she is a professional. Thank you for everything. Robert & Carole August 2019
Andrew & Rebecca
Adrienne Chateauneuf completely exceeded our expectations. She was so kind, patient with us through the whole process. Her presence naturally brought us down to earth on such a hectic day. We could tell she truly cared about us and wanted to ensure we had an incredible day. Thank you ! Andrew & Rebecca August 2019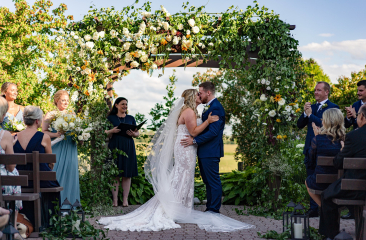 Annika and Duncan
We absolutely loved working Adrienne. She was responsive right from the initial booking, and created a beautiful ceremony that was so reflective of us as a couple. She was open to specific requests that we had, and so genuine and authentic in all of our interactions with her. She set up a face to face meeting with us to finalize details, which was so hopeful in putting us at ease prior to the wedding. She also came out to Almonte for a rehearsal, and took her time with us and our wedding party, to ensure we were all on the same page. Day of, Adrienne took time to connect with both of us, and was so positive and supportive.It was truly our pleasure to work with Adrienne- her warmth and authenticity made us feel supported as we transitioned into this new phase of our journey together. Annika and Duncan August 2019
Brian & Émilie
Adrienne Chateauneuf was absolutely wonderful as our officiant. She expertly answered all of our questions and created a perfect ceremony for us that was exactly what we wanted. She has a warm and friendly disposition, a lovely voice and looks great in our wedding photos. We highly recommend Adrienne. Brian & Émilie August 2019
Anne & David
We would like to express our sincerest thanks for the excellent service that Adrienne Chateauneuf provided as officiant for our wedding ceremony. She guided us though the entire legal and ceremonial process with experience and thoughtfulness. She authored a lovely ceremony that integrated sensitive topics like loss and love with care. We consider ourselves extremely lucky that we found Adrienne to be our officiant. Seeing Adrienne's smiling face during the ceremony felt like we had a friend officiating our wedding. Our families and friends had nothing but good things to say about her calm and positive presence. We would highly recommend Adrienne! Anne & David May 2019
Annalise & Craig
Adrienne Chateauneuf was an absolute pleasure to work with for our wedding. She is kind, always smiling, and she made the process very easy for us. When we met her you can tell that she genuinely wants to get to know what you are like as a couple so that she can help make your ceremony as personal as possible. She responded quickly to all correspondence and she's just a great person to be around! Thank you Adrienne for contributing to our special day. Annalise & Craig July 2019
Thomas & Catherine
Adrienne Chateauneuf was absolutely amazing! We have nothing but good things to say about her. She was professional and incredibly knowledgeable. Adrienne is honestly one of the sweetest people I have ever met and I am so happy to have had such an amazing officiant to marry my husband and I. We highly recommend Adrienne and All Seasons. Thank you so much for your time and effort, it was amazing! Thomas & Catherine August 2019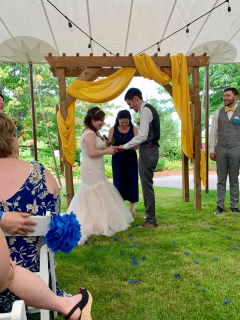 Scott & Christina
Working with Adrienne Chateauneuf was wonderful! From our initial call with her last year to our meeting with her weeks before our wedding, we absolutely knew we had chosen the right person! She was extremely friendly, professional and down to earth and really made us feel special. Friends and family have also been telling us how wonderful of a ceremony it was and how great Adrienne made it! We would recommend her to anyone looking for an officiant in a heartbeat! Thank you again for everything . Scott & Christina June 2019
Michael & Nadia
Adrienne Chateauneuf went above our expectations and was amazing from the moment we first spoke with her. Adrienne made us feel at ease and reassured that we picked the right person for our wedding. She is such a pleasant and wonderful person and very down to earth, which made us feel comfortable and less stressed for our big day. Our experience was incredible and it was all thanks to Adrienne. Michael & Nadia May 2019
Sarah and Valerie
Our wedding was booked at the last minute with Adrienne Chateauneuf but that did not stop her from taking great time and care in providing us with a meaningful ceremony that spoke to us as a couple. Our day would not have been as wonderful or memorable without the help of Adrienne. We could not have chosen a better officiant to marry us. Thank you over and over again, Adrienne. Sarah and Valerie March 2019
Nicole & Charlie
Adrienne Chateauneuf helped us to craft very personal and unique vows which were just beautiful. She was professional, punctual and energetic. She was the perfect officiant for our special day. Thank you so much Adrienne. Nicole & Charlie Jan 2019
Marc and Cora
Hello Adrienne (Chateauneuf), You have made our wedding the way we wanted and more. Just perfect. We loved the vows you read during the service. It sounded ike you had known us for a long time! We also loved the fact that you came early and prepared. You looked professional and you made our little ceremony so formal and lovely. We would not have the same type of service from the City Hall. Like we said earlier, it was EXACTLY the way we wanted. Thank you for everything!!! Marc and Cora Dec 2018
Jessica & Marc-Andre
Adrienne Chateauneuf was an amazing officiant! Her personalized approach made our ceremony meaningful and extra special. We wish we could relive our wedding everyday. Thank you for everything! October, 2018
Vanessa & Leonardo
Adrienne Chateauneuf was a wonderful help and guided us through the entire process. She prepared a beautiful ceremony and met all of our expectations on our special day. We were attracted to her because of her video. This let us hear her voice, see her disposition and answer several of our questions right off the bat. So helpful. September, 2018
Monica & Andras
Adrienne Chateauneuf, thank you for your calm, lighthearted, and elegant presence on our wedding day. The heartfelt words you wrote for our ceremony felt unique and tailored to our small and simple wedding. We were lucky that you have a great sense of humour. Thank you for taking the time to talk to us pre-wedding, and for being up there with us, taking the edge off a bit. It was surprisingly hard to have so many eyes on us, even though it was only our closest family in the audience. Monica & Andras Aug 2018
Carlos & Julie
We would like to thank Adrienne Chateauneuf for making our ceremony so personal and perfect. She took the time to meet with us, learn our story and make sure that this magical moment would be as special as our love is. We appreciated planning the details of the ceremony with her, the readings, the flow and making sure it was to our image as a couple. Adrienne wears her heart on her sleeve, she is committed to making this special day unique and personalized, we had a little rain at the time our outdoor ceremony was planned to begin and she delayed the start of the ceremony for a while so that we could say our "I do's" outside as planned. Adrienne is so kind and involved we even made her cry! Thank you Adrienne for making our wedding ceremony a moment we will cherish and remember for the rest of our days xoxo Carlos & Julie Sept 2018
Marie-Chantale & Kyle
Adrienne Chateauneuf was a wonderful officiant. She was so helpful and genuine and made the whole process a breeze. I would recommend her to anyone! Marie-Chantale & Kyle, August 2018
Anonymous
Adrienne Chateauneuf performed our wedding ceremony on August 18, 2018. She did a fantastic job. Not only was she extremely professional and thorough, she was such a pleasure to work with. During our ceremony we had delays and a quick adjustment needed, she handles smoothly and gracefully. Not only would I suggest her, I highly recommend her. 5 stars all the way!
Anonymous
We don't think we could have chosen a better officiant for our wedding than Adrienne Chateauneuf. She was the perfect combination of professionalism, warmth, and humour and she made what could have been a stressful time easy and fun. What was most important to her was that we had the wedding that we wanted. She took the time to get to know us, gave us some pointers on how we might do things and then let us make the decisions. As a result our wedding reflected who we were as a couple: romantic in its own way but with a fair amount of laughter thrown in for good measure. S and B.
Shannon & Andrew
Adrienne (Chateauneuf) was truly amazing on our wedding day. We met with Adrienne in advance of our wedding and she was exceedingly accommodating with the type of ceremony we wanted. She was kind, professional and clever with the way she constructed our ceremony and rolled with things even we made mistakes on the big day! We had many people after the wedding approach us to compliment how amazing the ceremony was and they loved the little personal touches. It is easy to tell when someone loves their job and what they do, and that is truly the case with Adrienne. She exceeded our expectations and we would highly recommend her to any couple. Shannon & Andrew Aug 17th, 2018
Andrew & Marisa
Adrienne Chateauneuf was our officiant for our wedding at the Fairmont Chateau Laurier and my husband and I could not have been happier with the service she provided. When we first met Adrienne in person, we both walked away and knew she was a great fit for us. She has a very calming and warm demeanor that made us feel at ease for such an important part of our wedding day. It was also wonderful that she made the effort to see us briefly before the ceremony. It added a personal touch that we really appreciated. She was incredibly responsive by email to both us and our wedding planner. The best part of choosing Adrienne is that she encouraged us wholeheartedly to make it our day. If we had to laugh or cry, we should feel free to do so. I remember asking for guidance on length or style of vows since we were writing our own. And her response was simple: Write what is in your heart. Looking back, this advice shaped how we wrote our vows and speaking those vows during the ceremony remains one of our best memories of our wedding day! Andrew & Marisa, July 2018
Ben & Merry
Adrienne Chateauneuf was amazing! From our first meeting she made us feel comfortable and felt like one of the family. She was so warm and personable, and made helped make our wedding day perfect. Thanks Adrienne!! [June, 2018]
Joel & Kiana
Adrienne Chateauneuf exceeded our expectations in every way. Our interactions with her in advance of our wedding day were always positive and helped tailor our ceremony to feel special and unique to us. Her advice and recommendations greatly helped in our wedding preparations. On the day of the wedding, Adrienne was nothing short of outstanding. She provided a calming and supportive influence on us when some unforeseen issues delayed our ceremony start time. Once they were resolved, she made sure everything we had discussed went according to plan. We plan to recommend her to all our friends and family getting married in the future. Adrienne truly was an exceptional part of our special day. [June, 2018]
Ben & Merry
Adrienne (Chateauneuf) was so amazing to Merry and I. As soon as we finished our very first planning phone call we knew we had chosen the right officiant for our wedding! She made us and our family and guests feel so comfortable. Her advice, from where to stand, to general marriage advice was spot-on. She was so accommodating for everything. She was a calming presence at the ceremony and was always so helpful and friendly throughout the planning process. Thanks Adrienne!!! Ben & Merry June 18th, 2018
Emily and Matthew
We were so happy to have Adrienne as part of our wedding. From the first meeting, she really got to know us and helped us build a ceremony that was right for us. Her warm and friendly personality brought a beautiful energy to our ceremony. She was also extremely professional and did a great job of putting us at ease during the planning and on the big day. She fully earned our trust and we would definitely recommend Adrienne to others!
Sean & Ludmilla
Adrienne (Chateauneuf) made us feel comfortable right from the first phone call. During the planning meeting, she patiently followed along as we threw ideas at her. She enthusiastically helped us turn these ideas into a beautiful ceremony, which was perfectly "us". Adrienne was sweet, easy-going, and all-around lovely. Even though we had a very intimate wedding with only close friends and family, it felt like Adrienne fit right in. Thank you, Adrienne!
Cameron & Kimberley
Adrienne Chateauneuf was a wonderful officiant, she met and exceeded our expectations. We had several meetings with her, both in Skype and in person, in which she was friendly, kind, and professional. She even provided helpful suggestions that made our ceremony even more personal. We could not be happier that we selected her to perform our ceremony, and we would definitely recommend her to others!
Cory and Michelle
Adrienne exceeded our expectations as an officiant for our wedding. She was able to expertly answer all of our questions and to provide suggestions that improved our ceremony. Communication was excellent throughout the entire process. Her calm and warm personality made the event stress-free, which allowed us to enjoy every moment. Our guests also informed us that Adrienne delivered a great ceremony. We even received feedback from our photographer, who said that he enjoyed working with Adrienne. I would highly recommend Adrienne to any friends or family members in need of an officiant. Please feel free to use any portion of this review in promotional or marketing materials. ,
Jessie and Jamie
Adrienne exceeded our expectations and was an amazing help as she was able to guide us through our ceremony and bring our attention to details we hadn't previously considered.