Yvon Bergeron
Yvon est un facilitateur et il se donne toujours à 100% .A l'âge de 6 ans, pour la première fois de sa vie, il débute comme maître de cérémonie. Depuis lors, il n'a jamais arrêté. Yvon aime le monde, aime la vie et les gens l'aiment et la vie le lui rend bien. Yvon est prêt à vous aider à préparer votre cérémonie du mariage de la manière dont vous le désirez. Yvon vous écoutera. Yvon a plusieurs talents et en voici quelques-uns : conseiller, facilitateur, motivateur, maître de cérémonie, formateur, musicien, chanteur, bout en train et il a un bon sens de l'humour etc. Yvon croit fermement que TOUTES les personnes sans exception ont plusieurs talents et il veut utiliser les siens au maximum de sa connaissance. Si vous prenez la décision de demander pour ses services, vous ne le regretterez pas. Prenez le temps qu'il faut pour choisir la bonne personne pour votre cérémonie car c'est un évènement UNIQUE dans votre vie.La personne que vous choisirez sera la bonne personne.
Request Yvon Bergeron
Secteurs desservis
Ottawa, Vanier, Orléans, Kanata, Nepean, Barrhaven, La Pêche, Lac Ste-Marie, Wakefield, Aylmer,Gatineau, Hull, Cantley, Chelsea, Val-des-Monts, Buckingham, Luskville, L'Ange-Gardien
Commentaires
René & Sara
Yvon Bergeron really contributed to the success of our ceremony. His demeanor and great personality was perfectly suiting our style. Our photographer and our guests really appreciated him as well. He brings colour to the ceremony and it was totally fitting our own wishes and personalities. René & Sara January 2020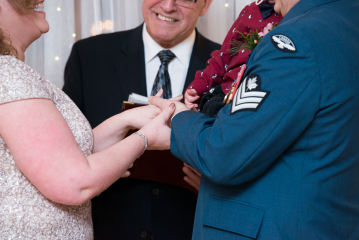 Martin & Mélanie
Yvon Bergeron a été plus que parfait. Dès les premières rencontres, nous avons tout de suite aimé Yvon. Il a su nous mettre en confiance et fût d'une grande gentillesse. Il a été formidable lors de la cérémonie, les invités nous en parle encore. Il a su être très professionnel et détendre l'atmosphère. Un excellent célébrant que nous recommandons sans hésiter. Il a su également s'ajuster au fait qu'il s'agissait d'un mariage surprise qui se devait d'être un shower de bébé. Il a bien joué le jeu. Merci encore! Martin & Mélanie December 2019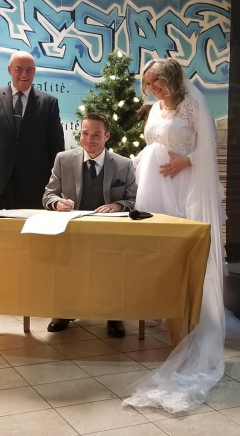 Samuel & Cassidy
Yvon Bergeron was amazing, he was funny and really set the tone for the entire wedding and made all the guests feel comfortable. He was exactly what we wanted :) thank you so much! Samuel & Cassidy November 2019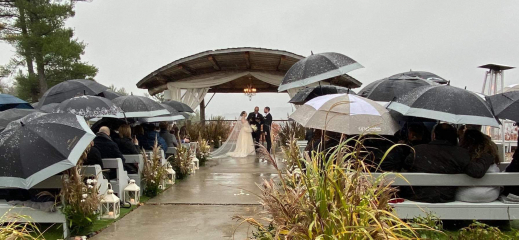 Jacques & Diane
Yvon Bergeron a répondu très bien à nos attentes, vraiment professionnel au point que je le recommanderais pour autres mariages. Jacques & Diane September 2019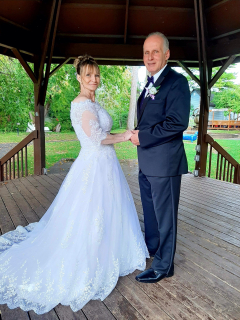 Gabriel & Julia
Yvon Bergeron was great! It's clear that he loves what he does. Thank you for everything. Gabriel & Julia August 2019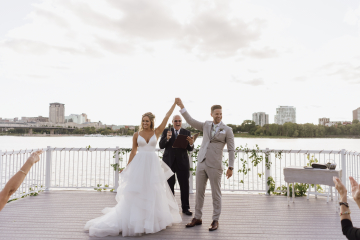 Michael & Cathy
As soon as we read Yvon Bergeron's reviews from other clients we knew he was the one and we were not disappointed! Our ceremony was fun and memorable. We laughed and enjoyed ourselves and so did our friends and family. Yvon Bergeron made our day very special and we would highly recommend him ! Michael & Cathy August 2019
Nicolas & Josée
Absolument que Yvon a répondu à nos attentes. Il était sur le lieu très tôt (1 heure avant le début de la cérémonie) afin de voir l'endroit et de s'assurer que tout était en place correctement. Son dévouement, son approche et son animation, nous a permis de savourer cet événement avec confiance. Il a su d'une main de maître faire des revirements propices lors des petits moments cocasses en permettant de nous détendre par ses blagues. Tous les gens présents n'ont eu que de bons mots à son égard. Nicolas & Josée August 2019
Christian & Rachel
Yvon Bergeron was the officiant at our wedding in July 2019. Yvon was absolutely wonderful. He made himself available to us after work hours to meet and go over all the ceremony details. The ceremony went perfectly, Yvon helped to calm our nerves with his charismatic presence and humour. All our guests appreciated his bilingualism. We can`t thank him enough! Christian & Rachel July 2019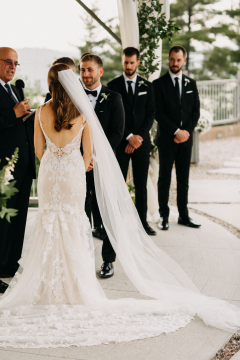 Remy & Renee-Claude
Yvon Bergeron was amazing!! Everyone complimented his humour and good energy. He had a smile from the beginning to the end and made us feel important and in control through the entire process!! Remy & Renee-Claude. July 2019
Mario & Linda
Ns ne pouvions pas mieux choisir, Mr Yvon Bergeron as su mettre de l'humour dans la cérémonie qui nous représentaient bien. Milles fois Merci.. Ns avons eux de beaux commentaires à son sujet...Bravo
Sebastien & Sabrina
Le meilleur! On la tellement adorer. Il a meme porter un habit suivant notre theme. Pour vrai jai que du bon a dire. Vraiment A CONSEILLER a tout le monde! Octobre, 2018
Genevieve & Josh
We chose Yvon Bergeron to officiate our Wedding and would highly recommend him to anyone looking for a dependable, fun loving gentleman to wed them. He delivered excellent service and lightened the mood with pleasant jokes. We are 100% satisfied. Thank you again Yvon, we will never forget! [August 2018]
Ildiko & Sean
Yvon Bergeron was fantastic, his enthusiasm and sense of humour were greatly appreciated on our wedding day. We were both somewhat nervous, but Yvon's approachable and exuberant nature put us both at ease. Numerous guests commented on how enjoyable his ceremony was.
Rachel & Phil
Yvon Bergeron exceeded our expectations! He performed the ceremony exactly how we discussed. Our guests could not stop raving about him and a few people asked if we were related to him as they saw a bond between us and Yvon. We were so pleased with our choice! Merci Yvon!
Cindy & Francis
Yvon Bergeron mentioned at our meeting that he would be in the moment with us throughout the ceremony and he truly was. He made our wedding special. We greatly enjoyed having him as our officiant.
Dejana & Dusko
Yvon (Bergeron) was fantastic! He is so warm, friendly and sincere. It really made a difference at the ceremony because he was able to make it light and funny. We would 100% recommend Mr. Yvon "100%" Bergeron!
Véronique & Ben
M. Bergeron did an absolutely fantastic job for our wedding. It was an extremely warm day, the air conditioner at the venue broke down. The majority of the guests were unilingual with some speaking only French and some speaking only English. All of the guests commented on how perfectly bilingual M. Bergeron was and how clearly he spoke. His personality and energy brought so much positivity to our day to our wedding and made the ceremony absolutely perfect. Simply put he was incredible and I would recommend him to absolutely everyone looking to have their day start perfectly with the perfect officiant for their ceremony because he is nothing short of that. Véronique & Ben 07/07/2012
Shawn and Catherine
Mr Yvon Bergeron was the best choice we could have made for an officiant . He has such a perfect mix of humour and professionalism. We were really nervous and he knew just what to say and how to say it. You can see that he has a great passion for what he does and he really does believe in the power of love. Could not have asked for a better officiant. I would recommend him to anyone, anytime. It was a blessing to have him as our officiant. All in all, he was amazing, and we would just like to thank him for being with us on our special day.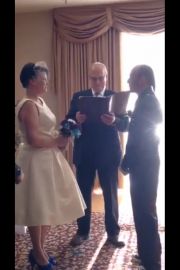 Nicole & Michel
Merci à Yvon Bergeron pour cette magnifique journée.
Jessica & Jordan
The ceremony was beyond perfect!! All the guests loved Yvon Bergeron, he made my day magical:) Thank you very much.
Christian & Josée
Yvon Bergeron did an outstanding job, professional in addressing the crowd in a clear, eloquent and enthusiastic manner. Highly recommended for all bilingual ceremonies.
Julie & Danick
Nous avons tout simplement adoré Yvon Bergeron! C'était super! Merci beaucoup!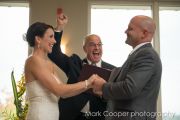 Monica & Gaetan
We were very pleased with Yvon Bergeron.. Our initial meeting went very well. He provided us with some good feedback on our text for the ceremony. He was very funny. Yvon was helpful in the weeks leading up to the wedding answering my numerous questions. We would recommend All Seasons to other couples.
Christina & Jeffrey
Yvon Bergeron - thank you so much for being part of our special day you were a hit with the crowd!
Kelly & Erik
Yvon Bergeron was amazing, truly passionate and made us feel loved and appreciated. All Seasons was helpful in every step of the way, very friendly and efficient. All Seasons took the stress out of looking for officiants, one stop shopping!