William MacDonald, B.A.(Hons) ; LLB
Request William MacDonald
Secteurs desservis
Brentwood Bay, Colwood, Esquimalt, Goldstream, Langford, Metchosin, Millstream, Saanich, North Saanich, Oak Bay, Saanichton, Sidney, Swartz Bay, Victoria, View Royal, Salt Spring, Crofton, Duncan, Chemainus
Commentaires
David & Leanne
William MacDonald was amazing and instantly became a friend. He was and is professional who we both appreciated. October 2022
Jaimie & Antonio
Bill [MacDonald] was so wonderful. Truly appreciate his patience and calm energy. It was a joy to share and commemorate the moment with him. July 2022
Matt & Brea
William MacDonald was great - he eased our nerves and adapted our reading to fit us perfectly. We were so happy with having him host our ceremony. Matt & Brea June 2021
Richard & Genevieve
William MacDonald was everything we could have hoped for. He was well dressed and helpful and patient. His ceremony was just beautiful and we had a wonderful wedding. Richard & Genevieve June 2021
Don & Joelle
William was lovely, he helped make our day special. Thank you! Don and Joelle March 2021
Kristina & Kyle
We were so happy that Bill (MacDonald) was our officiant for our wedding. He was super friendly and amazing at keeping in contact the whole time with emails and video calls. Kristina & Kyle, June 2020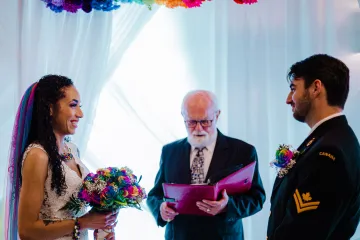 Rick & Michael
William MacDonald was awesome, we could not ask for more! We received terrific service and a wonderful presence at our happy event. Thank you. Rick & Michael July 2019
Josh and Carley
We found Bill Macdonald on the All seasons website and had a wonderful experience. Based out of saltspring, he took the ferry to meet us in Victoria on fairly short notice and was very warm and accommodating, answering all our questions both in person and by email and accepted changes to the wedding script with no issues. He did a great job on the wedding day, was very prepared and stayed a bit to talk with our guests even though he had a ferry to catch. We are very glad and feel privileged to have had him marry us, and highly recommend him. He also has an amazing voice with a certain gravitas that all our guests were impressed by. Thank you again Bill! Josh and Carley August 2019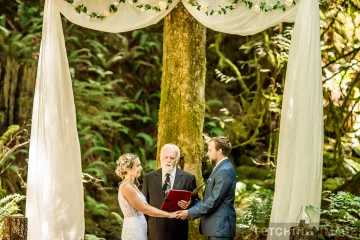 Robert & Amy
William MacDonald was wonderful. He was helpful and courteous from our first correspondence. On the day of the ceremony he was on-time, professional and friendly. He did an excellent job officiating our vow renewal and we were thrilled with our experience. Thank you!! Robert & Amy May 2019
Pascale & Stephen
Bill (MacDonald) was so great. He was very professional and gave us thoughtful advice when we were struggling to plan the ceremony. His experience as an officiant was so valuable. Pascale & Stephen, July 2018
Christine & Lloyd
Bill was amazing and made our wedding very personalized and with lots of emotion. We would highly recommend Bill!!! Christine & Lloyd, July 2018
Gary & Susan
Bill MacDonald was great to work with and he conducted the service extremely well. He helped to made our vows meaningful and special to us. This is a great service. We had booked another officiant on our own and were left stranded when he cancelled without explanation. All Seasons stepped in and found the perfect officiant for our wedding. Thank you!
Colleen & Donald
I just wanted to provide you feedback in regards to our pleasant experience with using Bill MacDonald. He was very organized, helpful, pleasant and patient. We would certainly recommend him to anyone in need of an officiant!
Dustin and Arran
Dustin and I were married in the summer of 2017 at Cattle Point (Victoria, BC) by Mr. Bill MacDonald. You could not meet kinder or more agreeable man. My husband and I both desired a simple ceremony that reflected our love of nature and allowed us to share this intimate moment with our closest family and friends. Bill took the time to get to know us a present us with ideas and options. He was very open to our desires (including our wish to have Shilo - the Golden Retriever - be our ring bearer) and incredibly flexible. When he sent us the draft of our ceremony, the words he chose brought me to tears. Bill preforms weddings for all the right reasons; he wants to share in and give something beautiful back to this world. Dustin and Arran
Brittany & Thomas
Bill MacDonald gave us very very good guidance on making our ceremony personal and about us. He was so thorough and knowledgeable about everything! so many of our guests and family members came up to us and mentioned how great he was. He was SO KIND to let us borrow the dish to drink the traditional whiskey out of. Now my husband is going to go purchase one so thanks for that Bill :) If we could do the day all over again we would and we would for sure have Bill marry us again.
Lisa & David
On the day of our wedding, William MacDonald was perfect. Understood our sense of humour and jut went with it.
Bob & Lindsay
Bill MacDonald was an absolute delight! Everything from assisting us with vows to keeping me calm and reminding me to enjoy myself, lol. Thanks Bill it was a pleasure
Brittany & Ryan
Bill MacDonald was awesome to work with and really wanted to make sure our ceremony was unique to us. The whole experience was excellent. We had so many compliments on the genuine way our ceremony reflected our love and our relationship which for us was what really mattered in a ceremony.
Michelle
We had our wedding in Victoria BC this past weekend and Bill McDonald was such a pleasure to work with. He helped make the experience incredible. I would highly recommend him to be the officiant at anyones wedding. Thanks so much Bill!