Veronica Cisowski
Veronica est un célébrant bilingue anglais et français à Ottawa. Sa vision est de faire de votre cérémonie de mariage le « mariage de vos rêves » à partager avec votre famille et vos amis. Elle croit que « l'amour est amour » et n'a pas de frontières ni de limites. Veronica est à l'aise de célébrer n'importe quel type de cérémonie de mariage à l'endroit de votre choix. Elle était chanteuse, de sorte que parler en public lui vient naturellement. Lorsqu'elle ne célèbre pas un mariage, Veronica est toujours prête à accueillir et à préparer un repas pour ses amis. Elle adore faire du vélo l'été et profiter des attractions de la ville. Elle serait honorée de recevoir votre confiance en tant que votre célébrant de mariage.
Request Veronica Cisowski
Secteurs desservis
Ottawa Central, Ottawa East, Ottawa South, Ottawa West, Vanier, Nepean
Commentaires
Arthur & Krystyna
Veronica Cisowski worked with us on all the fine tuning of the service to get it right, made some very good suggestions which only made the service perfect. She gave an amazing service performance, everything was perfect, friendly and truly professional, all the way. Great job Veronica ??????? ~ Sept. 2022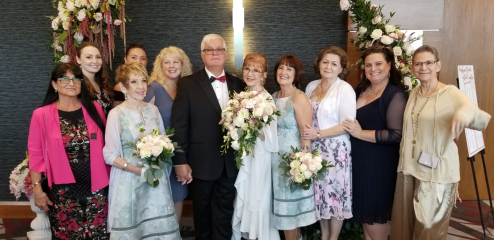 Justin & Kathryn
Veronica Cisowski was amazing to work with. She was very accommodating to customize the ceremony to our preferences. We met with her to review the ceremony and she answered all of our questions. She has a charming personality and speaks clearly. Could not have asked for anything more! Aug 2022
Sophie & Elayna
Veronica Cisowski is very friendly and made us feel comfortable. - I would refer to anyone getting married. July 2022
Annette & Michael
Veronica Cisowski exceeded all of our expectations. Her attention to the little things and small nuances were all considered. June 2022
Ashley & Liam
Veronica Cisowski was our officiant for our July 2022 wedding. We chose her after seeing her in action at a wedding we attended the previous year. Choosing the person who married us, was a really personal choice, and Veronica was one that we agreed on right away. She is kind, professional and clearly cared about the important role she played in our special day. She made excellent recommendations for suggested readings, and also the format and chorography of our ceremony/rehearsal. She was on-time, well dressed and is an excellent speaker. She is a class act, and we would highly recommend her.
Kayla & Nicholas
Thank you to Veronica Cisowski for being there not just as our officiant but as Nick mother and my mother in law. You really were the greatest touch to our special day! We love you! Kayla & Nicholas August 2021
Matthew & Helen
Veronica Cisowski was absolutely wonderful so helpful and the vows she wrote were absolutely beautiful. I recommend her highly! Thank you so much, Veronica ❤️❤️❤️ Matthew & Helen January 2021
Tammy and Gerard
Veronica was a fantastic officiant and I would recommend her to any of my friends that are getting married. Thanks. Tammy and Gerard