Sherry Nash
Request Sherry Nash
Secteurs desservis
Baie D'Urfe, Beaconsfield, Brossard, Dollard Des Ormaux, Dorval, Ile Bizard, L'lle Perrot, Kirkland, Lachine, LaSalle, Montreal, Pierrefonds-Roxboro, Pincourt, Pointe-Claire, Sainte Dorothee, Sainte Genevieve, Senneville, St.Anne de Bellevue, St.Henri, Vaudreuil-Dorion, Verdun, Ville Emard, Westmount
Commentaires
Azin & Michael
Dear Sherry Nash, We just made it back to Toronto and wanted to thank you for being a part of our wedding day. You were the kind and warm presence we always wanted to officiate our ceremony. Thank you for taking the time to get to know us and for incorporating elements of who we are in the ceremony... we actually had friends ask us if you were a family member! August 2022
Ariane & Ryan
Sherry Nash met and exceeded our expectations. She was so lovely and easy to collaborate with on our marriage ceremony. From our first conversation with her, we knew she was the officiant for us. Her sunny disposition and calm drew us to her in such a beautiful way. We were blessed to have her in our corner and appreciated her words of encouragement and faith in our ability to bring all the elements together, no matter the unforeseen challenges. We would recommend Sherry to any couple looking for an empathetic, kind human being who celebrates your love and makes you feel at peace while effortlessly guiding you to the big "I do". Thank you Sherry from the bottom of our happily married hearts! June 2022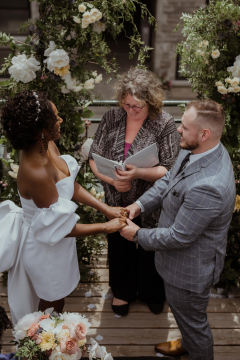 Taylor & Kristian
Sherry Nash was our officiant on May 28th, and we absolutely loved her and she made our day so special. We can't thank her enough for her poise and calm words. We received so many compliments on our ceremony and cannot recommend her enough. Thank you for everything!!! May 2022
Cheryl & Kaoutar
Dear Sherry [Nash], Thank you for officiating our wedding on Sunday! You have a special way of filling the ceremony with warmth and solemnity. We will all remember this day for a lifetime. February 2022
Giuseppe & Linda
Sherry Nash was an amazing officiant! If I had to do it all over again I would chose her with her radiant smile! The ceremony wasn't too long and people enjoyed it very much. Thank you Sherry, for making my wedding absolutely beautiful. It was like a fairytale! September 2021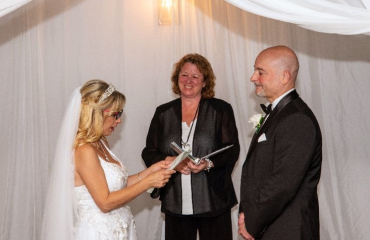 Dean & Melisa
Sherry Nash was great, especially coming in on short notice and we really appreciate it! October 2021
Heather & Salvatore
Everything in life happens for a reason 🙏 Less then 1 month away from our wedding day, we found ourselves with no Pastor or wedding Officiant. Slightly panicked but, holding Faith. Blessed and Lucky we were to cross paths with Sherry Nash. What a breath of fresh air. Sherry holds such loving positive energy. From our first phone chat she just made me feel comfortable, it was as if were already friends. Reassured by her dedication, loving heart and ability to stay mindful to our needs gave us full confidence in her as our wedding Officiant. Sherry was one of the most important people at our wedding ceremony and we couldn't have asked for a more beautiful human being to have complimented us on our very Special day. Thank you again Sherry and All Seasons Weddings for doing what you do for Brides and Grooms in need 🙏 Heather ♥️ Salvatore Oct 2021
David & Patrick
Sherry Nash was a fantastic officiant. We were very happy with our ceremony and will remember it always. September 2021
Cecila & Michael
From the first moment I spoke to Sherry Nash on the phone she put me at ease, answered all my questions and provided very pertinent information. Then meeting her with my husband just solidified everything. We felt like we had known each other all our lives. Thank you Sherry for making this one of the best days of our lives. You have seamlessly helped us navigate through all of it. Many many thanks from the bottom of our hearts, and our families also! Cecila & Michael July 2021
Ken & Carol
We were very impressed with Sherry Nash, her personality and professionalism set all involved at ease. We would recommend Sherry and your service to anybody. Ken & Carol May 2021
Emily & Terry
Dear Sherry, Thank you so much for making our special day happen. You were such a rock for us during this process and forever grateful. Stay safe, Lots of Love, Emily & Terry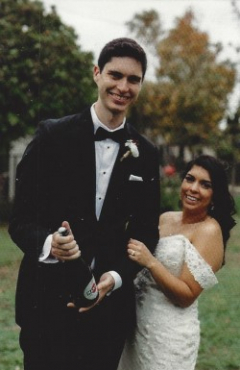 Hannah & Elvio
We want to thank you for your tremendous work leading up to, and of course during, our ceremony. Working with you to create a personal and meaningful ceremony is what truly made our wedding day so special. We really appreciated how you took your time with us and went the extra mile to collaborate with Bianca without revealing what reading she had chosen. We simply cannot thank you enough! - Hannah & Elvio Jan 2020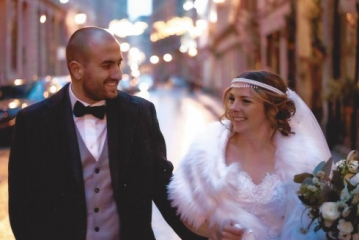 Brian & Diane
Sherry Nash is a very special & loving person , she made the ceremony very special for us....we will always remember her & our wedding day . Brian & Diane October 2020
Chloe and Matt
So yesterday finally happened! Although so distracted by rain, I felt compelled to sing your praises for how you officiated Chloe and Matt's ceremony... with professionalism, beautiful words, humour and great compassion! I for one, am forever grateful to the man who graciously gave me your name! Nobody could have done it better than you! Thank you! Looking forward to seeing you again and recommending you to anyone who asks! This says so much...laughter is life's best medicine when combined with love💗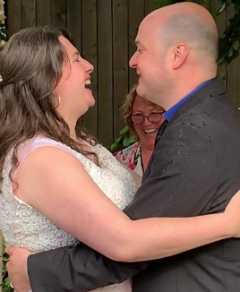 Vanessa and Carl
Sherry made our special day all the more special! Sherry took the time to really get to know us, to understand who we are and how we wanted to celebrate our marriage. She is a very thoughtful, experienced and caring person. Her suggestions and ideas for the "big day" where wonderful. She helped us include our family members in a very meaningful way. Most importantly, Sherry brings a positive energy and sense of joy to every occasion. Her smile is infectious! Thank you Sherry for all that you do. Vanessa and Carl
Jason & Bryce
Sherry Nash is an amazing person to work with and made our wedding experience so easy. We were guided through the entire process, Sherry was our life coach and kept us informed throughout. I definitely highly recommend her services and she truly makes you feel like family and that was very important to us. Jason & Bryce June 2019
Stephanie and Mike
We are extremely pleased with Sherry Nash as our officiant. She was attentive and very kind. She took the time to get to know us in order to make the ceremony unique to us. She went above and beyond to ensure her words reflected who we are as a couple, individuals and the love we have for each other. She respected all our wishes and never imposed. We strongly recommend her services. Thanks to her, it was the most romantic day for us. Never to be forgotten. Stephanie & Mike October 2019
Irene and Frank
My wife and I were married this past July and Sherry Nash was our celebrant. We have commented many times since our wedding on how lucky we were to have Sherry as our celebrant. Sherry was wonderful, from our first meeting through the wedding ceremony. She was always positive and extremely helpful in helping us think through how we wanted the ceremony to go. She exudes warmth, and clearly loves what she does. She performed the wedding ceremony flawlessly, with just the right tone and energy. Several of our guests commented afterwards on how good our celebrant was. If you are considering a celebrant, you will do no better than Sherry Nash. She is a wonderful human being, the consummate professional, and the perfect person to help couples celebrate their love. Irene & Frank July 2019
Maisha and Rahul
We were extremely happy with Sherry Nash's services, thank you so much for our special day. Everything went perfectly as planned and she read my writing exactly how I had imagined. Maisha & Rahul July 2019
Patricia & Nicola
I wish to say how pleased we were on our wedding day with our officiant Sherry Nash. After the warm reception from All Seasons, when I enquired about having an officiant, everything ran smoothly. I highly recommend Sherry as an officiant, she made our ceremony solemn and light, with a dash of humour. We had just a small intimate wedding and all went well. So a great big 'Thank You' to you Sherry. Patricia & Nicola October 2019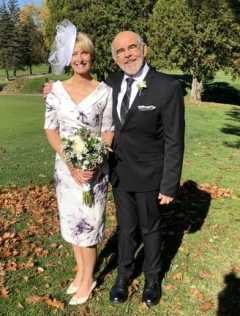 Daniel & Daniel
Sherry Nash was a wonderful celebrant who made our special day truly wonderful! We would absolutely recommend her to anyone getting married. Daniel & Daniel September 2019
Hassan & Caroline
We couldn't have been more happier to have Sherry Nash officiate our wedding! We are glad we chose her to be a part of our special day. Thank you for helping us make our dreams come true! Hassan & Caroline July 2019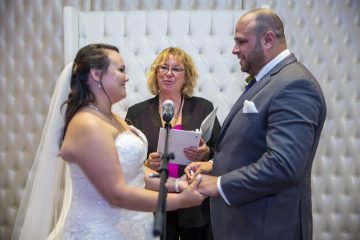 Michael & Vanessa
Sherry Nash was the most wonderful officiant to work with! She was so warm and caring, and made our wedding feel so special. She was so accommodating with our needs. We received such great feedback from many guests at the wedding as well, as to how warm, sweet, and personal Sherry was in making our wedding such a beautiful event. I could not have been happier! Thank you for everything. Michael & Vanessa August 2019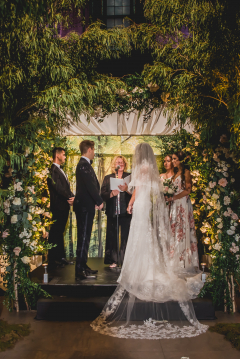 Christos & Tiffany
Thank you Sherry (Nash), for providing such a wonderful service! You made our day truly memorable and stress free :) Christos & Tiffany. July 2019
Reginald & Debbie
Sherry Nash was amazing , she went above and beyond our expectations and delivered a beautiful ceremony. Sherry is also a wonderful person all around. Thank you for everything! Reginald & Debbie June 2019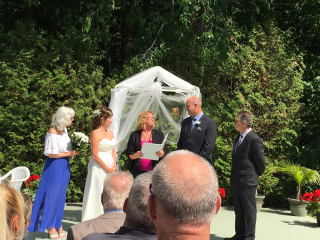 Laurie & Lloyd
Sherry Nash was amazing! From our first Face Time chat to a coffee date at Tims, to our special day, Sherry was helpful, funny, warm, thoughtful and so easy to work with. On our wedding day, she calmed our nerves and guided us through our ceremony seamlessly. Thank-you Sherry being such a great a part of our memorable day! Laurie & Lloyd October 2018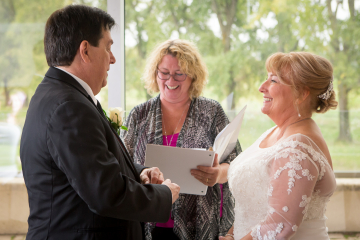 Eric & Jennifer
Hi Sherry (Nash), Éric and I want to thank you for ALL you did to make our unique wedding- perfect ! You certainly belong in this business. We got lucky when we picked your smiling face from All Seasons Wedding! Customer service: you get it! We appreciated how quickly you returned our messages and how helpful your information was to us. Even now months later when we had not received our legal paperwork, instead of telling us where to go to hopefully find it, you did the leg work. We will definitely pass on your name and All Seasons Wedding when the opportunity presents itself. Again, we thank you, Sherry! Eric & Jennifer Aug 2018
Caroline & Michael
Hi Sherry (Nash), Mike and I wanted to thank you very much for conducting such a memorable ceremony. You were absolutely amazing, and we are receiving such positive feedback from our guests. We had an overall amazing experience. You were absolutely excellent from beginning to end. Thank you Sherry for everything, Caroline & Michael Sept 2018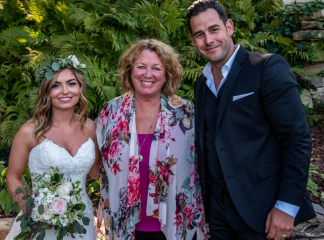 Denis & Claudia
From our 1st meeting through to the end of our ceremony, it was a pleasure have Sherry as our Officiant. She was pleasant, professional, completely reassuring, and seamlessly took care of all the necessary documentation. She blended very well with our guests. We sincerely appreciate her effort on our behalf. Thanks very much - highly recommended. May 2018
Beata & Gregory
We had a pleasure to have Sherry Nash as our marriage officiant on May 5th 2018 . We had a wonderful experience that day and Sherry was such a great part of it! She is a very positive, kind, resourceful woman with a great sense of humor. We had an awesome experience and we would highly recommend Sherry to any couple. Thank you again Sherry for being part of our special day, Beata & Gregory.
Brian & Jennifer
Sherry Nash was wonderful to deal with from the start of the process. She was very knowledgeable and professional, and was a great help in guiding us through the process of our marriage. She accommodated our requests and went out of her way to make our day feel so special and personal. We are very happy to have had Sherry officiate our ceremony and would recommend her to anyone! [July, 2018]
Salomon & Homer
We are extremely happy to have chosen Sherry Nash as our officiant. The ceremony was beautiful and our guests had super positive comments about her. She made the entire process very simple for the two of us and made us feel like family. We would definitely recommend her services. [July, 2018]
Colin & Zhiying
Sherry Nash was so nice and helpful. Simply very pleasant person to officiate our wedding. 5 star review! [June, 2018]
Ravinder & Purnima
Hello, Sherry Nash was our marriage officiant on September 22, 2017. From the first moment of meeting Sherry we felt so comfortable from phone conversations to face to face interaction. Sherry is an amazing person, very kind/polite, warmhearted, was always smiling, had a great sense of humor and very helpful. We would like to thank Sherry from the bottom our hearts for making our marriage an amazing experience for us, our family and most importantly our daughter. We recommend Sherry to everyone she will not disappoint and she goes the extra mile to make sure you are comfortable and happy. Once again thank you Sherry we will never forget that you made our special day a great and memorable moment for us. Thank you, Ravinder & Purnima!!!!
Richard & Linda
Sherry Nash was wonderful. She is such a warm and friendly person. Our day was perfect and she helped to make it so.
Susan & Robert
Sherry Nash was wonderful in every way. She was readily available to discuss the ceremony details many times, via Skype since I live in Florida, and in person as well, so that it was just perfect and personalized for us. Sherry was a pleasure to work with every step of the way, friendly, helpful and always willing to go the extra distance to make things just perfect. We are grateful that we found Sherry to be our officiant for our wedding. The ceremony was very important to us, and she worked with us every step of the way to make it so special and perfectly tailored to our taste. She guided us very well and was so patient and kind, working diligently through all our modifications. Our wedding day and ceremony was magical, thanks in large part to Sherry. Her presence, words and energy were divinely positive and genuine, we felt blessed.
Gina & Todd
We are so glad to have found Sherry (Nash)! She is such a kind, warm, and welcoming person (so much so that one of our guests thought she was a family member). She is very easy going and accommodating so that the ceremony was exactly what WE wanted it to be! Professional, punctual, and well spoken! Thank you Sherry for being a big part of our big day!
Kristina & Brent
Would like to just praise Sherry Nash for the amazing work she did for us. It was an honour to have her officiate our wedding. We were extremely happy with everything. She took the time necessary to go over everything with us and kept reassuring us that everything would be alright. She has such a caring nature that we instantly knew she was the one to marry us after one phone call. I would definitely recommend her to everyone.
Rhona & Andre
Hello. We wanted to write and let you know that Sherry Nash was our officiant on August 12, 2017. From the first time we met with her (via Skype because we live in Vancouver), Sherry was very warm and personable. She has this great spirit. I met with her in person in April and I, very quickly, felt like I had known her for years. We just wanted to say that if anyone does choose Sherry to perform their wedding ceremony, that they will not disappointed. Thank you Sherry for making our special day one we won't forget. Best regards, Rhona and Andre
Tara and Sebastien
Hi Sherry (Nash), We just wanted to say thank you. We are thrilled that we chose you, you made the ceremony feel so personal, and we could not have asked for anything more. It was perfect!! All the best, Tara and Sebastien