Roy Saad, BSW (Ryerson).
Request Roy Saad
Secteurs desservis
Aurora, Brampton, Caledon, Etobicoke, King City, Markham, Mississauga, Newmarket, North York, Richmond Hill, Toronto, Vaughan, Woodbridge
Commentaires
Colin and Xi Aug 2021
Roy was an amazing officiant! Leading up to the big day, he communicated with us effectively and responded to all of our inquiries. He came prepared to every meeting and accommodated all of our special requests. We loved Roy's warm demeanor and truly enjoyed having him share in our wedding ceremony! Thanks so much Roy!!!!
Darragh & Clare
Roy Saad is an absolutely brilliant officiant. Everyone at the ceremony spoke very highly and we can't recommend him enough. Darragh & Clare June 2021
Marcus & Sarah
Roy Saad stepped in and was a delight! We all enjoyed his positive energy and charisma! We truly enjoyed having him as our officiant! Marcus & Sarah May 2021
Meg & Craig
My husband and I got married October 31, 2020. We could not have asked for a better person to guide us through the process before hand, and the ceremony. Roy Saad was there for all of our questions, and helped keep us organized the day of the wedding when we were jittery with excitement. it was a Halloween wedding and Roy got into the spirit and helped make it even more fun. I can't imagine having anyone else guide us through such a wonderful day. Meg & Craig Oct 2020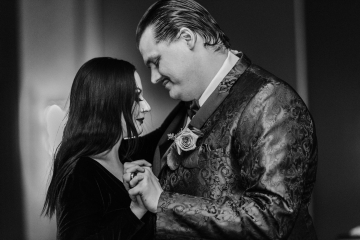 Tina & Nev
Both Nev and I wanted to thank All Seasons Weddings Service and our officiant Roy Saad for officiating our wedding on October 3rd, 2020. Roy took the time to go through our vows and nuptials that day in a calm manner. He made us all feel welcomed and comfortable during the ceremony. Even our guests loved Roy and his presence at the ceremony. We both would highly recommend All Seasons Weddings and Roy Saad to officiate at their wedding event. Tina & Nev
Dieudonn & Liliose
Roy Saad is the best officiant!! He made our day so memorable. His patience is out of this world and he is very experienced. We did not struggle about anything because he was there to help. I would recommend him again and again. God bless him for all he did for us. Dieudonn & Liliose Oct 2020
Kyle & Liana
Roy Saad was fabulous! He was professional, patient and funny! Everyone loved him and he made our special day that much more special! I will definitely be recommending all seasons weddings to other couples! Thank you so much for giving us such a great day and great memory! Kyle & Liana September 2020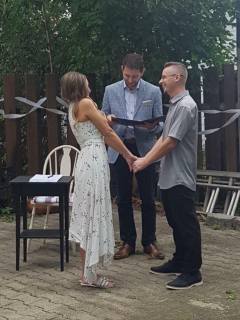 Sid & Katy
Roy was amazing and went above and beyond for us for our ceremony. He attended the rehearsal the night before the wedding, going out of his way to do so. He guided us through the entire process including keeping in touch with us every step of the way and offering to speak with us whenever we needed to clarify things or answer questions. Roy helped us by having our good friend Steven participate in the ceremony. We had the most special day and everyone was incredibly impressed by how the ceremony went. Our guests gave us such great feedback of how amazing Steven and Roy were as a team and how unique the ceremony was. Roy was personable, understanding, prompt, and genuine. We would highly recommend Roy to anyone and are so glad he was apart of our special day! Thank you so much Roy! Sid & Katy September 2020
Luke & Mimi
Roy Saad is great. We got feedback from the guest that he is very engaging and friendly. Luke & Mimi August 2020
Iain & Grace
Roy Saad exceeded our expectations. Our original officiant dropped our because of COVID, it was disappointing because he was a family friend of the grooms grandparents. We were concerned that we might upset them because they had been expecting a familiar face. However, once the ceremony was over they came up to us and said that Roy was so thoughtful, relatable and that we had picked very well. He was like an old friend and people were surprised to hear that we had only just met face to face. Iain & Grace July 2020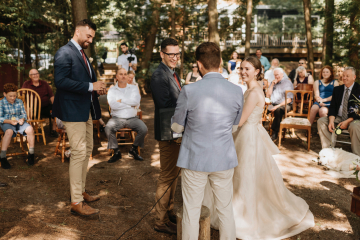 Carlos & Mina
Our wedding officiant Roy Saad was fantastic to work with. He was flexible and did everything he could to help us have the ceremony we wanted during difficult covid times. We were very happy with your services and gladly recommend you to anyone we know that is getting married. Thank you for making the process easy and seamless. Carlos & Mina June 2020
Jacqueline & Stefan
Roy (Saad) was absolutely wonderful to work with during our planning process. We were initially supposed to have a big traditional wedding but 2020 had different plans. Roy adapted to our mini front porch wedding and made the day so incredibly special. He added the perfect touches of humour that fit with our personalities so well. We can't thank him enough for helping us become husband and wife during this challenging year. Jacqueline & Stefan, August 2020
Terrance & Jordon
Roy Saad was amazing ! Thank you for giving us exactly what we wanted. Terrance & Jordon October 2019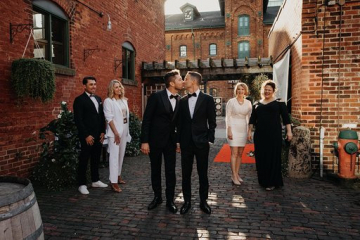 Michael & Natasha
Roy Saad was absolutely amazing to deal with and to have as our officiant on our wedding day. He was very friendly, bubbly and fun and we had a lot of our guests ask where we found him because he was awesome! Will definitely recommend All Seasons and Roy to others! Thank you so much! Michael & Natasha October 2019
Marcel & Tam
Roy Saad was wonderful from start to finish! He always answered any questions we had, and promptly over email. We loved his cheery personality, he was very approachable and easy to talk to, and made our ceremony fun. Marcel & Tam September 2019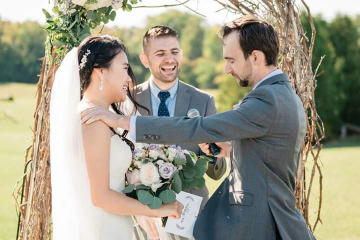 Kyle & Stefana
My now wife and I were looking online for officiants, and were browsing for officiants in our area and happen to come across Roy Saad. After watching his video we were both pretty sure that he was going to work well for us, so we booked a meet and greet. Well after meeting him we knew that for sure he was going to be our officiant. He was very quick to get back to us with any queries and amended the ceremony to exactly what it was that we wanted. When it came time for our big day, Roy was early, and was exactly what you would want in an officiant, both having a presence while at the same time not taking over the ceremony. He worked well with our photographer, venue and with us to help pull off an amazing day. Thank you so much! Kyle & Stefana June 2019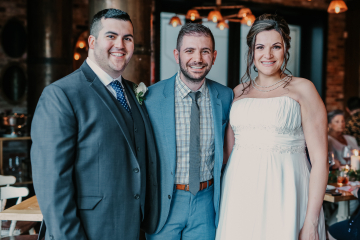 Diogo & Laurie
We love Roy Sadd! He was the perfect officiant for us ! From the first time we met I felt that. He is good at rolling with the punches. Very open to my cultural traditions and willing to learn all things about it. He was good about helping us with the pace of the ceremony especially since I didn't have a day of coordinator. So all in all he was awesome. It can be hard to pick someone off a registry but if you pick Roy you won't be disappointed I promise. I'm so glad we met him and that he was a part of our big day. Diogo & Laurie September 2019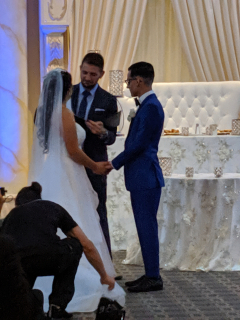 Rudy & Linda
Roy Saad was great. He was extremely helpful. Kind and funny. I would totally recommend him. He went out of his way to answer any questions we had and overall was a great officiant. Thank you Roy! Rudy & Linda August 2019
Ryan & Heather
We are so grateful we got to work with Roy Saad for our wedding! He was extremely kind, approachable, knowledgeable and confident. Many people remarked what a wonderful job he did at our ceremony. We would absolutely recommend him for other couples getting married. Thanks so much Roy! Ryan & Heather May 2019
Jordan and Alex
Alex & I want to thank Roy for conducting our marriage ceremony. He is the sweetest person and he truly wanted us to be happy with our ceremony. He was so flexible, charming, genuine, and just so helpful. He really tailored our ceremony was great at providing suggestions and was so happy to make us happy! I would recommend him to anyone. We didn't know him prior - but chose him because he had a video bio on the All Seasons wedding website - and the video alone brought a smile to my face! He is lovely! Jordan & Alex