Roger Dore, BA, MEd
Roger Dore demeure à Ottawa où il travaillé comme éducateur Durant les dernières quarante années. Ayant passé sa jeunesse dans la vallée de l'Outaouais, son but est de réaliser une cérémonie qui représente la beautée et l'amour. Il travaille diligemment pour assurer un événement relaxant et mémorable à l'occasion de votre mariage. Sa famille et ses amis le décrivent comme une personne responsable et honnête. Roger anticipe votre invitation à faire partie de vos préparatifs.
Request Roger Dore
Secteurs desservis
Ottawa, Nepean, Kanata, Stittsville, Manotick, Richmond, Dwyer Hill, North Gower, Kars, Vernon, Metcalfe, Russell, Greely, Orleans
Commentaires
Hayley & Bernard
We absolutely loved Roger Dore! We didn't want anything too crazy in terms of a ceremony, we just wanted something intimate and fun. My husband and I were both pleased with how personable Roger was, he was very accommodating and easy to talk to. Our ceremony was short and sweet and pressure-free just as we wished. We are so happy to have had Roger as part of it. April 2022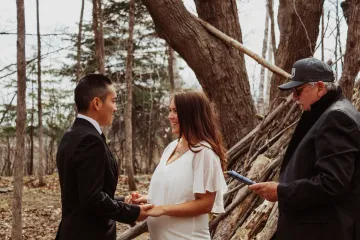 Nilofar & Amir
Roger Dore and his witness were super kind and amazing in our wedding. Dec 2021
Antonio & Julie
We recently got married this past Sunday, March 29th during the COVID 19 outbreak. We are extremely thankful to Roger Dore for being so amazing during this entire process. He met with my fiance and I several months before the wedding and helped us write a custom ceremony for our family which was beyond perfect. Even though it wasn't the ceremony/reception we originally planned, Roger was our silver lining during this crisis and we are truly blessed that we were able to still get married. Many thanks! Antonio & Julie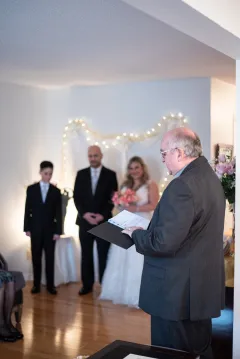 Eric & Olga
Roger Dore was absolutely integral to the success of our big day. He described the wedding/licensing process from beginning to end, he provided advice based on his experience, and, most importantly, he worked with us to make sure the ceremony went the way we envisioned it (including sharing the Officiant duties with a friend of ours, and a bilingual ceremony). He was never overbearing, and very adaptive to our comments and feedback. We can't say enough good things about Roger being our Officiant. Merci Roger!
Matt & Danika
Roger did a great job ! He was really professional and he always answer our questions right away when we needed him. We had a bilingual ceremony and it went perfectly. Thanks again !
Gavin & Nora
Roger Dore was very well prepared for our initial meeting. He offered us plenty of useful advice and was open to any changes or modifications we wished to make to the ceremony. He was organized and answered our emails promptly. During the ceremony he was fully prepared, and spoke in a relaxed and comforting tone.
Kat & Guy
Roger Dore was better than we could have asked for. Completely flexible and accommodating with our planning meeting. He helped us develop a bilingual ceremony and vows that we're just perfect for us. His calm and warmth was so appreciated during our ceremony. I highly recommend Roger to anyone looking for an officiant.
Amélie et Stéphane
Bonjour Roger, Stéphane et moi aimerions vous remercier. Votre professionnalisme et votre approche amicale nous a mis a l'aise dès notre première rencontre. Nous sommes très heureux d'avoir partagé le plus beau jour de notre vie en votre compagnie. Le sourire sur nos lèvres démontrent à quel point la cérémonie fut remarquable! Merci encore! Amélie et Stéphane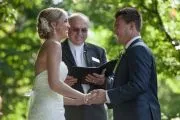 Kimberly & Andy
We really liked Roger Doré. He was organized, professional and patient. He made sure we were very comfortable in every way and we would definitely recommend him in the future! Thank you so much!
Ryan & Nicky
We all sincerely appreciated Roger Doré's professionalism, thoroughness and sense of humour.
Carole & Luc
Roger Doré was helpful in guiding us in putting together a bilingual ceremony. He was open to suggestions and made recommendations. His delivery during the ceremony was calm, clear and sincere. We also received very good comments from our guests.