Reggie Hovinga
Request Reggie Hovinga
Secteurs desservis
Etobicoke, Mississauga, Thornhill, Toronto, downtown
Commentaires
Kellie & Paulterra
Reggie Hovinga was absolutely lovely and a joy. You could feel his excitement for us and And he was super calming which helped with our nerves on this big day of our lives. We are grateful having him for one of the greatest days our lives. He helped guide us through the process with ease and made it a fun and meaningful experience. April 2023
Hector & Cindy
Reggie Hovinga was terrific! Awesome experience, we couldn't be happier with his performance! A delightful experience not only for us but for all of our guests. October 2022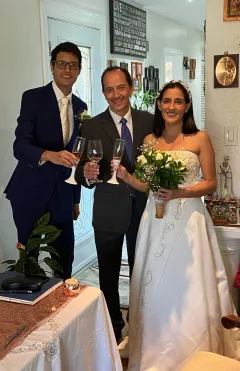 Fabrizzio & Chau
Reggie Hovinga more than met our expectation. He was friendly and professional with a great smile. We were very pleased and honored he was our officiant and did a great job performing the ceremony. The ceremony was smooth and sweet and we couldn't have chosen a better officiant to marry us. I highly recommend him to any couple getting married. November 2022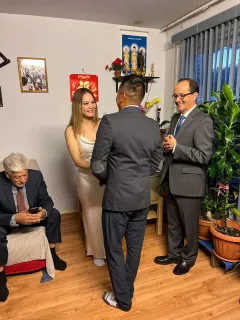 Jennifer & Diogo
Reggie Hovinga was more than friendly and helpful, he was great! We had a fire alarm that triggered for like 30 min and he patiently and happily wait, making this unexpected situation much easier for us to handle. Highly recommended. Nov 2021
Angela & Eric
Reggie Hovinga was extremely professional, kind and courteous throughout our wedding journey. He was very thorough in explaining the process to us and made sure that all actions that needed to be completed on his end were communicated to us in a timely manner. On the day of the wedding, his ceremony service was flawless and exactly what we wanted! We were so glad to have chosen him to be our officiant. Thank you Reggie! September 2021
Kurosh & Mina
Reggie Hovinga was amazing! He was so kind, understanding and accommodating. He took the time to meet with us online prior to the ceremony and answered all our questions with patience. He made us feel completely at ease specially since we had to make a few last minute and unexpected logistical changes to our event. I'd highly recommend him! Thank you Reggie for being part of our wonderful day! Kurosh & Mina November 2020
Robert & Jacqueline
Reggie Hovinga was friendly & helpful. He was accommodate our request, able to provide service on short notice!! Thank you Reggie for making our day possible. Robert & Jacqueline May 2020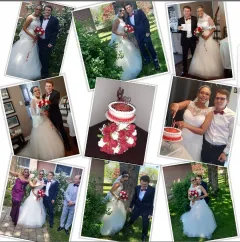 Fred and Tracy
Reggie Hovinga helped make it extra special. Fred & Tracy January 2020
Benjamin & Stephanie
Reggie Hovinga listened to what we had in mind for our vision and delivered perfectly. I called to speak with the All Seasons reservations office when I was booking our officiant and Kathleen walked me through the steps so that I could proceed with ultimate peace of mind. The service that you offer is excellent in terms of customer service, professionalism, and ability to be customized. You took this crucial part of our marriage off our plate and delivered beyond our expectations. Thank you!
Jessica & Bernie
Reggie Hovinga was great. Very professional throughout the whole process.
Carolyn & Adil
Reggie Hovinga was very responsive, answering any questions we had leading up to the wedding. He is very calm and friendly and walked us through every step of the way for the day of. So glad we chose to him to officiate our wedding. Would recommend him over and over!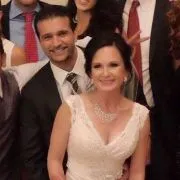 Cristy Ann & Andy
Reggie Hovinga was very professional and easy to work with. He was very accommodating and made the experience memorable.
Jim & Jill
We were lucky to have watched Reggie Hovinga in action at one of our friends weddings a few years back. We found Reggie to have the right personality for our ceremony. The day of the wedding, I was sitting outside in the limo and he came up to the window and spoke to me about how beautiful the day was going to be etc. Both my father and I agree that how he spoke to us at that moment was incredible – there is such calmness in his voice and we were able to get those last minute jitters out of our system. During the ceremony Reggie was able to read the crowd and make a few light jokes to help keep the crying down to a minimum.
Ashley & Adam
Reggie Hovinga met and surpassed our expectations. Reggie went above and beyond to help bring all our ceremony details together. He rolled with the punches and made some wonderful suggestions that we are thrilled with!
Jenny & Ryan
Reggie Hovinga MORE than met and exceeded our expectations. He was very friendly and we instantly felt comfortable with him at the first meeting. He was and intergral part of our day, and helped us have the ceremony we wanted. All communications with the staff at All Seasons Weddings was helpful and informative. I would refer anyone to your company gladly. Thank you Reggie for helping me and my new husband get married! You were awesome!