Rebecca Hawkes Hamilton, BA (Brock)
Request Rebecca Hawkes Hamilton
Secteurs desservis
Hamilton, Stoney Creek, Grimsby, Beamsville
Commentaires
Steve & Marian
Rebecca Hawkes Hamilton was great, I had read all the reviews and made the right choice without a doubt. She was lovely! She was punctual, polite, and dressed for the occasion. It was like being married by one of our close friends. She was interacting with our guests, and making everyone feel comfortable. She was the best fit for our special occasion. She walked us through the paperwork with ease. Thank you Rebecca, what a great way to start our adventure! Steve & Marian June 2021
Ken & Tammy
Rebecca Hawkes Hamilton was fantastic. She was very kind and well spoken at our ceremony. We had many compliments on having her as an officiant. I really enjoyed Rebecca's humour and friendliness. I would highly recommend her!!Thank you Rebecca for making our day special. Ken & Tammy September 2019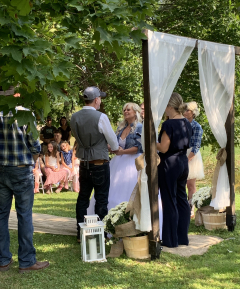 Stephen & Jennifer
Rebecca Hawkes Hamilton was perfect! Her calm demeanor really helped ease my stress away. She really took the time to get to know us and this helped pick a service that fit in perfection with our personalities. I have already recommended Rebecca. Thank you again ! Stephen &Jennifer June 2019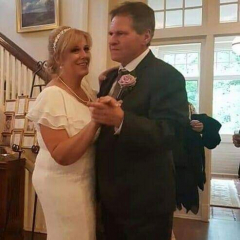 Joey & James
Rebecca was awesome. We are so happy she was apart of our special day!
Fatima & Spencer
Rebecca Hawkes Hamilton was very kind, friendly, genuine and accommodating to our requests. She showed up early, spoke very well and somehow magically got out of the way for our first kiss picture while standing on a bridge. She embodied everything I was looking for in an officiant and I am so glad we chose her!
Nancy & Thomas
Rebecca Hawkes Hamilton was wonderful. She kept us calm and relaxed. Rebecca was very nicely dressed and she looked like the professional that she is. Everything went as planned with out a glitch! Would we consider referring others to All Seasons? DEFINITELY YES!!! I have never used an Officiant before I don't know anyone who has. This was a first for both of us. We were very pleased with the total service. Will definitely recommend All Seasons to friends.
Matthew & Christopher
Rebecca Hawkes Hamilton was great. She was very friendly, welcoming, and did a great job at the ceremony.
Kate & Tyler
Rebecca Hawkes Hamilton exceeded our expectations, we were so thrilled and happy to have her part of her day, she felt like family to us!! The office staff was very helpful. Rebecca was amazing!!!! We couldn't be more happier with her.
Ben & Virve
Rebecca Hawkes Hamilton was friendly, had great suggestions for the ceremony and was open to our changes throughout. I would highly recommend her! The booking process was very easy. I have already referred All Seasons Weddings to others who are getting married next year.
Melissa & Joshua
Rebecca Hamilton was absolutely amazing. I would refer her services to anyone. What a breath of fresh air! :) The reservations staff promptly answered all of my questions and All Seasons Weddings offers a great guarantee of a backup officiant in case of an emergency. Had a pleasant experience with All Seasons Weddings… will definitely be referring your services to my family & friends!
Tina & Jason
Rebecca Hawkes Hamilton was professional, personable and lovely to work with. We would highly recommend her!
Ashley & Fabian
Rebecca Hamilton was absolutely amazing! She was so easy to work with and so very warm and welcoming. Our ceremony was absolutely perfect!