Rachel Norman
Request Rachel Norman
Secteurs desservis
Brampton, Concord, Don Mills, Etobicoke, Mississauga, North York, Oakville, Ontario Place, Scarborough, Thornhill, Toronto, Toronto – Downtown, Willowdale, Woodbridge, Forest Hill,
Commentaires
Brendan & Angela
Rachel Norman was amazing, she really rolled with our casual approach (thank you Rachel for your patience!). She was very kind to reassure me when I was feeling anxious about the whole process and the expectations around weddings. September 2022
Paul & George
We had a 70's/80's themed wedding. Rachel (Norman) dressed for the occasion along with the rest of our guests. She helped us compose a customized ceremony for our non-traditional wedding. She made it an memorable and unique experience for everyone! Aug 2022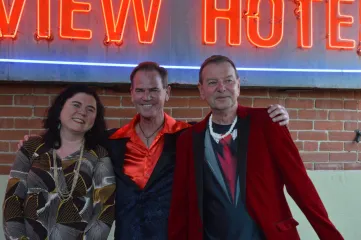 John-Angus & Jessica
Rachel Norman was absolutely wonderful! Our ceremony was perfect. October 2021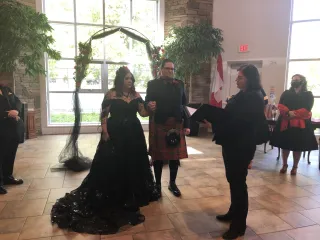 Andrei & Stacey
Rachel Norman was absolutely perfect, just what we wanted. Rachel rescued the day. Thanks ever so much!! Andrei & Stacey April 2020
Anderson & Cecilia
Rachel Young was great, detailed oriented, experienced. She was able to answer a lot of our questions we asked, and others we didn't know to ask. Also she was able to keep the proceedings going in high winds and rocking boat.
Kate & Michael
Rachel Young was lovely to work with. She was flexible and totally happy to help us bring our vision for the wedding to life.
Lianne & Jordan
Rachel Young was exceptional. She made us feel very comfortable right from the start, and she shared several of her ideas with us and together we created a beautiful ceremony that I will never forget. The handfasting ceremony was so special and everyone that attended was in awe with how unique and beautiful it was. Thank you, Rachel!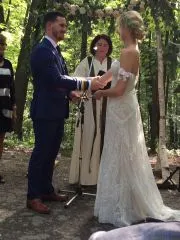 Nina
It was a pleasure to work with Rachel (Young) for our ceremony. We connected by phone initially and in person later, before the wedding. In both interactions, Rachel was genuinely interested in learning our story and understanding more about our relationship and values - importantly, she was also willing to share her experience and love story and even introduced us to her husband. She provided us with some great starting content for our ceremony and was flexible to suggested changes and additions we had and was ready to answer our questions along the way. The day of the wedding went very smoothly and we were very happy! Thank you Rachel!
Shega and Andrew
Rachel Young was the officiant of our dreams. Clear communicator, supportive of our vision and always ready to make great suggestions based on her experience with a diverse array of ceremonies. She has deep respect for the profession and a unifying outlook on humanity and love. Thanks again Rachel!
Lino
Rachel Young is a very talented person and very professional in any thing she does. I had the great opportunity of working with her and can tell that whatever you assign her to do you will not have to worry. It will be done on time and perfectly well.