Odessa Larmand
Request Odessa Larmand
Secteurs desservis
Edmonton, Stony Plain, Spruce Grove, St. Albert, Sherwood Park, Acheson, Winterburn, Devon, Beaumont
Commentaires
Katelynn & Jamie
Odessa Larmand was amazing and the entire ceremony felt very personal. Oct 2022
Richard & Lisa
Odessa Larmand was lovely. She answered all our questions in our meeting, offered suggestions based on her experience and was quick to respond to emails. August 2022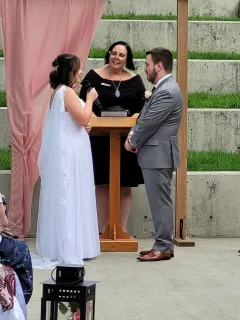 Mandeep & Marnie
Odessa Larmand was wonderful! In a time where things are stressful already and then add a pandemic... Odessa brought a sense of peace and tranquility! Odessa was professional, thoughtful and has a fantastic sense of humor ! She made our ceremony and day perfect! Mandeep & Marnie November 2020
Cordell & Stephanie
Odessa Larmand was amazing, friendly and professional and the ceremony was quick just like we wanted it ... Thank you! Cordell & Stephanie May 2020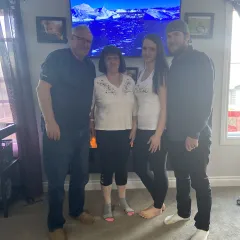 Patrick & Bonnie
Odessa Larmand when meeting with her understood exactly what we wanted and made some great suggestions. Odessa helped make our wedding day very special. Our wedding was very small, with only family in our backyard. Our wedding was all that we hoped it would be. Thank you ! Patrick & Bonnie September 2019
Jake & Jaime
Odessa Larmand was by far the most easy going friendly funny officiant I have ever met. she has tons of personality and even a bit of emotion. Odessa ensured the whole ceremony went smoothly. Thank you Odessa! Jake & Jaime August 2019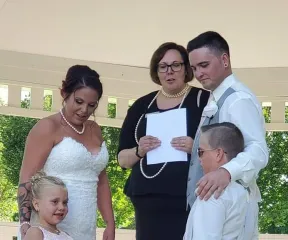 Julia & Dan
Dan and I are so happy that Odessa Larmand performed our ceremony. Odessa is the kindest of ladies. She made us feel so comfortable and not too nervous at all. She is a wonderful lady and we are so glad that she made our wedding day that much more memorable. Thank you Odessa from the bottom of our hearts. Julia & Dan April 2019
Lindsay & Tyler
I would like to express my appreciation for the officiant of our recent wedding, Odessa Larmand. From the start of our interactions, Odessa was charming and professional. My husband and I wanted to elope and had only a few days to plan the wedding. We wanted simple, traditional Christian vows and a short and sweet ceremony. Odessa was very helpful with providing a sample script, for giving us suggestions for what to include and answering all of the questions I had with professionalism and grace. We booked her and let her know we would get back to her with more details because we had not yet secured the venue. She didn't hesitate to offer to marry us at a small community pond near her home. This saved us time, money and stress and provided a lovely backdrop for our photos. During the ceremony, she spoke the words with confidence and grace and took her time with us during our vows, not rushing us when we got emotional and helping us when we stumbled. I would like to thank Odessa for her quality work and for truly making the ceremony a moment neither of us will forget. We would recommend her services to anyone. (March 30th, 2019)
Alice & Lewis
Odessa was great to work with and punctual. She had great energy and presented very well. If you're looking for an officiant for your wedding, I recommend her, February 18th, 2019.
Jerrica & Adison
Rev Odessa was wonderful. She was super confident and easy going and easy to talk too. She knows what she is doing which helped us feel a bit more at ease. July, 2018
Corrie & Tanner
Rev Odessa was wonderful and had a great, easy to get along with personality.
Angela and Travis
Thank you so much to Rev Odessa (Larmand) for helping with our service! Odessa's expertise and knowledge shines through from the moment you meet her till the day of the wedding. She held our hands through the rehearsal to make sure we were comfortable for day of and we can't thank you her enough for listening to what we wanted. :) She's HIGHLY recommended by my husband and myself. Thanks again for absolutely everything!