Mary Misko
Request Mary Misko
Secteurs desservis
Toronto, Newmarket, Aurora, King City, Richmond Hill, Oak Ridges, Thornhill, Markham, Stouffville, Holland Landing, Sharon, Queensville, Maple Vaughan, Woodbridge, Kleinberg, Nobleton, Bolton, Cookstown, Stroud, Uxbridge, Port Perry, Claremont, Ballantrae, Mount Albert, Innisfil, Big Bay Point, Pefferlaw, Stoud, Queensville, Keswick, Sutton, Jackson Point, Bradford, Barrie, Gilford, Alcona
Commentaires
Alexandria and Jordan
Hello! I just wanted to say thank you again for all you did for us for our wedding. Words don't even describe how grateful I am for going above and beyond in what you needed to do. Our covid wedding was the best day of my life, and you will forever be apart of it. So thank you again. Much love, Alexandria and Jordan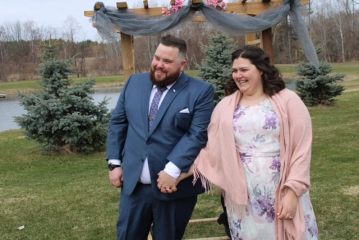 Justin & Amanda
This is a special one, my mom Mary Misko, was the officiant for my wedding. I let her decide if she thought she could officiate such an emotional day for her and she surprised me when she took on the challenge. She let me rewrite the ceremony by providing templates from other ceremonies - this allowed me to piece together the ideal words I wanted on that day. When my Dad walked me down the aisle towards my Mom and we all made eye contact my Mom started to cry and I thought "uh oh, what if this is too emotional for her" but she got it out, took a breath, and went into Officiant-mode. The ceremony flowed well, was clear and loud, and full of laughter and love. It was certainly unique, personal, and very special to have my Mom be the officiant - she did an amazing job and it is something she should be proud of. All of the guests complimented the ceremony and my Mom's delivery afterwards. Justin & Amanda August 2019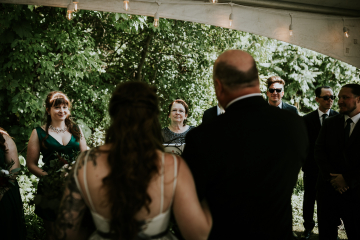 Brandon & Christina
Mary Misko was amazing!! She is very professional and helped navigate through the rehearsal with ease and made the ceremony very personable and perfect! I would recommend Mary to everyone that is getting married. Brandon & Christina June 2019
Emily & Trevor
Mary Misko was exceptional to work with. She provided us with very detailed instructions on what we needed to provide her with and the time frame to ensure everything was executed well. She met with us and get to know us personally so that she could help us build a ceremony that fit our needs. She had many ceremony samples to select from to build our custom ceremony. She was always on time and looked professional. She provided us with vow cards and a package of our ceremony and all the details to apply for our marriage certificate. Her execution of our ceremony was well delivered and passionate. You could really tell she enjoys what she is doing and we could feel her warmth as she delivered her words. October, 2018
Aryan & Rose
Mary Misko was kind, friendly, respectful, organized, responsible, reliable, and we all loved her! She did a wonderful job with our rehearsal and ceremony and we hope to see her at another wedding in the future! August 25th, 2018
Sarah & Michael
Mary Misko succeeded all of our expectations. August 24th, 2018
Marie & Nathan
Mary Misko was amazing!! Professional and so lovely. She gave us amazing tips and she delivered the ceremony beautifully! I couldn't have been happier with how she presented herself and delivered our ceremony. Truly an amazing officiant and woman! The reservations staff were amazing. Thank you Mary for everything. You truly outdid yourself.
Jocelyn & Paul
Mary Misko was amazing, She made us feel so comfortable and went through everything thoroughly. We couldn't have asked for a better officiant. She even did a rehearsal at no charge. She is totally dedicated to her clients. The package we received afterwards was so complete with copies of our vows and all keepsakes and documents. Beautifully done. Thank you Mary! [May, 2018]
Tracy & LAnce
Mary Misko went above and beyond our expectations. She was excellent and guided us every step of the way. She went out of her way to give us more than we expected. She is now someone we consider a friend. We could not be happier with how our ceremony turned out, much thanks to her. Mary Misko made our dream a reality.
Darcy & Michelle
Mary (Misko) performed our marriage ceremony in June 2014 and we were very pleased with her professional approach and how she respected our wishes to keep the ceremony how we wanted it. She was easy to communicate with and did not include anything out of the ordinary... which was truly appreciated! She has since gone on to perform the ceremony for my brother and 2 other family members. I highly recommend Mary for any/all wedding ceremonies. Darcy & Michelle June 2014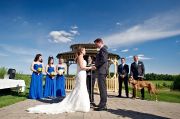 Devon & Taylor
Hi Mary (Misko), Thank you so much for yesterday. You made the entire process an easy and stress free one. You made our wedding ceremony beautiful! We had tons of comments from our guests on how beautiful our ceremony was and they loved the wine box! Thanks again, we truly appreciate all of your time and help. Devon & Taylor Sept 30th, 2018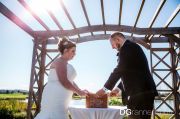 Christina & Michael
Mary (Misko) was so professional and really respected our wishes when it came to the type of ceremony we wanted. She was fantastic and we highly recommend her. Thank you so much! Christina & Michael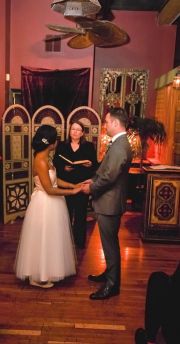 Andrea & Aras
Mary Misko was great! She was extremely helpfull every step of the way. She was always ready to answer and questions we had and made our day not only special but stress free.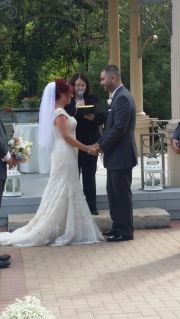 Courtney & Darren
Mary Misko was amazing, I have nothing but wonderful things to say about her and how she conducts herself as an officiant. She helped make our day absolutely perfect!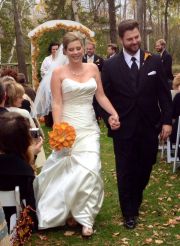 Lisa & Roderick
Mary Misko exceeded our expectations! Even the guests commented on how lovely she was! Lots of support and advice. Mary was supportive and provided invaluable advice. She shares our excitement and delivered a fabulous service!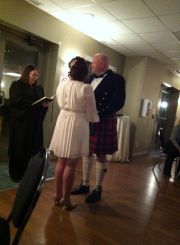 Samantha & Christopher
Mary Misko was sooo wonderful! We felt like we knew her for years. The whole process was comfortable and stress free. We already decided we will have her preform our one year vow renewal :) The staff we very imformative and helpful.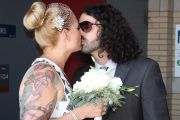 Riyaz & Kelly
Mary Misko was wonderful to work with. The service went off without a hitch!
Katherine & Rob
Mary Misko was a wonderful officiant and we were very pleased to have her officiating our special day. She was accommodating to everything we requested and we appreciate her thoughts and suggestions. Thank you Mary!
Gillian & Jason
Mary Misko was amazing. Sweet, funny and very thoughtful. She really enjoys what she does and it shows. We couldn't have asked for a better experience.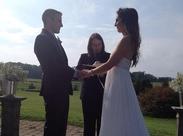 Ashton & Neal
Hello Mary (Misko) We just wanted to thank you so much for officiating our wedding! You did a wonderful job and we are so pleased that you were apart of our special day. You have a very calming nature about yourself and you are filled with great ceremony ideas! We loved being able to work with you and will be recommending you to friends and family. Thank you again!
Courtney & Andrew
Mary Misko was amazing to have as our wedding officiant. She spent a lot of her time helping us to customize our wedding ceremony and make it very unique for us. We received many compliments from our guests on how beautiful it was. Everyone enjoyed the warming of the rings and rose ceremony as they had never seen it before at a wedding. Thank you!
Cahty and Mac
Thank you Mary for making our wedding day turn out exactly how we dreamed it would be. Your love of weddings and experience in planning helped make our day extra special. We are very appeciative for all the time you spent and ideas you offered us going through the ceremony planning, allowing us to make it our own. You helped us remember all the little things that we wanted included, but forgot about. Thanks again. Cathy and Mac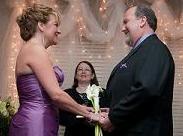 Jenny & Ryan
Hi Mary Misko. Thank you for being such a big part of our special day. Your professionalism, sincerity and elegance while performing our ceremony was extraordinary. We received many compliments on the beautiful service that you provided! Our wedding day turned out exactly as we had dreamed of and we can't thank you enough for all that you have done!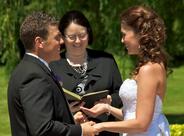 Linda & Daniel
Mary Misko went above and beyond to help us out! She went as far as loaning us an archway she had for us to get married under, and she also let our musicians use the amp she had for her microphone. She even recommended a couple of other vendors we ended up using, which was great because I was pretty new to the area when Dan and I got engaged. And she loved the ideas I gave her for our rock and roll themed wedding.
Stephanie & Patrick
Mary Misko was fantastic!! She made both my husband and myself feel very comfortable preparing for the ceremony. It was a beautiful ceremony and exactly what we wanted. :)