Mark Sanderson
Request Mark Sanderson
Secteurs desservis
Bracebridge, Gravenhurst, Bala, Port Carling, Mactier, Foots Bay, Vankoughnet, Port Sydney, Huntsville, Rosseau, Minett, Washago, Killworthy
Commentaires
Michael & Christy
Mark Sanderson was great! He was punctual and so pleasant to work with. He helped to make our special day perfect! Michael & Christy October 2020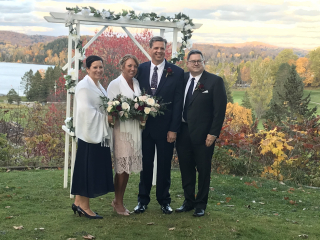 Neil & Brittany
Mark Sanderson completely exceeded our expectations!!! Mark went above and beyond to tailor every word and every element that went into our day. In the days leading up to the wedding he was supportive and honest. He made us feel like family and he really knew what to say to put everything into perspective. The process to create our ceremony seemed effortless because Mark took the time to get to know us. What was extra special to us was that he incorporated the meaning and history of our traditions woven into the ceremony so that guests who witnessed our marriage understood the importance and the symbolism. The whole family joined in! Which was so important to us. All our guests raved about how amazing he was. We will never forget what he did for us on our day. He made it more than saying " I do" and we can't ever thank him enough. Neil & Brittany September 2020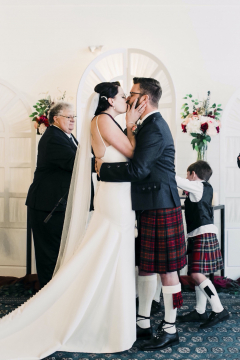 Danyon & Gavin
Mark Sanderson went above and beyond our expectations. He have us a beautiful ceremony , and there wasn't a dry eye , Mark met all of our expectations and gave us a beautiful day we will cherish and remember for a life time it was amazing and beautiful Danyon & Gavin September 2020
Deanna & Ian
Mark Sanderson was wonderful throughout the entire process. He made us feel comfortable and at ease while navigating a wedding through COVID-19. He had a good sense of what we were looking for in a ceremony and executed it beautifully on the wedding day. He was a hit with my whole family! Thank you so much Mark. - Deanna & Ian August 2020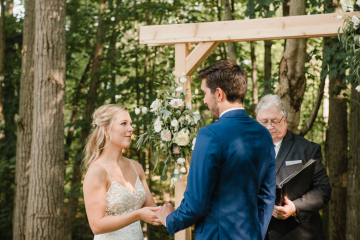 Ronald and Ruth Ann
Mark was excellent! Professional, accommodating and very nice. He provided a beautiful ceremony. Ronald & Ruth Ann December 2019
Brian & Kristiina
Mark Sanderson gave us a wonderful ceremony during our elopement. He included both traditional vows and anecdotal wisdom, making it extra special. We would definitely recommend Mark to others wishing to get married. Brian & Kristiina October 2019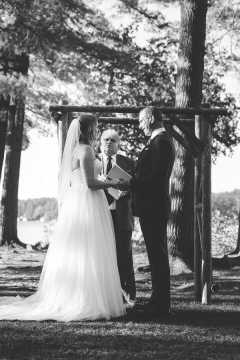 Josh & Lindsay
15 out of 10 for Mark Sanderson. When contemplating what makes a wedding special the officiant is often overlooked, although their contribution is one of the most integral parts of the day. From our introductory call, my wife and I knew Mark was special. It was his nuanced approach to collecting the type of personal information he used in the ceremony; things that were mentioned in passing during that first call were referenced at the alter. Mark totally understood what we were looking for, who we were as individuals and the relationship we shared. Mark is the type of gentleman that will go the extra mile to make the day yours, personally. He seems to live for his work and you can feel the passion behind his belief in the sacrament of marriage and the subtleties in which it is interpreted by you as a couple. I can't say enough about this guy, the venue was terrific, the food was amazing but above all else it was Mark's words during the ceremony that we'll be remembering for decades to come. Thank you Mark, you made all the difference to us! Oct. 2019
Robyn & Jamieson
Mark Sanderson was so wonderful & he had the best sense of humour. We are both really glad we had him as our officiant! Robyn & Jamieson October 2019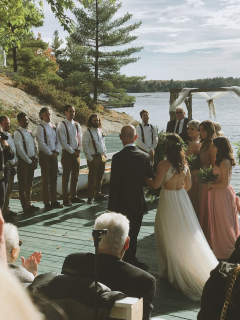 Seamus & Jennifer
Mark Sanderson was exceptional!!! My husband and I were absolutely thrilled with our ceremony and from our first meeting with Mark, we knew he was going to be the right fit for us. Since our wedding, we've had numerous compliments from our guests about what a wonderfully heartfelt, thoughtful and personalized ceremony he gave for us. We would recommend him in a heartbeat! Seamus & Jennifer August 2019
Elaine Welbourn, Flashback Photography
I worked with Mark Sanderson at a wedding in Huntsville, Ontario. He kept the crowd continually engaged, equally balanced religous elements with the couple's personal love story, and spoke from the heart. I would highly recommend Mark's services to any of my wedding clients, in future.
Pooja and Michael
Hi Mark, It's been a few months, but believe it or not we recently got our pictures. Our ceremony was magical all thanks to you! I think this picture sums it all up. Hope you are doing well. Feel free to use this picture if you'd like. Kind regards, Pooja and Michael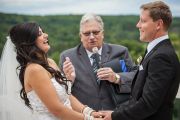 Allison & Grant
Mark Sanderson was a pleasure to work with. He made us feel extremely comfortable and confident. We could tell that he has lots of experience and knows how to handle any situation that could arise unexpectedly. We met with Mark before our ceremony. He was always very friendly and relatable. We will definitely refer All Seasons to anyone we know getting married in the area. Thank you!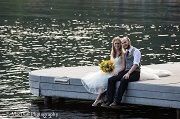 Kelly and Trevor
Trevor and I just wanted to send you a little note to say thank you so much for being our officiant! Our wedding ceremony was so personal and so special to us, and it is something that we will always remember! The unity candle and the "hands of your best friend" parts were really meaningful to us. After the ceremony we received such great feedback from our guests about how much they loved the ceremony and how much they loved listening to you! A commonly heard remark from our guests was that the ceremony fit us perfectly. Our wedding was truly the best day ever, and we must thank you for your huge contribution to our special day! Sincerely,
Jody & Shawn
Mark Sanderson was amazing and I would highly recommend him to anyone getting married!!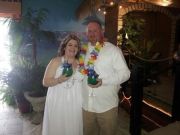 Pam & Brendon
Absolutely Fantastic Man. So glad Mark Sanderson was part of our day.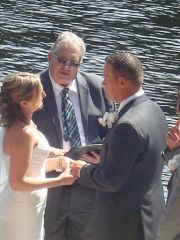 Crystal & Ross
I just wanted to send a little word of Praise to Mark Sanderson. He was the officiant for our wedding in May and he did a wonderful job. I was nervous as we didn't have much time to get to know Mark but very happy with the services he provided to us. The day was absolutely perfect and Thanks to Mark we both got what we wanted. I couldn't have dreamt for a better day. Thank you so much Mark!! Its also nice to see all the praise on your page. Your doing something right.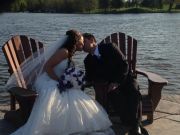 Nadine & Nathan
Mark Sanderson exceeded our expectations! He was flexible, entertaining, and had the experience to guide us through the process and make it "ours". Our guests complimented us on how beautiful the ceremony was. Thanks Mark, we couldn't have been more pleased! Here's the best picture of Kaya behaving!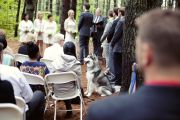 Stephanie & Rob
Mark Sanderson was a pleasure to work with and delivered a beautiful ceremony. He was professional and prepared and answered all of our questions and gave great advice and input on some ceremony details. Mark took the time to get to know us and helped deliver a ceremony that suited us perfectly. We had many guests comment on how lovely the ceremony was and the great job Mark did emphasizing the meaning behind the words being delivered. We are so pleased with how our day went. Thanks Mark!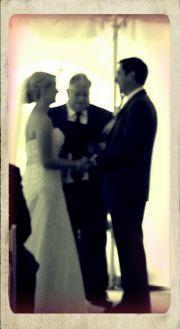 Barbara & Stephanie
Hi Mark Thank you again for being apart of our special day, our friends and family absolutely loved the ceremony. It was perfect- thank you. Here's a picture for you, we have a ton more if you would like another, please let us know. Have a super day! Cheers,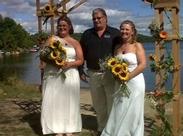 Stephanie & Rob
Hi Mark, I wanted to send a note to say thank-you again for the wonderful job officiating our ceremony. You captured exactly what we wanted and the feeling behind the words you delivered made it very special. We've had wonderful comments from our guests on how lovely the ceremony was. I really appreciate your time meeting us and getting to know us a little before the big day. It really helped make us confident in our choice of service. All the best to you. We hope to run into you around Muskoka! Maybe on the water in one of those noisy fast boats :) Cheers,
Laura and William
Mark Sanderson, thanks so much for the beautiful wedding ceremony - everyone loved it! Here is a picture for you!
Laura & Alexander
Mark Sanderson exceeded our expectations! He was so friendly and helpful and did a fabulous job putting us at ease during the ceremony. It was everything we hoped for! I would definitely recommend him to anyone who wants a stress-free and memorable wedding! Debbie Faucher was extra helpful in finding us an officiant who could do our ceremony at a better time for us.
Edith, Joe and Jacob
Hi Mark (Sanderson),Joe and I just wanted to extend a very warm thank-you and sincere appreciation for the heartfelt ceremony. Saying our vows in you presence with you showing such genuine sincerity towards your belief in the commitment of marriage that a couple makes made the ceremony very special and we will hold it very dear in our hearts for the rest of our lives. Your presence was to us the most important variable, including having our families with us that made the day what it was. Your presence and participations really did make and impact, and from the bottom of our hearts we thank-you.
Paul and Joanne
Mark Sanderson, We just got back from our Honeymoon and there wasn't a day that went by we didn't talk about our wonderful wedding. You did a fantastic job and made our day exactly the way we had wanted it, thank you very much!! If we know of anyone getting married up in the area I will most definitely be recommending you. Thanks Again!