Lorne Lazenby
Request Lorne Lazenby
Secteurs desservis
Port Elgin, Southampton
Commentaires
Jim & Leigh Rae
Lorne Lazenby did such an amazing job officiating our wedding. We couldn't have asked for a better man for the job! You are great at what you do. Thank you for taking the time with us to choose our readings. They were talked about amongst our wedding guests. You helped make our day perfect. August 2022
Patrick & Alexine
Lorne Lazenby is so wonderful and made sure that our special day was the utmost most memorable event. He's an absolute gem - he has great positive energy is a very genuine person. You can be certain that you are in good hands if you work with him! July 2022
Ryan & Katie
Lorne Lazenby was very personable and friendly. Our family commented that he was one of the best wedding officiants to listen to. He was accommodating to our requests when we suggested a short and sweet ceremony. He was understanding and very pleasant to work with as we tailored the ceremony to our non-denominational preferences. June 2022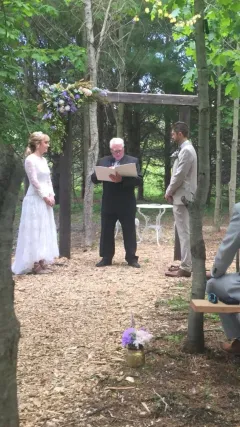 Matthew & Kara
Lorne Lazenby was an amazing officiant!! I moved my wedding and forgot to notify him until the week of and he was so kind about it. He kept us organized and was super helpful. Thanks so much Lorne!!! Matthew & Kara September 2021
Ashlyn & Jonathan
Lorne Lazenby was absolutely amazing!! So personable and kind to everyone. We felt so comfortable during the ceremony because of Lorne. We are so happy we found you to be our officiant. Thank you again for everything! Ashley & Jonathan August 2021
Kenton & Brittany
Lorne Lazenby exceeded our expectations! He made us feel so comfortable and eased all our nerves for our big day. It was the best ceremony I could've asked for! Thank you Lorne!! Kenton & Brittany July 2020
Lindsay & Jeff
Thank you again for a perfect ceremony :) We received many compliments about you afterwards - more than one person said you were the best officiant they've ever experienced. We are so happy and feel so lucky that you were part of our day. Thank you again. We will be seeing you in a few weeks when you officiate the wedding of Jeff's first cousin in Sauble Beach.
Rachel & Matthew
I just wanted to say thank you again for everything you did for us with regards to the wedding. We couldn't have asked for a better officiate! You made us feel so comfortable and at ease which in turn made our wedding day so special. I don't think the ceremony would have went as smoothly as it did without you. By far you are the best officiate I have ever dealt with and had the pleasure of working with. We wish you all the best Lorne!
Tanya & Jason
Lorne Lazenby was absolutely amazing!! We live out of town and he welcomed us into his home a few weeks before the wedding and put us at ease right away! Worked with us to make our ceremony exactly the way we wanted it! And everyone at the wedding said it was one of the most beautiful ceremonies they have ever attended!! We love Lorne! The office staff was amazing!! Even helping with a payment adjustment after the fact! GREAT customer service!!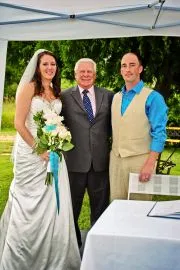 Lee-Ann and Sebastien
Lorne Lazenby is a wonderful officiant. His personality and demeanor really puts the couple (and all individuals) at ease during the wedding process and ceremony. He is very respectful of personal traditions or suggestions for the ceremony. Lorne exceeded our expectations. Very welcoming, and has a calming disposition.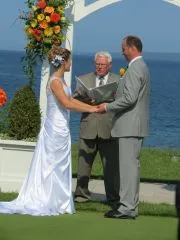 Stacey & Doug
Lorne Lazenby was amazing, he made our day so special. He listened to all our requests and worked alongside us to make our ceremony flow smoothly and reflect who we are. We had sooo many compliments on our ceremony as it was unique and different but at the same time held some of the traditional components. Many guests thought Lorne was a good family friend as he was so friendly, kind and seemed to fit in so well and had a great interest in us and our day. I would highly recommend Lorne to anyone getting married. He will always be remembered and cherished when we think of our wedding day!
Stacey & Trevor
Lorne Lazenby was great and made our planning process much easier. He customized our ceremony to fit us! We have heard nothing but great reviews from our guests!! Our wedding day wouldn't have been the same without Lorne and we would recommend him in a heartbeat!! Thank you very much for making our day so special.
Janine and Cedric
Lorne Lazenby was INCREDIBLE! He was extremely friendly and assured us that we would get exactly what we wanted in our ceremony.His very happy demeanor put everyone in a very special place through our ceremony. He helped us really enjoy those precious moments and we truly feel he made our ceremony more special than we could ever have asked for! I would recommend Lorne to anyone wanting to have their own personalized ceremony he will be flexible and committed to making your day perfect.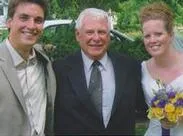 Jen and Jon Ede
In searching for an officiant, we hoped for someone who was dedicated, friendly, easy going, and truly interested in us and our relationship. That is just what we found in Lorne Lazenby . You were exceptionally helpful and we appreciated that we were able to choose our own style of ceremony. We recieved numerous compliments from our family and friends about your eloquent and inspiring ceremony. Thank you for your advice and for being a part of our special day.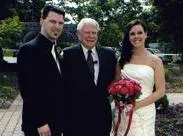 Tracy and Ryan
They don't teach a class on how to get married but, if they did, Lorne Lazenby would be the teacher. He took a lot of stress out of the day by letting us know how things usually run and helping us find a fit for us. That was just in his job description though... he is kind and sincere and has a fantastic way of calming a frazzled bride. His guidance leading up to the wedding was priceless and, for that, I thank him.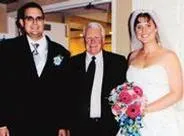 Kristen and Steve Kruse
We were extremely happy with Lorne Lazenby presiding over our wedding. As we were coming from out of province, he was more than willing to meet with us as our schedule allowed (only two days before the wedding!).He was very receptive to the personal touches that we wanted to create our ceremony. We had several guests mention that our ceremony was not only unique and personal, but that Lorne delivered it like he had written it himself. We will be forever grateful that Lorne was able to officiate for our perfect beach wedding!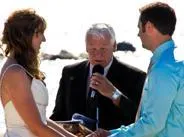 Thomas & Michelle
We wish to thank Lorne Lazenby so very much, he was very upbeat, welcoming, had an amazing personlity. We were married on Sept. 24, 2011 and dispite the wind on the water it turned out to be an absolutly beautiful day. Tom and I were so please with the ceremony, and how professional Lorne was. Thank you so much Lorne. We have been so impressed with All Seasons Wedding and how wonderful everyone was to us, that we keep passing the word around. Thank you for a wonderful memory.
Rick & Lee
Lorne Lazenby made us feel very comfortable right from the frist time we met him. He welcomed us into his home from our meeting and was both very professional yet open. He suited our day perfectly and we were both thrilled to pose with him for his scrapbook. He made us feel at ease right from the start. It was an honour to have Lorne officate our wedding.