Lisa Allain, BA (Mount Allison)
Request Lisa Allain
Secteurs desservis
Toronto, Richmond Hill, Thornhill, Markham, Vaughan, Etobicoke, North York, Mississauga, Oakville
Commentaires
Dhrun & Eun Jung
We knew from the moment we read Lisa Allain's profile she would be the perfect fit for our wedding. Someone with kind eyes, the way she carries herself and speaks, and especially her focus on personalization and genuine love and interest to make our day special. As soon as we started talking on the phone she put us at ease with lots of smile and with her wisdom from all her years of experience. She was patient with us with our changing directions and delays in responses. She was brilliant on our wedding day. It was so nice to see someone familiar and so guiding during the nervous moment. We were sorry we missed her before she left (As we were busy hosting). She made sure the most important papers were signed and sent and shared with us for next steps. Much thanks Lisa !November 2022
Laura & David
Lisa Allain was amazing to work with. She helped us make the day very special. I couldn't recommend her or All Seasons Wedding enough. The whole process was very easy. One less thing to stress about! Sept 2022
Sharada & Jonathan
Lisa Allain was incredible. Highly recommend! Feb 2022
Sylvain & Chino
Lisa Allain not only met our expectations but she went beyond. From the first contact until after the ceremony, Lisa has been a gem. For us, Lisa is the only marrying lady in Toronto. Lisa really cares about the couple and makes sure that this moment. Merci Lisa ! Sylvain & Chino April 2021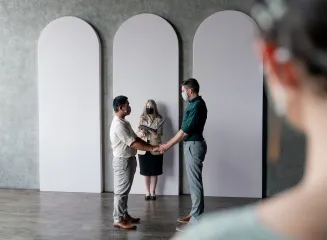 Kenneth & Susan
Lisa Allain went beyond expectation. Lisa is very professional. Her voice was very clear even with the mask on. She was very friendly and made our day perfect! Kenneth & Susan September 2020
Shuang & Xiangyang
Thank you so much Lisa! That day means a lot to us. We're so glad you were there with us to share the moment! Shuang & Xiangyang August 2020
Zambrano & Mélyssa
We had an amazing moment :) Lisa made our wedding unforgettable, I am so glad we chose her ! She was very kind and invested. Merci Lisa ! Zambrano & Mélyssa March 2020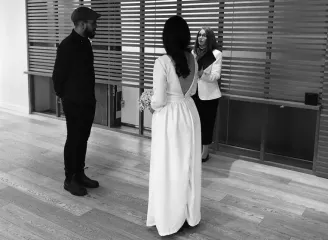 Elvi & Jehd
Lisa Allain has exceeded our expectations! Even from the first initial meeting, it felt as if we knew her in another life. Lisa was so organized and professional throughout and we didn't have to worry about anything on the day of. She was flexible with anything we wanted to change and her words made our ceremony feel very much personalized to us. She has definitely made our day all the more special!Thank you Lisa! Elvi & Jehd August 2019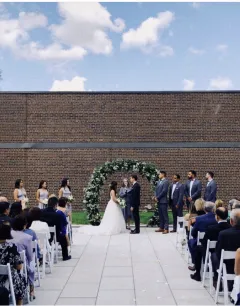 Amine & Miray
Our officiant Lisa Allain was beyond our expectations. We fell in love with her. She has a great personality. Very accommodating and helpful. She performed our ceremony in both English and French. She was simply amazing. I am so glad we met her and everything went smoothly. I highly recommend her. You will be thankful. Thank you Lisa ❤️ Love Amine & Miray. July 2019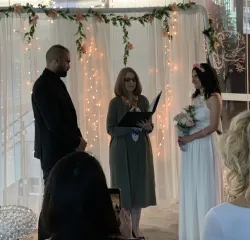 Nem & Natalia
Lisa Allain did a wonderful job. She is very friendly and helpful during the process. At the ceremony, she sounds very official. It was an absolute pleasure working with Lisa. Nem & Natalia June 2019
Barry & Mark
Lisa Allain was an absolute pleasure to work with. From our initial contact email to meeting in person, she is friendly, professional and inviting, and truly cares about your special day. She did a wonderful job officiating at our wedding, with all of our guests remarking on her beautiful words, and was more than accommodating for changes we made throughout the planning process. Lisa truly made our special day all that more special! Barry & Mark May 2019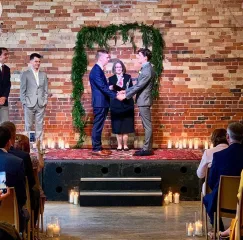 Grace & Brett
Lisa Allain was full of personality and she vibed perfectly with who we are as a couple. October, 2018
Paul & Mike
Lisa Allain was wonderful. Everything was organized easily and efficiently. Thank you to Lisa for making it all so fun, easy and professional -- and meaningful. October, 2018
Larry & Melissa
Lisa Allain was such a pleasure. I couldn't have been more happier. She's perfect. :) September, 2018
Andrea & Adam
Lisa Allain is one of the most lovely people I have ever met, and I would strongly recommend her as a wedding officiant. She was my sister and brother-in-law's officiant, and we were thrilled to be able to ask her to be ours. I really can't give her enough praise - she was helpful, professional, and just in general, an absolute pleasure to be around! Thank you so much Lisa! [August 2018]
Janna & Andrew
Lisa Allain went above and beyond any expectations we had. She was so supportive and happy for us while guiding us through the entire process. On the day of our wedding Lisa was there early and chatted with our parents (who just loved her as well). Our guests were so impressed, Lisa spoke so clearly and eloquently all while truly caring and knowing that she was part of such an important day. Her eyes emoted calm and support during the entire ceremony and she whispered any little directions to us so seamlessly it was almost like we knew what we were doing (almost, haha) You have a real gem in Lisa, I recommend any couple speak to her themselves so they can immediately hear what I did; a woman who loves conducting wedding ceremonies with such passion and pure joy.
Lauren & Steven
Lisa Allain was wonderful! We are so happy we chose her. She was fully attentive to what we were looking for in an officiant an did not try to push or pressure us into a ceremony we were not comfortable with. She was truly fantastic!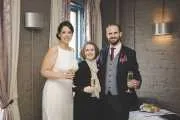 Blair & Lisa
Lisa Allain was outstanding to work with and did a fabulous job in our meeting and on the wedding day. We were very pleased that we we able to have Lisa preform the service.
Rivi & James
Lisa Allain was fantastic, couldn't have asked for better. She accommodated all of our wishes, spoke clearly and loudly , and was a pleasure to interact with.
Dianna & Kenny
Lisa Allain's service was perfect and she tailored the ceremony to our liking. Very easy and extremely pleasant to work with. Lisa knows what she is doing and was exceptional in easing any confusion or concerns. She gained my trust instantly and didn't disappoint. I would refer Lisa to others.
Leonard & Gene
Lisa Allain is absolutely amazing! She was so very helpful and made our day wedding perfect. She was easy to reach, extremely professional and lots of fun. Anyone lucky enough to be married by Lisa will have a wedding they will never forget. I'm so very grateful that you exist. You have made what might have been a stressful experience, a wonderful experience.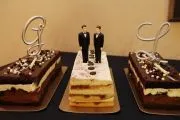 Lee & Gemma
Lisa Allain was excellent. I am sure people are excited after their wedding and give raving reviews all the time, but I really cannot explain how wonderful Lisa was. She showed up at least an hour early and said hello but after that was happy to wait for the proceedings to begin. She was friendly and courteous to all guests. She spoke very loudly and very clearly for all guests to hear. I think the thing that stands out for Lisa is that she loves her job and through that makes it a pleasure to be around. I cannot explain how lucky we felt to have her up there with us.
Kelly & Jim
Lisa Allain was wonderful. She was so friendly and made our day very special. It really felt like she cared about us as a couple and was honoured to perform our ceremony. We got so many comments on how wonderful Lisa was as an officiant. It was a wonderful ceremony!
Loredana & Nelson
Lisa Allain far exceeded our expectation! She was such a joy to work with to help us develop a ceremony that truly reflected who we were. She was always available when we needed her and eager to let us fiddle with the ceremony whenever we wanted to – even the night before the wedding.
Michael & Kristen
Lisa Allain was amazing. She helped us plan the perfect wedding ceremony. She gave us great templates witch we were able to adjust to our liking. We added our own readings and personal vows. We also added a touch of French into the ceremony, which was easy because of Lisa's bilingualism. She was available whenever we needed her and made the whole process very comforting. The staff was great and worked well through emails. We have already referred our friends getting married next year.
Geneviève & Dan
We trusted Lisa Allain from the start and she definitely delivered. The whole process was easy, we have no complaints! It was so easy to choose who we wanted to officiate our ceremony. Lisa was wonderful and very open while helping us plan our ceremony. She was generous with her time and very warm and welcoming every time we met with her. She did a great job and it meant a lot to us to hear both languages during the ceremony. She is very professional, organized and relaxed. The ceremony was flawless, her warmth and kindness showing through. We knew we were in good hands from our very first Skype meeting. Thank you Lisa, for your contribution to a truly unforgettable day.
Lauren & Chris
Lisa Allain was amazing! It was really important with us to meet with an officiant before officially booking them, and Lisa agreed to that. Within the first five minutes, we knew that she was perfect for us! She seemed genuinely interested in our story and also made it clear that it was our wedding so it was important for us to feel comfortable with every aspect of the ceremony. Everyone commented on how beautiful the ceremony was. I was referred to All Seasons by two different friends and wouldn't hesitate to recommend it to others.
Cayley and Ian
Thank you Lisa Allain so very much for conducting our ceremony. It was so beautiful and we received many compliments on the ceremony itself. We will always cherish that day, it was absolutely perfect"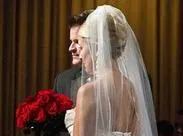 Marcus & Georgia
Lisa Allain was wonderful! She dressed very elegantly, spoke very clearly and looked at us as she spoke. She made us feel like we were special friends of hers and the ceremony was just beautiful. The guests also mentioned how much she seemed invested in our service. She is a GEM!
Meghan & John
Lisa Allain did a great job! She was very friendly and we enjoyed having her conduct our ceremony. She was easy to communicate with before the ceremony also by email.