Laura Hunt
Request Laura Hunt
Secteurs desservis
London, Exeter, Lucan, Arva, Komoka, Talbotville, St. Thomas, Nilestown, Dorchester, Port Stanley, Grand Bend, Woodstock, St. Mary's, Stratford, Strathroy, Thamesford, Tilsonburg
Commentaires
Corina & Justin
Laura [Hunt] put together a beautiful ceremony for us which incorporated everything we asked for. September 2022
Eric & Saskia
Laura Hunt was really great! My brother was having some issues getting ready for the ceremony and she was willing to push it back 15 minutes which was very kind. Thank you for a beautiful ceremony and being so accommodating . September 2022
John & Lynn-Marie
Laura Hunt was very friendly and funny and while she went off script, it went very well and made us feel relaxed. August 2022
Brittany & Patrick
Laura Hunt was lovely! She responded to our questions before our ceremony and prepared a lovely speech. She was warm, welcoming, professional, and down to earth. August 2022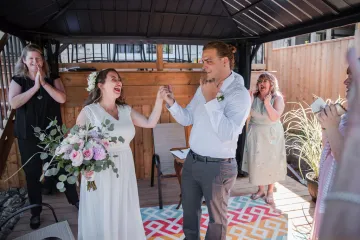 Scott & Claire
Laura Hunt was a fantastic officiant! From the very beginning when we met her virtually, we knew that she'd be a great fit for our ceremony and marriage. Laura is very warm and kind and was always willing to share comments/advice while we were curating our ceremony outline. Laura was quick to respond to messages and always willing to chat. She was also very flexible and helped us to accomplish our goal of having a family member perform all the non-legal aspects of the ceremony. During the actual ceremony itself Laura was so comfortable and friendly and really brought a lot of lightness and joy into the ceremony. We would definitely recommend Laura to any couple choosing to get married! July 2022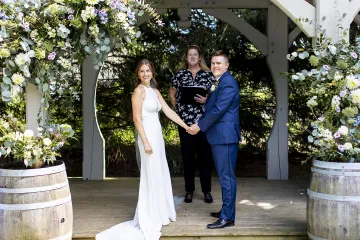 Ian & Vanessa
Laura Hunt was great. She helped guide us through our perfect day! Answered any questions we had and offered great ideas. Would highly recommend her. March 2022
Dillon & Erin
Laura Hunt was wonderful to work with. She was responsive in her communications with us, and worked with us closely to create a ceremony that was tailored to our personalities. She was knowledgeable and professional in her conduct of the rehearsal which made the whole wedding party feel comfortable and everyone knew what to do. We cannot recommend her enough, she was a very important part of our special day. October 2021
Robyn & Kyle
Laura Hunt was PHENOMENAL!!! She made everything so effortless. We couldn't have asked for anyone better. She was funny and lighthearted and such an integral part of our day. Everyone loved her. Robyn & Kyle August 2021
John & Josee
Laura Hunt was a perfect fit for us! She is an awesome lady, very easy going and very open to suggestions. Laura was very friendly with our kids and made the whole process go very smoothly thank you ! John & Josee December 2020
Tyler & Victoria
Laura Hunt exceeded my expectations! Everything went so smoothly and she really made us feel at ease with the whole process.Laura asked what type of ceremony we were looking for and my first thought was stress-free, and she definitely delivered! Of course you don't get to spend a lot of time with your officiant, but with the little time we did spend together, I could tell she was my kind of person! Super relaxed with a sense of humor! She fit right in with my family and friends. Thank you so much, Laura! We literally could not have done it without you! Tyler & Victoria October 2019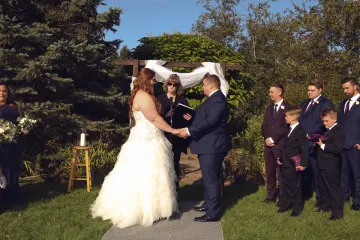 Kyle & Sheena
Laura Hunt was excellent! Fun and relaxed and went with the flow of our wedding. We are so grateful that she was our officiant and recommend her to anyone who wants someone funny and casual but also an excellent speaker and very nice. Kyle & Sheena October 2019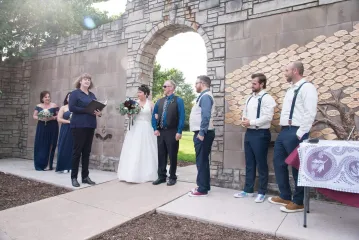 Riley & Courtney
Laura Hunt did an excellent job. She was very professional and personable. She helped make our day perfect. Riley & Courtney August 2019
Katie & Johnathon
Laura Hunt met and exceeded every expectation I could have had for her. She was punctual, polite and kind. She made suggestions that we loved and incorporated into our ceremony. I loved her ceremony.
Vaughan & Lynn
Laura Hunt was amazing. We did a Caribbean themed wedding and she got into the theme extremely well. She opened the ceremony speaking in Spanish to our guests, we loved it. She was fun and professional and at all times. I found the office staff to very pleasant to deal with and they answered any questions that we had promptly and with all information we needed. We would refer your company to anyone that was interested in doing their our style and ceremony. We had unique requests for what we required and everything we asked for was meet with enthusiasm and and support. We would like to thank you for your help in making our day exactly what we envisioned from the start. Laura is an amazing officiant.
Holly & John
Laura Hunt was wonderful!!! She was everything we were looking for and she made things fun. Took the stress right out of the process. Was very simple and the staff and Laura made us feel very comfortable every step along the way Thanks
Kristen & Wayne
Laura Hunt was definitely great, I had a tough time coming up with the perfect ceremony and she was very flexible!! We had the perfect wedding.. beyond our expectations!!! Laura was what set the tone and everyone loved her personal touches!! So did we!!
Jennifer & Luke
Laura Hunt was awesome. She was at the venue when she said she would be, she ran a flawless ceremony (despite the wind and freezing cold weather!!) And she was beyond professional. As soon as I met her, which was for a fleeting second, I felt so thankful to have her running the ceremony. As a wedding planner I'm always running into clients who require an officiant, and All Seasons Weddings (and Laura Hunt) more than met my expectations! I'm sure I speak for jen and Luke too when i say that working with Laura and All Seasons was a great experience. Thank you!