Kinga Buday, B.A. ( U of T)
Kinga aime bien les gens, leurs choix, leurs traditions et l'expression individuelle, et c'est pourquoi elle vous aide à créer la cérémonie de mariage qui reflètera le désir de vos âmes. En tant qu'artiste, elle a le don de la création d'idées et de concepts et de les concrétiser. Kinga habite Oshawa, en Ontario, mais elle est originaire de Hongrie. Elle parle couramment le hongrois, l'italien, le français et, bien sûr, l'anglais. Donc, si vous voulez une cérémonie de mariage en hongrois, une cérémonie de mariage en français ou une cérémonie de mariage en italien, Kinga vous aidera.
Request Kinga Buday
Secteurs desservis
Ajax, Bowmanville, Clarington, Newtonville, Oshawa, Pickering, Port Perry, Stouffville, Uxbridge, Whitby, Nestleton
Commentaires
Susan & Mario
We wanted a simple ceremony that included our family and Kinga Buday listened and was able to assist us with achieving that goal. This flexibility made the ceremony very meaningful to our entire family. September 2021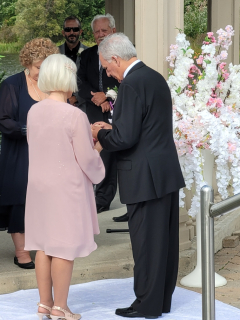 Brodie & Ayaka
Kinga Buday did a fantastic job as the officiant at our wedding and both Ayaka and myself are incredibly happy with the wedding ceremony and the overall process as well. Thank you so much! Brodie & Ayaka December 2019
Justin & Yuan
Kinga Buday was awesome. We had her come over to our house and marry us. We like her! She did an awesome job. Justin & Yuan November 2019
Justin and Kathryn
Kinga (Buday) was amazing, as expected. She went above and beyond to make my day very special. Justin and Kathryn. July 2019.