Kes Smith
Request Kes Smith
Secteurs desservis
Osgoode, Stittsville, Metcalfe, Orleans, Navan, Vars, Manotick, Kanata, Barrhaven, Nepean, Carp, Richmond, North Gower, Kemptville, Ottawa West, Ottawa Central
Commentaires
Elie & Katie
Kes Smith was professional, organized, lively and kind. She made the process very easy and removed much of the stress from planning the ceremony. She is an excellent public speaker who brings great energy and passion. We were so thankful for her calm demeanor and reassuring attitude. We would recommend her to anyone. Thank you Kes!! October 2022
Nicole & Christopher
Kes Smith was amazing! She was super easy to work with from start to finish. She walked us through everything and has amazing energy, I can't imagine having anyone else officiate for us! August 2022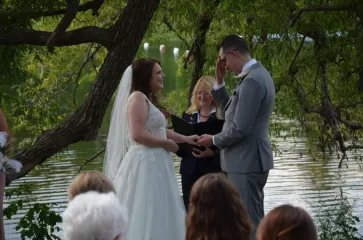 Geoff $ Vivian
We would highly recommend Kes Smith as your wedding officiant. Kes was readily available to answer questions and to provide guidance. She came prepared and ready for the ceremony, with enough time to meet our small group of guests. We appreciated Kes' attention to our wishes to keep a balance of formal and informal during the ceremony. She was flexible, allowed for our photographer to 'move us around', and read our wedding vows with genuine love and care. Thank you, Kes, for making our day so very special. August 2022
Denis & Amanda
Kes Smith was absolutely perfect in every way leading up to, and on the day of, our wedding. Our initial consultation with her was thorough and informative while also being laid-back and friendly. It was a relief when she promised to guide us through selecting our vows, making edits, and preparing any legal documentation for our marriage. She has this gentle touch to her process that is clear and simplifies all the ins and outs of the wedding and marriage. On the day of the event she showed up early, with paperwork ready for the signing table (pre-filled forms, pen, fancy folder, and decorative pen holder) and re-confirmed the vows and the ceremony outline. She even helped us finalize some last minute decorations as she waited for ceremony time! During the ceremony she was poised, professional, had the perfect volume, and she fit in so well with our small, intimate guest list. She is the type of person that can really adapt to any situation and fit right in. My husband and I were so impressed with Kes. We would recommend her to everyone. No way you can go wrong with her personality, experience, and versatility. September 2021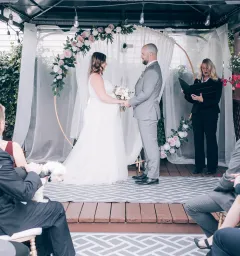 Jennifer
Kes Smith officiated our daughter and son-in-law's wedding ceremony. She was wonderful. Her warmth and amazing delivery made the ceremony particularly meaningful. She helped Jessica and Taylor develop a beautiful script and walked them through all the forms and processes efficiently. Kes has a fantastic sense of humour and is kind and caring. We would recommend her to any couple looking for a personalized and meaningful experience. Thank you Kes for being so wonderful. Oct 2021
Lindsay & David
Kes Smith was such an amazing part of our special day!! She was wonderful to work with leading up to the wedding. She provided a draft of the ceremony, and was adamant that we edit it to our preferences, and worked with us to create the perfect ceremony that was so special and meaningful to both of us! We were both nervous to do our own vows, but still wanted them to be personalized, and so she worked with us to do our personalized vows that she read. This allowed us to be fully present in the ceremony and not worry about having to say our vows in front of everyone! It was so special and wonderful. My husband is also of Jewish heritage, but we very much wanted a non-religious ceremony. She worked with us to incorporate Jewish traditions, but without any of the religious parts. She also provided the glass and the bag for the breaking of the glass tradition, which was very helpful! She was lovely, professional, and did a wonderful job on the ceremony! I would highly recommend her for anyone's wedding!! August 2021
Emily & Adam
We would highly recommend Kes Smith to be your wedding officiant. She is very knowledgeable, trustworthy, friendly and overall an amazing person. She helped us every step of the way and helped create a unique ceremony just for us! Emily & Adam September 2021
Kyle & Ali
Kes [Smith] made sure we had a ceremony that reflected our relationship perfectly. She was thoughtful, extremely organized, and easy to communicate with. We are so grateful to have such a friendly and considerate officiant for our special day. Many thanks! Kyle & Ali, July 2021
Matthew & Danya
Kes Smith exceeded our expectations! She was very friendly, professional, accommodating and flexible, especially with Covid circumstances. She was very organized throughout the entire process. Super nice and welcoming and just wonderful to deal with! We would definitely recommend her to others! Matthew and Danya October 2020
Robertson & Steph
Kes (Smith) was incredible. We were delighted to have her as our officiant. Covid has presented some challenges and Kes helped us every step of the way to work through them and was super kind and professional throughout. We can't picture having been married by anyone else. We would highly recommend Kes if you're looking for an officiant! Robertson and Steph October 2020
Timothy & Rena
Kes Smith was wonderful, helpful, friendly, professional, understanding... She performed a beautiful, professional service under odd Covid circumstances.... and she made the event! Thanks Kes! Timothy & Rena October 2020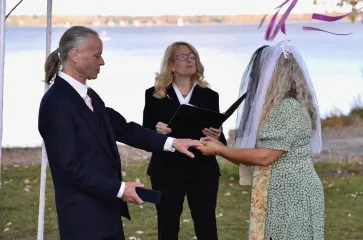 Daniel & Erin
Kes Smith was amazing ! We are an older couple - this was a second wedding for both of us. We first met Kes when she married the groom's oldest daughter in 2016 (we were newly engaged). She just "fit" with our family, if that makes sense. As we all know, this wedding season has been unique. We initially had planned to get married in a traditional ceremony in June - we realized early in June that we would not be able to proceed with that plan and changed our date to August . She did everything possible to make sure our day was perfect, We now consider Kes a friend - she will remain a part of our family <3 Daniel & Erin August 2020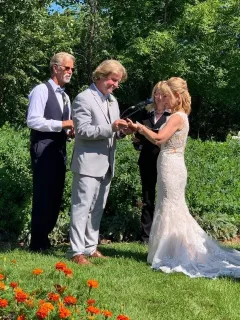 Jonathan & Adrienne
Kes Smith was fantastic. She made us feel very stress-free about the whole process. She helped us customize our ceremony and was open and funny. We would definitely recommend her. Jonathan & Adrienne December 2019
Rob & Shannon
Kes Smith was amazing and adding the perfect touch to our wedding. Thank you for everything Kes! Rob & Shannon August 2019
Reg & Michelle
Kes Smith was attentive to our needs, warm and very involved, which is what we wanted. It was abundantly clear that she takes her position as officiant very seriously to make it a perfect day. We couldn't have asked for a more suitable person. Ms Smith knew what we were looking for and offered suggestions and advice but was not intrusive about it. She genuinely cares about both the planning and what she brings to the ceremony. As we understand it Ms Smith's skill in officiating comes from many years of speaking publicly in a myriad of venues. Thank you Kes. Reg & Michelle June 2019
Kathryn & Eddy May 2019
Kes Smith was such a breath of fresh air in all the stress surrounding wedding planning. She was easy-going, accommodating, and made everything simple for us to understand re paperwork etc. You can tell that she is passionate about her work. I really appreciated how keen she was to include customized touches to our ceremony. Highly recommend :) - Kathryn & Eddy May 2019
Katherine & Brayden
Kes Smith was absolutely fantastic to work with. She made the entire process stress-free and her kind, caring and positive outlook and approach made us feel like we had known her forever. She was so attentive to details, and conscientious of all those involved. We worked together to write the ceremony wording, and her input and comments were extremely helpful. It is so evident that she loves what she does, and it is reflected in the care that she takes when you work with her. I will be recommending Kes to everyone I know!
Ram & Jayati
Kes Smith is a very well organized with her work. She is an amazing person with a lot of creativity and charisma. She made us comfortable when we first met with her friendliness. She understands all the emotions involved and integrates them well into the ceremony. She was very flexible with ideas we had for the vows and the ceremony. Our ceremony was perfect, just like we had imagined. I highly recommend her, she will leave you contented. Thank you so much for making our big day memorable Kes!
Anonymous
Kes Smith is amazing. My husband's cousin and fiancee came to Ottawa from Scotland for a surprise wedding. Even though everything was a little rushed and hectic, Kes did a wonderful job of making the day special for the whole family. Can't say enough good things. Thanks so much Kes!
Olita & Mark
We wanted to say a heartfelt thank you to Kes (Smith) for officiating at our wedding. She made everything so easy in a stressful time and her words truly captured what we wanted to say to each other and our families and friends. She made the service truly special (as attested by many of our guests). Thank you Kes!!!! - we had a great ceremony with you! Olita & Mark July 7th, 2018
Colleen & Rodney
Kes Smith more than met our expectations. Kes was awesome. She made our wedding so personal. She was incredible. She went above and beyond!!!!! Kes was phenomenal and we were blessed to have her as an officiate. Thank you for the incredible service you provided. Ask for Kes, she will not disappoint.
Faith
We planned our entire wedding in under a month, and even with such a small amount of time, Kes (Smith) was able to work with us to create the perfect, intimate wedding ceremony that we wanted. She was always available to send us suggestions for quotes to include, examples of different types of ceremonies, and to answer every question we had. I absolutely loved that with Kes, we had complete freedom to personalize our wedding ceremony as much as we wanted, and to put it in our own words. Kes performed the ceremony flawlessly, and she went above and beyond, explaining to us in advance where and how to stand so that we wouldn't have our backs to the guests. She even planned the ceremony so that she could move to the side at the end, giving us the chance for some stunning photos of "the kiss" and being presented, while she was out of the frame, which I had never seen done before. It was a wonderfully thoughtful touch on top of an already perfect experience. Thank you for everything Kes! Faith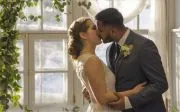 Sam & Jean
The All Seasons Ottawa team were marvelous! I gave a few ideas about what kind of wedding officiant my husband and I wanted and they came back with suggestions of officiants. We ended up choosing Kes because she seemed kind, very open-minded and accepting, organized, and knowledgeable. We knew that with her theatre background she would have no problem being heard by all 28 people attending our indoor ceremony, without a microphone. Kes was fantastic. After our meeting with her we confirmed we'd like to have her as our officiant and she got to work right away sending us information and sample ceremony drafts. We emailed drafts and ideas back and forth until we had our final ceremony script. Kes was wonderful at incorporating our original vows and ideas into the ceremony. When needed she was quick to give guidance on placement of various aspects of the ceremony and how to smoothly incorporate things. She was very encouraging and supportive of us including original content and was very understanding and receptive of any feedback we provided regarding things we didn't like or we thought should be changed. Kes was great at communicating her availability and timelines throughout the summer (a busy time for everyone) and made herself available to us for a free rehearsal, although we decided not to have one. Even after the wedding Kes has been helpful by providing information on our next steps (name assumptions/changes, when we can get our license, etc). Kes made us feel calm and prepared for our wedding ceremony and set a great tone for the wedding. She truly seemed genuinely happy to be with us on our special day. We could not have chosen a better person to perform our marriage ceremony. Thank you Kes and All Seasons!
May & Justin
Kes Smith was fantastic. She came up with wonderful ideas to help make our ceremony quirky and played well with the ideas we've provided.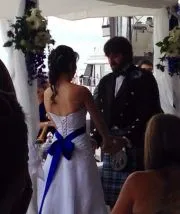 Hope & Pietro
Kes Smith went above and beyond, giving us the flexibility to create our own vows and reorganize the structure to fit our vision of our ceremony and what it represented to us as a couple. She also was great at making us feel at ease about the actual "performance" of the ceremony in addition to the documentation aspects.
Erin & Jonathan
Kes Smith was amazing. We didn't add anything or make any changes to the ceremony and it exceeded our expectations. The ceremony was the best part of our entire wedding. Kes was wonderful. She was organized, calm and inspiring!
Cynthia & Martin
Kes Smith was wonderful!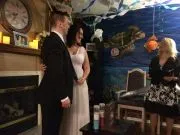 Scott & Chantal
Kes Smith was unbelievably helpful in the planning of our ceremony. She was exceptionally organized, courteous and helped us with ways we could personalize our wedding. She was knowledgeable in a lot of different fields and made a stressful time seem relaxed and easy. She was easy to get along with and had a great personality. Chantal and I both think that no one could have possibly been better to officiate our wedding than Kes. Thank you.