Kathi Kelly, BSc, MSW, CAPPE (London)
Request Kathi Kelly
Secteurs desservis
Alliston, Barrie, Orillia, Wasaga Beach, Edenvale, Minesing, Midhurst, Dalston, Stayner, New Lowell, Hillsdale, Wyebridge, Midland, Penetanguishene, Elmvale, Wyevale, Edgar, Borden, Innisfil, Ivy, Thornton, Holly, Cookstown, Baxter, Egbert, Thornton, Anten Mills, Horseshoe Valley, Craighurst, Moonstone, Hawkestone, Oro, Stroud, Alcona.Beeton, Everett,Lefroy, Egbert
Commentaires
Mathieu & Alicia
Kathi Kelly helped us create a personal ceremony that included many little intricate details about our lives together, and our little pup who carried the rings. We loved the service she put together, and she made us feel the love on our big day. Thanks Kathi! Mathieu & Alicia June 2019
Al & Deb
Kathi Kelly was efficient and went along with how casual and relaxed we wanted this to be.Thank you Kathi everything was perfect. Al & Deb June 2019
Candice & Eugene
Kathi Kelly was amazing! Meeting with her went smoothly and was very comfortable (like meeting with a friend). Kathi was extremely helpful and attentive as she helped us write our ceremony. She made our day perfect and was warm and kind. My family said that she suited us perfectly. I highly recommend her! Candice & Eugene June 2018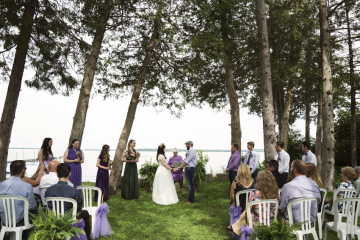 Justin & Jesse
Kathi Kelly EXCEEDED our expectations. We had met with Kathi and ended up chatting for a couple of hours over coffee. Right away, her soft and gentle demeanour, amazing outlook on life, and sense of humour hooked us right in. During our meeting, she had asked us questions about what type of ceremony we were hoping to portray on our big day and also asked us to talk about our lives together, how we met, our interests and so forth. It was very impressive how she was able to get to know us and make us feel so at ease in such a short period of time. After our meeting, Kathi sent us the PERFECT ceremony. We didn't even have to change a thing. She was able to capture our personalities, inject touches of humour at perfect points and presented us the perfect poem that captured our values. She even asked what colour we wanted her to wear... haha. On the big day, she warmly guided us through our ceremony flawlessly and left her mark on our already amazing day. Our families are still talking about the ceremony. Thank you, Kathi. All Seasons is very user friendly and the staff were super knowledgeable and thorough. A very handy service to have when there are so many options out there. The guarantees the service has in place offers more peace of mind for clients. The "no pressure" attitude was nice to encounter. Kathi is amazing and we couldn't have lucked out more for our officiant. [July 2018]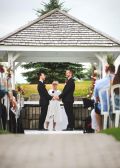 Maggie & Trevor
Kathi Kelly was lovely and met with us prior to the wedding. In our meeting she made a point to get to know the both of us to help her add personal touches to the service which was appreciated. She was a pleasure to work with, was on time, professional, and accommodating. [July, 2018]
Lynne and Chris
Dear Kathi: It sure was a day filled with love and kindness. A day we will truly treasure forever!! You can absolutely forward on the email. Thank you again for your sincerity and kind nature. Take good care!
Kathleen and Ryan
Hi Kathi, I just wanted to send a message to say thank you ever so much for performing our ceremony. We were so happy with it, and your presence there. And an additional thank you for doing a rehearsal! I think our group needed it and I think made things run much more smoothly. Enjoy the rest of your summer, thanks again! Kathleen and Ryan
Roxanne & Kyle
I wanted to Thank You Kathi for such a lovely ceremony ... It was exactly what we had hoped it would be :) Kathi Kelly was excellent - easy to talk to, took all my ideas for the ceremony and was very flexible to when and where we meet as I live up north.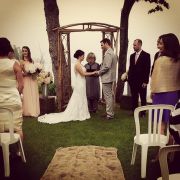 Courtney and Stive
Stive and I would like to thank you for our beautiful wedding ceremony! You were absolutely amazing and were so comforting in our times of need. I still cannot believe I made it through the entire wedding and was so calm so I thank you personally for that! Our families loved you and were also very grateful for the wonderful job you did conducting our ceremony. Thank you for all your help it will never be forgotten!
Cynthia and Graydon
Kathi, just a quick note to say thank you for your beautiful service for Carly and Shawn's wedding ceremony at our home last Saturday. We were certainly lucky to have such a lovely day, and our family with us to celebrate with them. You did such a wonderful and thoughtful service, and have given them a great beginning to their life together going forward. In the words of one of our Grandson's, Lennon….." this is the best day of my life"……bless his 8 year old little heart. Carly and Shawn have quite a big job ahead of them, and I hope they will always remember the wise words you spoke to them. Thank you again,
Kathryn and Gordon
Kathi Kelly was available on incredibly short notice, worked during the evening to help us personalize our ceremony and was able to roll with our complete disorganization and craziness! The office was so friendly, so relaxed, easy going, helpful, and both Kathi and the office went above and beyond helping with the ceremony when we sprung it on them the day before! everyone had really great ideas to help us personalize it. Kathi had an amazing sense of humor and really helped keep things natural and relaxed and calm. She made us laugh multiple times and made us feel like we could do whatever made us happiest! That was truly special.
Melissa and Jonathan
Hi Kathi, I just wanted to send a note on Jonathan and my behalf to thank you so very much for your service at our wedding. The ceremony was so beautiful and more than either of us imagined! Thank you for making it so very wonderful! I also wanted to apologize for not getting a chance to thank you in person. Thank you again for your amazing work with our special day!
Ryan and Melanie
Kathi Kelly was very professional and helpful in making our ceremony run smooth. She helped us stay calm and got us through our nervous moments. The whole process for contacting All Seasons, meeting the officiant and booking the day was very easy and comfortable. We were very please and would recommend this to our peers when they get married.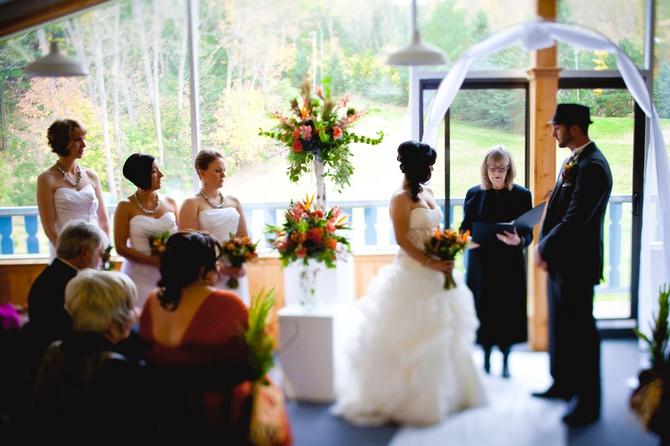 Ashley & Andy
Kathi Kelly was so wonderful. She was very friendly, helpful, warm, kind and I couldn't ask for anyone better to officiate our wedding! Thank you so much!
Stephanie & Mike
We could not have picked a better person than Kathi Kelly to do our ceremony. She is light hearted and caring and felt like an old family friend from the first meeting. I will recommend her to anyone getting married.
Esma & Derek
Kathi Kelly has a charming and caring personality, she asked us questions to get a good feel of what we were looking for, dressed for the ceremony, we really liked her a lot. She made our day very special. We could not have asked for anyone better! Natasha in the office was prompt and helped us to get the ceremony we were looking for and helped find the officiant who was nearest to the resort - Great service overall!
Jeffrey & Whitney
Kathi Kelly was extremely open and helpful with writing the ceremony. She showed up on time, was warm and articulate and we had many positive comments about her service. We were thrilled with her. Kathi was wonderful and we would highly recommend her to others.