Julie Dawley
Request Julie Dawley
Secteurs desservis
Tillsonburg, Ingersoll, Woodstock, Ostrander, Salford, Cornell, Springford, Otterville, Norwich, Mount Elgin, Port Rowan, St. Williams, Long Point, Port Dover, Port Burwell, Courtland, Delhi, Simcoe, Langton Courtland, Mt Elgin, Salford, Ostrander, Brownsville, Delmer, Springfield
Commentaires
Levi & Caitlind
Julie Dawley was the best officiant we could of asked for. We wanted something short an sweet ,that is exactly what received. All of our family and friends said that was the best ceremony they have ever been to! Thank you for everything Julie! Levi & Caitlind September 2019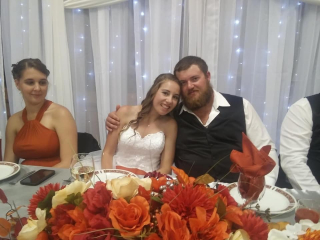 Wesley and Cassandra
Julie Dawley was amazing and such a pleasure to work with, she made sure everything about the ceremony was tailored to us and took the time to get to know us as a couple. Thank you Julie ! Wesley & Cassandra September 2019
Wesley & Cassandra
Julie Dawley was amazing and such a pleasure to work with, she made sure everything about the ceremony was tailored to us and took the time to get to know us as a couple. Thank you Julie ! Wesley & Cassandra September 2019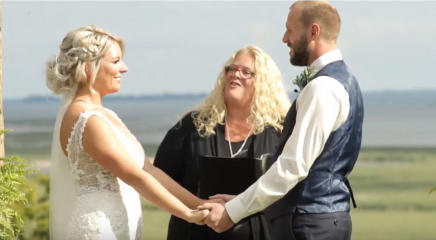 Mandy & Annie
Julie (Dawley) is always friendly and happy! Love love love Julie!! Thank you bunches!! My daughter is getting married next year and we will be booking Julie for her too! Mandy & Annie. July 2019.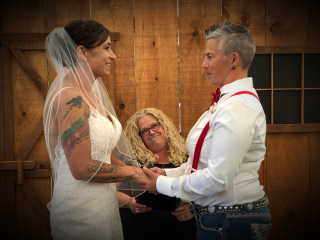 Nathan & Carmen
Julie Dawley was absolutely amazing. I could not have asked for a better officiant. The best ceremony I could have asked for. Thank you Julie!! Nathan & Carmen June 2019
Ashleigh & Matt
Julie Dawley was so pleasant to work with and her voice projected well so that our guests can hear the entire ceremony. The booking process was smooth, would definitely recommend All Seasons Weddings!
Allison & Aaron
Julie Dawley was simply amazing! She did such a wonderful job at making us feel so comfortable on the day and Aaron and I thank our lucky stars that we met her and she was available. We will definitely be recommending her to our friends who wish to get married in the future. Thank you Julie!!!!!!
Kasey & Maitland
Julie Dawley went above and beyond to make our day special. She made sure to include lots of humor to suit our personalities and made us feel like part of her family. We wouldn't have wanted anyone else to officiate our day. Thank you Julie and All Seasons!

Agata & Andrew
Julie was truly easy to deal with. She made herself available and was so approachable and friendly during the entire process. She had given us a fulsome understanding of how things would unfold on our wedding day, and she did exactly that. She was a true professional.
Tammy & Jim
Julie Dawley exceeded our expectations and she was a perfect fit for us and I would highly recommend her as an officiant. Julie was helpful, kind, easy gong and just lovely to be around! All Seasons reservations office was very helpful. It made the process of finding an officiant and one that fit our needs so much easier. It simplified the process for us. I have and will continue to recommend your services to others.
Kristin & Dave
Julie Dawley was absolutely wonderful! Her warmth and caring nature really added a special touch to our wedding ceremony. Throughout the planning process, she was always available for any questions which greatly reduced our anxiety level. We would highly recommend her services to anyone looking for an officiant!
Jean & Tim
Tim and I are very happy with how our wedding ceremony turned out. The ceremony examples that Julie provided us were a great base for us to work with, they were heartfelt and said all of the things we wanted to say, and we were able put together a ceremony that was just right for us. Julie, it was wonderful to see that your smile was as wide as ours, and we appreciated how you guided us through the ceremony and calmed our nerves. Thank you so much for being a part of what was an unforgettable, beautiful day!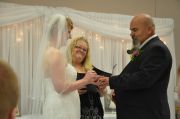 Crystal & Ryan
Julie Dawley was amazing, she gave us tons of insight and examples to help make our wedding amazing! Julie was so helpful and always met all of our needs! She made it very easy! Absolutely! We will be recommending All Seasons to all of our friends getting married! And we will be highly recommending Julie!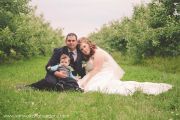 Nancy and Rob
Julie was our first choice to be the celebrant of our vows and special day. Throughout our on line communication, telephone calls and face to face meetings, Julie always acted in a sensitive, professional, creative manner. She offered solid guidance and structure to our process and made the "business" part of our event seamless. Julie helped us with our ceremony to be reflective of our lives and eloquently delivered her kind words. In fact, after our ceremony, she was approached by some of our guests to discuss possible future work. That speaks volumes and I hope that transpires. Julie Dawley is a first class officiant and it was truly our honour to have her share in our wedding. She is to be commended.
Tracy and John
Thank you for the great wedding experience. The suggested template was simple and elegant already, and have Julie Dawley deliver it was a great match. We booked late, asked for her to come to family farm on the outskirts of town at sunset, and recite a specially chosen poem. She was so accommodating and a friend of the family right away. It was brilliant! Great job!
Mary and Peter
Now that the glamour, the excitement and the dust has finally settled, I would like to take a moment and praise the services provided by Julie Dawley. Julie was simply amazing. She made the practice run, fun and full of laughter yet never loosing a step in the sequencing of the event. During the actual ceremony, her ability to get all present involved in the blessing of the rings was fabulous. She delivered our version of the service with a professional yet personal touch. Thank Julie for making that day so special to both of us.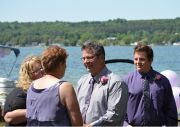 Anthony & Daniel
Julie Dawley is amazing, and so professional... we love her! Everything went so smoothly, we're so happy :)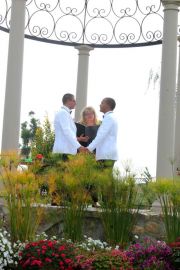 Jenn & Greg
Julie Dawley did an amazing job on our ceremony. Not only did we think so we had multiple people compliment us on our ceremony and what a good job Julie did. She was also fantastic to work with, listened to us and help us through the process when we didn't know what we were doing. We were able to contact her with any questions and always received a quick, helpful response. Julie supplied us with multiple samples as well to help us create the perfect ceremony for us.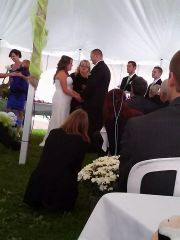 Candace & Bob
Hi Julie (Dawley)! We can't thank you enough for marrying us - you were so calm up there and figuratively held our hands through that ceremony! We kept getting compliments all night on how lovely and personal the ceremony was. It was so reassuring to know it would be you up there once I walked through those doors, keeping Bob calm and then keeping our nerves under control during the ceremony. I know my family was so happy to have you there too - it made everything so personal. I keep saying that I had everything exactly the way I wanted it at the wedding with no compromises... with all of our favorite things together in once place, and you were absolutely the perfect officiant in that line up of perfect things!